2013 will be remembered as the year Dallas finally got it together, joined a gym, got into phenomenal shape, and spent the rest of its days eating nothing but salads. At least, we assume there's some dude somewhere named "Dallas" who managed to pull all that off. The city, meanwhile, remains as fat as ever. Here's your proof in the form of our favorite fatness that the city feasted on this year.
Recommended Video
These Are the 8 Best Stephen King Movies of All Time, Ranked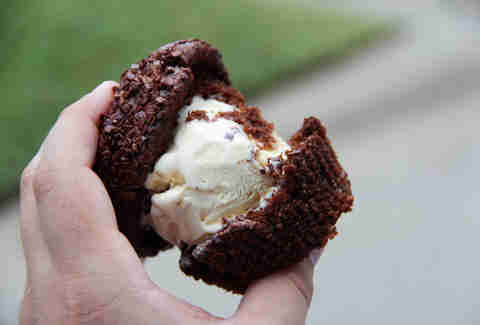 Ice Cream Sundae on a Cupcake Bun
Sprinkles Ice Cream, University Park
Approximate Calorie Count: 505
From the place that also has A CUPCAKE ATM, this sandwich is just like your average sandwich, except that instead of meat and veggies, it has ice cream, and instead of bread (or even cookies!), it has a damn cupcake that has been split in half. Flavor choices for ice cream and cupcake are up to you. Diabetes and loss of dignity are mandatory.
Potato Chip-Crusted Mahi-Mahi
Three Squares, Frisco
Approximate Calorie Count: 608
Served over a bed of sweet corn orzo (for the fancy) or cheddar-jalapeño grits (for the feisty) OR both (for the fatsy), this baby is just what it sounds like: a monstrous mahi-mahi filet, covered in crushed tater chips, and fried to a gorgeous golden brown.

Overflowing Dessert Skillet
Boxwood T+G, Uptown
Approximate Calorie Count: 774
Start with a cast iron skillet, fill it with cookies, add ice cream, load it all up with as much whipped cream as gravity will allow, sprinkle it with crumbled Heath bars, and drizzle it with chocolate/caramel sauce. Finish with clearing your plans for the next couple of days.

Alligator Po' Boy
Nola Grill, Frisco
Approximate Calorie Count: 877, 1093 with fries!
Don't be fooled: those are NOT shrimp. Shrimp won't bite ya like one of these guys will... At Nola Grill they load up an enormous French bread roll with lettuce and mayo, then toss in a man-sized portion of deep-fried alligator, then side it with fries and dipping sauces and stick a toothpick in it. Just make sure you bite it before it bites you...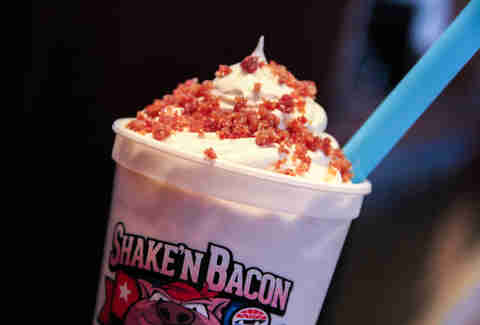 Shake 'n Bacon
Texas Motor Speedway, Fort Worth
Approximate Calorie Count: 898
In an apparent effort to further widen the gap between your top speed and that of the race cars, TMS rolled out this little beverage that brings together beer, candied bacon, and bourbon-infused maple syrup in milkshake form, because who has the time to drink beer, have dessert, AND eat bacon? Right? Also, it's topped with whipped cream and more bacon, because of course it is.
The Pizza Burger
Boston's, Various Locations
Approximate Calorie Count: 923
Pizza is so good, yet bad for you. Burgers are so good, yet also bad for you. Thus, the only logical move was to combine the two in a massive amalgamation of carbs, cheese, beef, and pepperoni. Because this is America, after all. Land of the Cronut. Clearly we aren't content to just leave our fatty foods alone.

Fajita Martini
El Corazon de Tejas, Oak Cliff
Approximate Calorie Count: 1088
Maybe you're watching your figure and would rather have your fajita sans the carbs that come with tortillas, or maybe you're the kind of guy who likes your martini with a little ground beef and guac. If James Bond found out about this, he would completely change his martini order.

The Intimidator Challenge
Ricky Bobby Sports Saloon & Restaurant, Fort Worth
Approximate Calorie Count: 3,844. DON'T YOU DARE SKIP THE SALAD.
This restaurant isn't just named after one of the finest cultural masterpieces of at least the last millennium (plus a replica race car out front!), but it also has beautiful waitresses wearing skimpy outfits, and it also also has this: The Intimidator Challenge. It's a half-pound patty, two slices of pepper jack, a half pound of BBQ-drenched pulled pork, two chicken tenders, three strips of bacon, a smoked sausage, an onion ring, and a chicken wing on top, plus a whole pound of chili cheese fries to lay next to it. Oh, and there's a bun hiding under there somewhere, to match the little hat-looking one on top. If you eat the whole thing (plus a mandatory salad, obvi) in 10mins flat, you get your picture on the wall and a free Ricky Bobby hat!