10 Old-School Restaurants in Dallas for a Classic Night Out
From mashed potatoes and onion rings to chicken fried steak and Tex-Mex, check out these classic Dallas Restaurants.
Dallasites like to eat, and there are countless dining options dotting the landscape. With so many restaurants, and more continually popping up, it's easy to get distracted by every shiny new opening. But the classics are still around for a reason. The comfort food is good. Service, friendly. And the worn-in atmospheres transcend the latest TikTok trends. So, the next time you have a taste for tradition, these are 10 of the best old-school restaurants in Dallas.
Highland Park Village
Cafe Pacific opened in 1980 and has been hosting power lunches and dinners in this ritzy neighborhood ever since. The dining room's checkered floor, dark woods, and white tablecloths set the scene, while the service is always polished. The menu features seafood and steaks, including a handful of dishes that have been on the menu seemingly forever, like Maryland Crab Cakes, Lemon Sole Almondine, and Herb-Crusted Sea Bass.
How to book: Reserve via OpenTable.
Greenville
The self-proclaimed "most romantic restaurant in Dallas" opened in 1977, serving French food with a side of grand piano. The dimly lit, multi-room space is filled with gilded paintings and chandeliers, and the menu leans on the same well-executed French classics they've been serving for decades. Think Champagne Brie Soup, Lobster Thermidor, Boeuf Bourguignon, and Steak Diane, plus a well-priced wine list that tops 200 bottles.
How to book: Reserve via OpenTable.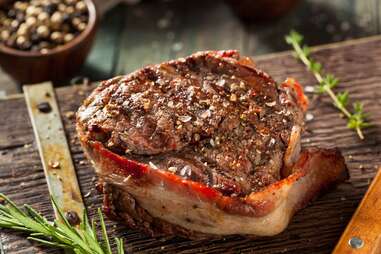 West Lovers Lane
This beloved relic dates back to 1955. The dining room is decked out with carpeted floors, dark woods, and burgundy leather booths. And, in a city where steaks regularly top $50, Dunston's is one of the best deals in town, with small bacon-wrapped filets starting at under $20 and an eight ounce New York strip available for $25. Sure, these aren't the fanciest steaks in town, but they get the job done, especially when paired with a loaded baked potato and a trip to the salad bar. That's right, there's a salad bar.
How to book: Reserve via OpenTable.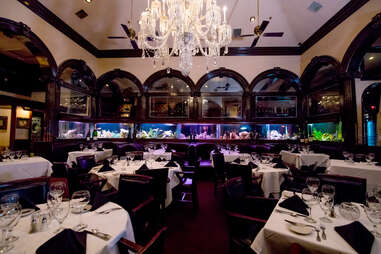 Addison
Arthur's was founded in 1948, settling into its current location in Addison in 2001. The old-school gem's dining room is described as "Rat Pack chic," with a massive chandelier, dark woods, oil paintings, and freshwater aquariums stocked with tropical fish. So, there's plenty to look at. But diners also go for the classic menu items, including Escargot, Oysters Rockefeller, Filet Mignon, and Onion-Crusted Sea Bass—just like your grandparents used to eat.
How to book: Reserve via OpenTable.
Oak Cliff
Norma's has been serving textbook Texas comfort food since 1956, with a diner vibe and a menu that hasn't changed much over the years. It hasn't had to, as people still like cozy booths, big country breakfasts, club sandwiches, chicken fried steak, and the famous Mile-High Pies topped with cream as much now as they used to. The Oak Cliff location is the OG, but Norma's also has a few more locations spread across DFW, so you're never too far from one of those pies.
How to book: Stop by for first come, first served seating.
East Dallas
You don't need to leave your car to score lunch at Keller's, which has been slinging drive-in burgers, hot dogs, and fries for more than 70 years. Even as the city has changed around it, Keller's has stayed largely the same—that includes the prices. Eat behind the wheel or sit on your tailgate with a No. 5 Special, a double-meat cheeseburger with all the fixings that, somehow, is priced less than $3. If you're still hungry, throw in a chili dog for $2.
How to book: Stop by for drive-in service.
Downtown
The first El Fenix opened in Downtown Dallas in 1918, helping to kickstart the Tex-Mex craze. Today, the brand has more than a dozen locations spread throughout DFW, and it's still going strong in Downtown, drawing crowds for lunch, dinner, and happy hour Margaritas. The Martinez family who founded the restaurant sold El Fenix in 2008, but the menu continues to feature staples like tortilla soup, enchilada plates, taco platters, sizzling fajitas, chile rellenos, and the Lemon Ice Box Pie, which has been on the menu for more than 50 years.
How to book: Stop by for first come, first served seating.
Mockingbird
There are a handful of Campisi's locations across DFW, but the Mockingbird location is the original. It opened in 1950 and is believed to be Dallas's first pizzeria. It still sports the old Egyptian Restaurant sign out front (at the time, the owners didn't have enough money to replace it), but inside you'll find chopped salads, thin-crust pizzas, red-sauce pastas, Eggplant Parmesan, and Shrimp Scampi—everything you want from an old-school Italian joint. If you'd like some history with your dinner, read up on the Campisi family's connection to Jack Ruby, the man who shot Lee Harvey Oswald in 1963.
How to book: Stop by for first come, first served seating, or call 214-827-0355 to reserve.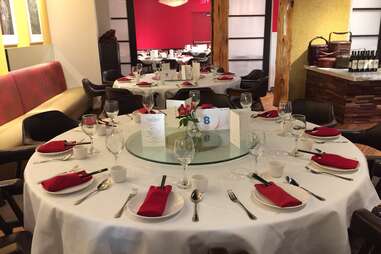 Preston Hollow
Royal China opened its doors in 1974, and nearly 50 years later, it's still one of the city's most beloved Chinese restaurants. The menu is anchored by handmade noodles and dumplings, plus hot and sour soup, braised pork, crispy shrimp, and spicy Sichuan-style fish. Tables fill up each night with neighborhood regulars who have been coming for decades. And while Dallas's northern suburbs are loaded with great Chinese restaurants, people visit from all over the metroplex to get a taste of this half-century institution.
How to book: Call 214-361-1771 to reserve.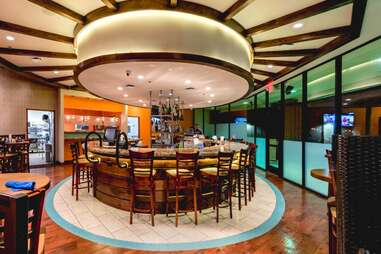 North Dallas
Tupinamba's story dates back to 1910, when the founder fled Mexico during the revolution and, thankfully, brought his family's recipes with him. The restaurant opened in 1947 and has changed locations a few times over the decades, landing at 75 and Walnut Hill in 2015. It's still a local go-to for great Tex-Mex, and it's said that Dallas diners were first introduced to classics like nachos and sour cream enchiladas at this family-run spot.
How to book: Stop by for first come, first served seating.
Sign up here for our daily Dallas email and be the first to get all the food/drink/fun DFW has to offer.
Kevin Gray
is a freelance writer and editor covering all things food, drinks, and travel. He's written for
The Dallas Morning News
,
Forbes
,
Liquor.com
,
Men's Health
, and
Wine Enthusiast
, and his extensive home bar is turning into a real
Hoarders
situation.