Not just the name of Sigmund Freud's intramural basketball team, The Dream Team is now also what you might call the dudes behind Plano's Taverna Rossa, a live music venue-slash-craft beer hall-slash-gourmet pizza joint run by the guys who brought you both Palio's and Cadillac Pizza Pub PLUS The Grape Chef-owner Brian Luscher.
TR's massive footprint includes a bar at each end, live music happening lakeside, an indoor dining area lined with hundred-year-old barn wood, and an air-conditioned patio with garage doors that'll be open if the temps ever decide to be reasonable.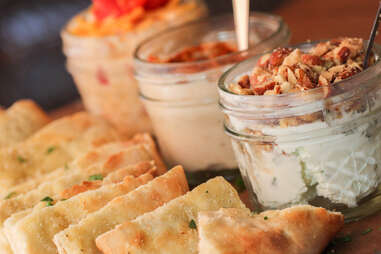 Their appetizers are too legit to quit (like, with the hand sign and everything): beef & sausage meatballs in marinara & mozz, a jalapeno jam-aided charcuterie board, and this mason jar trio, with pimiento, cannellini, and local goat cheese.
And then, there's the pizza. Kona Fire Pie (spicy red sauce, pork, pineapple, jalapeno, cashews, mozz, Fontina), this BLT (cherry tomato, basil, olive oil, blue cheese, arugula, and bacon from Hamm's Custom Meats), and the All-American -- pepperoni, Luscher's sausage (!), that bacon again, and turkey Canadian bacon. Wow.
Brews pour into a couple dozen taps (and include Velvet Hammer, Temptress, Franconia Wheat…), plus they're doing 'tails like this Spicy Bloody Rossa or The Deep South with local honey, OJ, vermouth, bitters, and bacon-infused bourbon. Or, as Freud calls it, "sex with your mom".