Doing what Edward Snowden can only dream of, Pizzeria Uno's kid-sister chain, Uno Duè Go, is moving beyond its airport anchor with a full-fledged resto in Plano that's half deep dish pizza joint and half fast-casual panini hub.
It's purely counter service, and everything's made right in front of you -- either with a panini press or via a wood oven that took Donald Trump's advice to heart (it's fired!).
Paninis, at an Uno's? Yep. Loads of 'em, like this one with turkey, spinach, and Chicago peppers that weirdly haven't been in the Green Bay backfield.
Need something a little less meaty? Order the cheddar panini -- sourdough pressed with 12-month-aged cheddar, cheddar curds, and a roasted tomato jam that's pretty much unstoppable once it's on fire.
Or, if you're really pressed (!) for time, grab pre-made non-pressed numbers like a turkey/bacon/Swiss or a chipotle chicken sammy.
Or just tell 'em you're here for the pizza. You know they invented the deep dish back in the '40s, right? They've still got that one...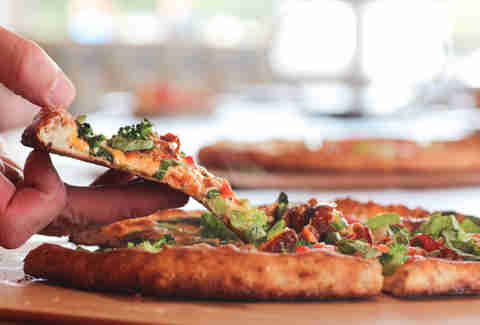 ... plus thin crust options that promise they won't leak toppings to Assange.