David Maez/Thrillist
David Maez/Thrillist
Whataburger. It's a Texas staple. And it's about SO much more than just burgers. The taquitos?! The Honey Butter Chicken Biscuits?! There's so much deliciousness at your disposal there that it's pretty much impossible to pick a favorite. OR IS IT?! After a period of exhaustive, calorie-heavy research, we have determined the following ranking of all the Whataburger menu items. But really, they're all winners.
46. Garden Salad
Really? You're at Whataburger. Just give in.
45. Hot Lemon Pie
The exterior is a little too dense and crispy, and the piping hot gelatinous inside might burn your mouth if you aren't careful.
44. Hot Apple Pie
The burst of cinnamon flavor gives it the slight edge, but still, be careful.
43. Fruit Chews
Chewy, fruity and surprisingly addictive. Grown people can eat fruit chews, too.
42. Apple & Cranberry Chicken Salad
A perfectly fine chicken salad with a nice tartness from the apples and cranberries, but still, come on.
41. Apple slices
Hard to mess these up, really. And you could use more fiber, if you can brave being the guy who asks for apple slices.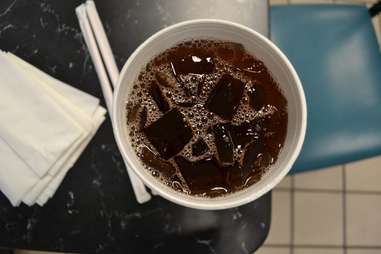 36-40. Beverages (ice cream ones excluded)
Important part of the equation, but also not really the point. Ranked as follows: Soft drink > coffee > tea > OJ > milk.
35. Onion Rings
Pleasantly crispy, though prone to having the onion slip out of the breading -- and then you're left looking around to see if anyone judges you as you shovel in an onion-less shell of fried batter, dipped in ranch. Don't let them judge. Go for it.
34. Grilled Cheese
Tastes like childhood.
33. Justaburger
The gateway burger for children, inevitably down a path towards experimentation with doubles and triples.
32. Biscuit
Nothing wrong with it, but you'll be happier further down the list when you're putting stuff in it.
31. Cookies
Better than cookies at a burger place have any right to be.
30. Monterey Melt
Starts out pleasantly tangy, but then there's a potent kick to the tastebuds courtesy of some jalapeño ranch.
29. Breakfast On A Bun
Egg. Cheese. Sausage. Bun. Like the name says. Burger buns are criminally underused in breakfast fare.
28. A.1. Thick & Hearty Burger
Remember that time you put way too much A.1. on your steak... but didn't really mind that much? It's like that, in burger form.
27. Chop House Cheddar Burger
Lotta onions going on here, so if that's not your thing maybe look elsewhere. If it is your thing? Get ready to party.
26. Cinnamon Roll
Gooey. Delicious. Order one or tray of six and prepare to have your office mates simultaneously cheer and curse you.
25. Biscuit Sandwich With Bacon
Now we're talking.
24. Whataburger Patty Melt
This is all about the Creamy Pepper Sauce. Make them give you extra napkins and an Alka-Seltzer.
23. Whatachick'n Bites
The lazy man's Whatachick'n strips.
22. Grilled Chicken Melt
It's only healthy if you have one. But you'll want to have two. It's that darn Monterey Jack cheese. Does it every time.
21. Grilled Chicken Sandwich
When you want something sorta, kinda healthy(ish) when Chick-Fil-A is closed on Sunday.
20. Whatachick'n Sandwich
When Chick-Fil-A is closed on Sunday, but you're feeling less healthy.
19. Chicken Fajita Taco
Some folks like buns, some like toasted bread, and some like tortillas. This is a grilled sandwich for the tortilla camp, with poblano, red peppers, and onions bundled up in a warm flour tortilla. Delivers surprisingly well on the fajita front.
18. Shakes
Somehow these pair well with everything on the menu. Even apple slices.
17. Chicken Strip Monterey Melt
This is like a drunken sandwich you accidentally make and it actually turns out really good.
16. Jalapeño & Cheese Whataburger
Brings just enough heat, if that's your thing. Be sure to keep a beverage handy to extinguish the fire.
15. Pancake Platter
Pancakes. Bacon. Maple syrup. Happiness.
14. Hickory BBQ Chicken Strip Sandwich
Ever watch the movie Gone in 60 Seconds? Yeah.
13. Hash Brown Sticks
The breakfast version of French-fries. Crispy exterior, potato-y interior. American innovation at its finest.
12. Whatachick'n Strips
Order the strips with ranch. Dip your strips in said ranch. Dip your Texas toast in said ranch as well. Thank us.
11. Malts
Like a liquid Whopper. The candy. Not the burger. That would be gross.
10. Breakfast Platter
Like Grandma made you breakfast, but without the questions about your life choices, and also much faster.
9. Jalapeño Cheddar Biscuit Sandwich
The spice helps wake you up.
8. Bacon & Cheese Whataburger
The competition is getting brutal.
7. Green Chile Double
Delivers more on the flavor front than the Jalapeño burger. A serious burger achievement. Definitely doesn't pull any punches on the spice front though, so again, beverages.
6. Avocado Bacon Burger
Generous with both the avocado and the bacon, and the Texas toast does a masterful job holding the operation together until you have destroyed it.
5. Honey Butter Chicken Biscuit
Is there crack in that honey butter sauce? This is a semi-serious question.
4. Biscuit and Gravy
Uh. Yes please. Dip the toast in the gravy.
3. Taquito with Cheese
A Texas tradition, especially at 3am. Pair it with hash brown sticks and a good night's rest and you're already a step ahead of your hangover. Bacon, sausage, or potato... there's no wrong call here.
2. French Fries
Three things are certain:
#1: You will eat them directly from the bag.
#2: One will end up on your floorboard.
#3: You will end up wanting more.
1. Whataburger
Sure, could have gotten cute here, but there's no unseating the king and the basis upon which the empire was built. Play it safe with a single, go big with a triple... no matter what, that toasty bun holding all the fixin's in is like a comforting hug from an old friend -- if your friend was delicious and available 24 hours a day. But please, don't eat your friends. Just eat a Whataburger.
Sign up here for our daily Dallas email and be the first to get all the food/drink/fun DFW has to offer.