Torchy's Tacos
Torchy's Tacos
Menus are for normal people, like your 5th grade teacher Mrs. Tyler, and… um, Miley Cryus, so we're helping you go totally and utterly off-menu by taking a Wrecking Ball to the stuff you normally order and leaving you with Dallas's five very best not-available-unless-you're-in-the-know options.
The Ace of Spades, Torchy's Tacos
Various Locations
For whatever reason, few people realize that Torchy's actually has an entire secret menu, boasting a quintet of mind-blowing tacos, including one made using a twin corn/flour tortilla system (!...?) and also the mother and brother of all tacos, The Ace of Spades: a jalapeno sausage link smothered in grilled brisket, plus green chile queso, cotija, sour cream, cheese, Diablo sauce, and a fried egg. Finish it, and you'll know what a full house feels like.
Milanesa Tacos, El Ranchito
Oak Cliff
El Ranchito's Milanesa's basically Italian-done-Tex-Mex-style anyway, so why wouldn't you want all that thin, breaded beef in taco form? Exactly.
Burnt Ends, Lockhart Smokehouse
Bishop Arts District
If you're craving some of the best 'cue this side of the Hill Country, everyone knows you've got to go to Lockhart. But if you're craving 'cue that rivals anything they (legally) smoke in Austin, you've got to go to Lockhart on a Thursday, where burnt ends make their weekly appearance, chock-full of extra bark and brilliant smokiness.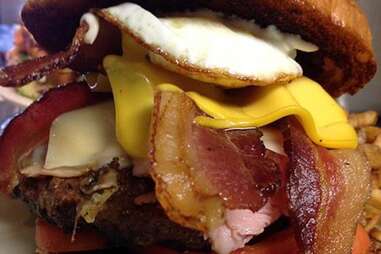 The Nooner, Jonathon's
Oak Cliff
The Nooner's just a regular burger topped with Swiss, and bacon, and 'Merican… and a fried egg… and ham. Those who frequent Jonathon's are all too familiar with it; those who don't are much healthier.
Chicken & Waffles, Victor Tango's
Knox-Henderson
You only thought that chicken & waffles were a fading menu memory from one of your favorite Henderson staples, but the truth is, if you put-your-hands-up-they're-playing-your-song-the-butterflies-fly-away, they'll still bring 'em out.