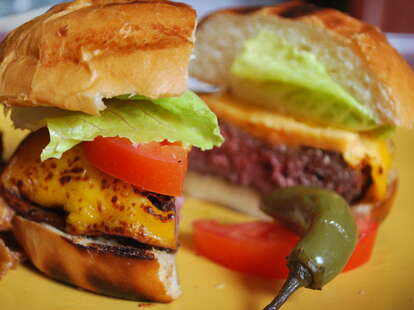 Stephen Pyles
Stephen Pyles
Given the area's penchant for protein, it's no surprise that DFW is home to some damn fine burgers. But when you're talking about the best, the same names tend to come up quite a bit. Your Maple & Motor. Your Off-Site Kitchen. The accolades those spots have received are well-earned, but there's more meat out there! Here are eight under-the-radar spots you won't find on any list from the Dallas Observer or Central Track or Crave DFW.
Stephen Pyles (info and address)
Arts District
Stephen Pyles isn't exactly a name you would think of as synonymous with "under the radar", however, did you know that one of the best burgers in Dallas is here on their lunch menu, and you will only pay $12 for all of its Wagyu beefy goodness?! That's right, one Hamilton plus two Washingtons equals you experiencing one of the finest burgers you'll encounter anywhere. It is hickory-grilled and served with house-made pickles, plus your choice of French fries, spicy onion strings, or chili lime chips.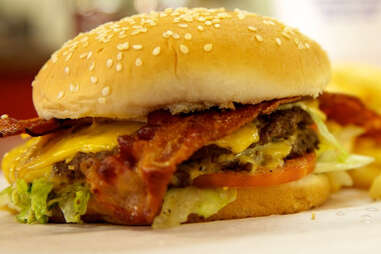 Jack's Burger House (info and address)
Multiple Locations
Jack's is your prototypical down-home, like dad used to grill it, meaty, greasy, flavorful, old-school hamburger. If you're the kind of person who appreciates a good routine, Jack's will be your place. They do things consistently and you're not going to see any frills like foie gras or balsamic glazed mushrooms, but you are going to get a textbook burger that takes you back to a simpler time.
Flaming Burger (info and address)
Garland
Look at the picture above… LOOK AT IT! Flaming Burger will make you hot with the kind of burning passion that will make you want to... eat burgers there often. With fresh-made poppyseed buns that are grilled before teaming up with their perfectly seasoned burger, plus bacon, cheese, and maybe some jalapeños to keep the hot theme going, it has the potential to be habit forming.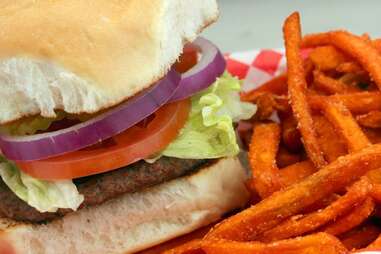 The Varsity Grill (info and address)
Northeast
Varsity Grill keeps it real, as they say -- it's a clean little burger joint that doesn't try to thrill you with 493 flat screens and 131 beers on tap. It just serves up a fantastic burger with a fluffy bun that'll satisfy any beef craving. But, we all know man cannot live on burgers and bread alone. Pair yours with a side of their cinnamon-dusted sweet potato fries.
Stroker's Ice House (info and address)
Northwest
Sticking with the biker theme, Stroker's will be your next stop to get toughened up and maybe earn some chest hair. This is the place to go if you're into bikes, babes, live music, and cold beer (America!). There are no bald eagles flying around the bar, but they wouldn't feel out of place. They serve up a classic (as if you expected anything else) burger, though if you want to up the ante, get the Goose Combo Burger, which is a cheeseburger with a grilled hot link on top.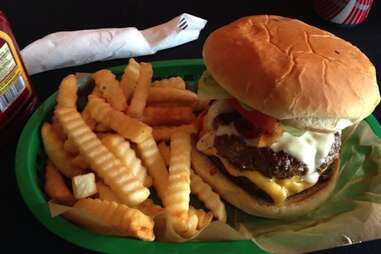 JO 24 (info and address)
Knox-Henderson
Any place where you can get pancakes and burgers at any given time that is also BYOB is already a winner. Jo makes its patties by hand (in fact, they hand-make just about everything). Their sausage gravy is certified incredible, so you may just want to get a side of that for dipping, or get the chicken fried steak burger which comes with it -- either way, get some.
Mixed Up Burgers (info and address)
Arlington
Mixed Up Burger has a few advantages and quirks -- the first of which is that you get dinner and show, as it sits next to the airport, allowing you to mow through your delightfully greasy burger as you observe the miracle of human flight. Also, as their name suggests, they will mix their toppings (everything from pineapple to green chiles to teriyaki) into the meat rather than just lay them on top. The possibilities are pretty endless, so you should probably just try a bunch of them.

Stampede 66 (info and address)
Uptown
Stampede 66 is another one of those, "duh, we've heard of this place" spots, but again, not known for its burger, which it really should be. Loaded with two patties, pimento cheese, fried pickles, and bacon, it's a stunning combination of seemingly everything that tastes good on this planet.