The 11 Best Sandwiches in Dallas You Need to Eat Right Now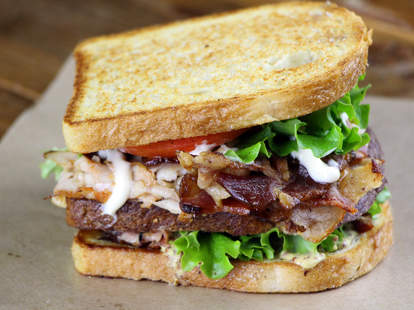 The great sandwiches of Dallas are humble. They sit quietly behind barbecue giants and classic Southwestern dishes, but, like the best character actors in movies, steal the show when called upon. They become icons when you're not looking. Some of the best ones are built from the ground-up -- they're all soft buns and garlic and heat. Others are spicy, and salty and crisp, with homages to the glorious junk food you ate as a kid. There's melted American cheese and mayo. There are also exciting, new sandwiches that pop and explode like fireworks. In other words, the great sandwiches of Dallas are unforgettable, and here are our favorites.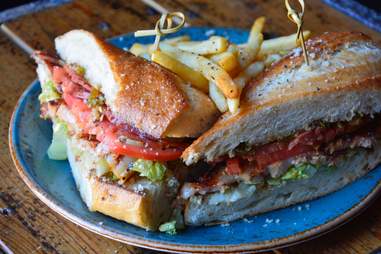 Courtesy of Armoury D.E.
The Csavargó
Deep Ellum
This sandwich is music. It's a symphony of warmth and pepper and pickled things. Seared pork belly, fat rendered to melt in your mouth like a handful of chocolate, mingles with the crisp-skinned richness of Hungarian sausage. It's Yo-Yo Ma, if he played garlic and paprika instead of the cello. There's a muted heat from house-made pickled jalapeños, a punchy bite from mustard, and good bread and chopped lettuce and tomato that cool the flames. It's easily one of the most under-discussed sandwiches in Dallas.
Kathy Tran
The Duck Sandwich
Lower Greenville
If this sandwich were a movie, it'd be Gladiator. Listen to the roar of the crowd as you read off the ingredients in your mind: sheer-thin slices of duck bacon, duck pastrami, rounds of pickled shallot and goat cheese (beer-infused, of course) spread between piping-hot, Kosher salt-flecked, pretzel bread. It's bold, and the duck pastrami-flavor profile makes you feel like a warrior. It's a day-after-feast of a sandwich. And duck bacon! Are you not entertained?
Jonathon Erdeljac
The Patty Melt
Oak Cliff
Owner and chef Jonathon Erdeljac takes one of the most iconic sandwiches in America and amplifies its power. His patty melt is the size of the moon. It's momentous, buttery, and stretchy with cheese. It's a two-nap sandwich: one nap right after eating it, and one later in the day because you earned it. Sautéed mushrooms and onions, the onions caramelized in brown sugar and "chill-spice," sit with the griddled beef patty, and the aioli adds a stern, garlicky dimension on the toasted wheat.
The Italian Combo
Oak Lawn
Every time you take a bite from this sandwich, a single tear rolls down Mario Batali's cheek. It's the sandwich that belongs in Little Italy (eat your heart out, Eataly). Crusty bread holds up to the wash of vinegar-bold dressing, which sits with a three-meat combo of mortadella (the Italian-version of beautiful, beautiful bologna), spicy coppa, and soppressata. Onions, razor-blade thin, and shredded lettuce add a cool crunch. One bite, and you'll be magically transported to the old-school flavors of New York's Italian neighborhood back in the day.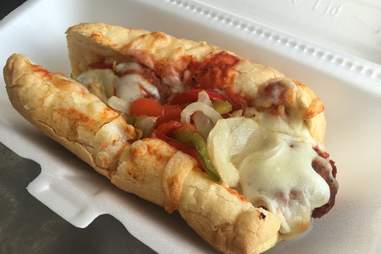 Nick Rallo/Thrillist
The Meatball Sandwich
East Dallas
One of the oldest, most respected sandwiches is at this Italian market in East Dallas. Deeply comforting, saucy meatballs are loaded with grandma's-own tomato sauce, and sticky mozzarella. As though you're starring in your own food commercial complete with sultry, slow motion cheese-pull, the white cheese will stretch between halves as you separate them. The meatballs are garlicky and tender. Get it with everything, which means sweet peppers and thin white onion for an extra crunch. The wise guys of Goodfellas would be proud of you.
The Cubano
Oak Cliff
The Cuban sandwich at C Señor, the tiny food hut just off Bishop Ave, is a new Dallas classic. Peppery, tender, mojo-marinated pork sits with good ham, melted Swiss, and the sharp and prickly of mustard and pickles. Grab a concrete chair outside the stand (there's no indoor anything at C Señor), and devour it along with the yuca fries, which taste like the breeze off Miami Beach. In fact, you'll likely forget you're sitting in Dallas altogether.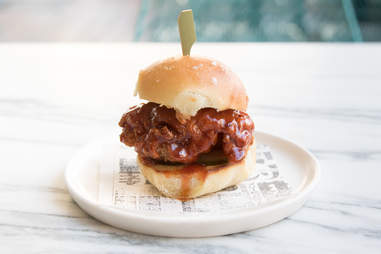 Claire Hogan
The Hot Fried Chicken Bun
Uptown
This tiny sandwich is the jewel of Uptown. Crunchy fried chicken is sauced with a cornichon gastrique, which means it's good acid against the fried breading, with a pickle medallion underneath. It's all in an adorable Parker House roll, and it'll be gone in seconds. It's a perfect little diamond of a bite. Can someone make a Ring Pop-version out of this sandwich? It's that good.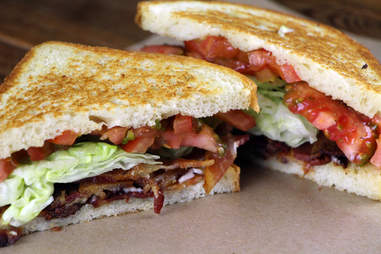 Courtesy of Goodfriend Package
The BLT
White Rock
Great BLTs can evoke memories just as easily as a classic bologna or a good, old-fashioned turkey sandwich. And Goodfriend Package, from the folks who brought you such restaurants as Goodfriend, has them all. The BLT -- with bacon that's made in-house -- is the simple stunner though. The bacon is perfectly crispy and salty, mingling with a powerhouse combo of bacon fat mayo (also made in-house), and white toast. We mentioned the bacon fat mayo, right? Yeah, just making sure. With a curtain of good lettuce and tomato, you have one of the simplest, best sandwiches in Dallas.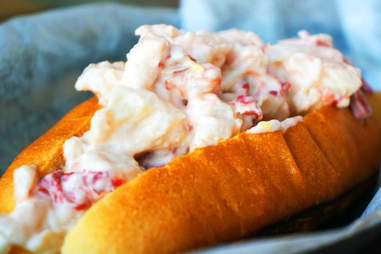 Courtesy of 20 Feet Seafood Joint
The Lobster Roll
White Rock
A lobster roll is a sandwich of the gods. In fact, we're pretty sure that somewhere in Greek mythology it's mentioned as the favorite sandwich of Poseidon. 20 Feet's bright and fresh version, easily worthy of Poseidon's expectations, includes stellar Maine lobster, flown fresh from the source. The tender meat is run through a lemon zest mayonnaise, and laid, oh so gently, into a buttered, toasted roll. Alongside TJ's Seafood Market, 20 Feet's is, bar none, the most indulgent and dilated-pupils-good lobster roll in the city. Enjoy it with a glacier-cold beer, which you can bring in yourself.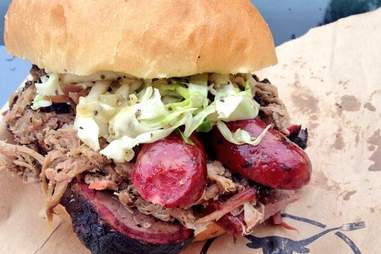 Daniel Vaughn/Cattleack BBQ
The Toddfather
North Dallas
There are days in our great city wherein you might eat some vegetables, and then there are all those other days. On those non-vegetable days, you'll want Cattleack's sausage and brisket. Melt-in-your mouth, juicy, fatty, sausage and brisket towering high on a soft bun. There's also pulled pork, which is laugh-out-loud good. Take caution: Cattleack is only open Thursdays, Fridays, and one Saturday every month. Add a scoop of pimento cheese to send this sandwich into the stratosphere.
The Grilled Cheese
Deep Ellum
No food list would be complete without the head-to-toe feeling you get when you eat a perfect grilled cheese. And the version at AllGood Cafe is one sexy sandwich: steamy flows of pepper jack and Cheddar find roasted green chiles, followed by tomatoes, all between grilled sourdough. It's deeply warming. There's a chipotle mayo in there, too, which only helps to firmly secure the place of this sandwich as one of the best in Dallas.
Sign up here for our daily Dallas email and be the first to get all the food/drink/fun DFW has to offer.
Nick is a writer in Dallas. His series on burgers and diners that don't suck appears on the Dallas Observer weekly. Challah at him on Twitter @nickrallo.