Courtesy of Pecan Lodge
Courtesy of Pecan Lodge
If you've grown up in Texas, you'll know full well that BBQ is practically its own religion here. So when it comes to supper (hopefully not your last one), which BBQ joint is the best in all of Dallas? We put it to a vote with ballots going to a distinguished 10-person panel of chefs, bartenders, musicians, BBQ hobbyists, and service industry pros with discriminating tastes when it comes to food, service, and atmosphere. Each panelist cast votes for their top five selections (places were awarded five points for a first-place vote, four for a second, and so forth), to determine the best 'cue in Dallas.
What you're getting: Barbecue Baked Potato
This is the best version of any hole-in-the-wall barbecue that you will ever find. TD's brings the backyard barbecue feel indoors and even offers Kool-Aid to conjure childhood memories of that time when your brother tried to break through the fence like the Kool-Aid Man.
Seating: Indoor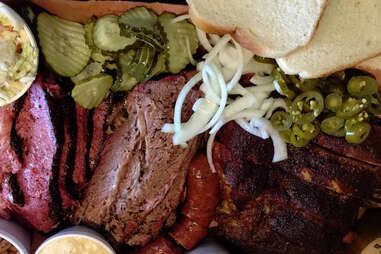 What you're getting: Ribs
Sometimes you just need to suck it up and cross 635 to go get some solid food. Cattleack will make sure that it lives by its motto of "Branded the Best." What makes going north all that more worth it? There will be free cold beer for you while you wait. But be sure to get there early, because it's open for lunch service on Thursdays and Fridays at 10:30am and goes until either 2pm or until it runs out of food, whichever comes first.
Seating: Takeout
What you're getting: Pulled pork
Off the Bone's location may seem small, but it packs a powerful punch. Located right off of South Lamar, it becomes the perfect spot to go to when you're on that side of town. The staff are very inviting and always excited to have guests, no matter the line length. Sauce or no sauce, you'll definitely be satisfied.
Seating: Indoor with a small patio out front
What you're getting: Jalapeño Sausage
If spice isn't what you're going for, they'll knock everything else out of the park for you. Be sure to pay attention to their daily specials and trust them on it. Whether it's a Sunday morning or a late Wednesday lunch, the variety and consistency of great product is what keeps barbecue lovers coming back time and time again.
Seating: Indoor
What you're getting: Damn near everything
Not a stretch, every menu item at Pecan Lodge is a must-try. It's because of this perfection that you'll never run out of combinations of beef ribs or brisket platters to take on when you visit. Located in the heart of the nightlife of Dallas, this is the best spot to spend your next morning curing that hardy hangover. Its patio offers ample seating and the indoor seating is just enough out of the way from the long line of customers, but just enough in the way to make them jealous that you already have an amazing plate.
Seating: Indoor and patio
Honorable mentions: Meshack's in Garland, Hutchins in McKinney, Slow Bone in Dallas

Our panel:
Jon Daniel: Big Jon Daniel is a lifelong music lover and iced coffee drinker. The Oak Cliff resident is a road warrior tech salesman who has been known to find a great indie coffee shop on the route to his customer meetings. You can find Jon at a concerts standing in the way of some shorter person, or in seat 21B on an American Airlines MD-80.
Christopher Thompson, Oddfellows: Thompson had many successful stints in the food business by working for Dallas Country Club, Brinker Associates, DC's Café and Catering, Papadeaux's, Commissary, and Spoon, while also attending culinary school at Remington College. He is currently the general manager of Oddfellows in the Bishop Arts District.
Jean-Paul Caron, The Wild Detectives: Jean-Paul Caron is a recent transplant to Dallas and a bartender/barista at The Wild Detectives. He enjoys spending his free time by finding new and great food around Dallas.
Kylan Savage, The Texas Theatre: Kylan Savage is the bar manager at the Texas Theatre and is a local comedian. He enjoys finding random holes in the wall at which to eat.
Amy McCarthy, Paste magazine: Amy McCarthy is a writer and critic living in Dallas, Texas. She is the Assistant Food Editor at Paste magazine.
Scott Reitz, Dallas Observer: Scott Reitz is a food critic for the Dallas Observer.
Kirk Thurmond, Joy Macarons: Not only has Kirk worked a wide array of jobs ranging from retail to food, he's also a full time musician who has definitely traveled enough to know what good barbecue is and where to go.
Cody Neathery, Dallas Observer: Cody Neathery is an Army veteran with a large appetite for barbecue and smoked meats. He started a BBQ blog that turned into a position as the second BBQ-only writer/editor for Dallas Morning News affiliate, Pegasus News. Now, he writes for the Dallas Observer, when the spirit moves him.
Scott Beggs, partner/talent buyer/promoter at Three Links: Nothing goes better with rock and roll like barbecue, and Scott certainly knows where to direct talent for barbecue whenever they're in town.
Dallas Reddit Community: This eclectic group is sure to discuss where to go, what to do, and what to bitch about in between.

Sign up here for our daily Dallas email and be the first to get all the food/drink/fun DFW has to offer.