Bacon: It's what's for dinner/breakfast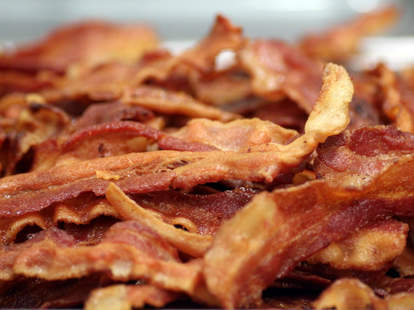 Some dudes who've worked at Cool River, Chamberlain's, Kenny's Wood Fired Grill, and III Forks are almost set to unleash the acronymically named Bacon Lover's Truck (BLT!), which will rove the streets of Dallas with Wright's bacon snuggled into daily-baked La Spiga breads in sandwiches like
The egg/waffle/maple/powdered sugar Morning Glory, and the scrambleds/fried potatoes/honey butter biscuit Morning After, which is when you lie in bed miserably thinking "My god why did I Netflix Harrison Ford and Rachel McAdams in Morning Glory?"

A classic caprese, and the sandwich named for that time Anthony Kiedis was like "Hey baby, wanna go under the bridge with me?", the Red Hot Cheesy Pepper, with pepper jack, grilled tomato, and chipotle relish on grilled cheddar bread

The brown sugar bacon, peanut butter, grilled banana & marshmallow King, modeled after the sandwich that made the man famous for the acronym "TCB" unable to see his blue suede shoes.