The Best BBQ in Dallas for Takeout & Delivery
You deserve some slow-cooked meats.
No matter how you spell it (BBQ, barbecue, bar-b-que, or countless other variations), slow-cooked meats and summertime make for one truly perfect combination. From brisket with a dark, crispy bark and spicy sausages to fall-off-the-bone ribs and juicy turkey breast, the options when paired with so many transcendent sides are practically endless. Leave the smoking to someone else and visit one of these Dallas spots serving up takeout and delivery.
Courtesy of Blu's BBQ
Far North Dallas
Innovation reigns supreme at Blu's, starting with a shipping container attached to the dining area to accommodate the kitchen and smokers. From there, the pitmasters smoke meats for daily specials in addition to their standard offerings of brisket, sausage, ribs and all the usual suspects. Must-order items include Fred Flintstone-worthy wagyu beef ribs, prime rib, brisket smoked jalapeño poppers, smoked chicken wings, and the occasional whole smoked alligator, in addition to traditional sandwiches, tacos and meats by the half pound, all great for takeout. Make sure to try the bacon-jalapeño mac & cheese, as well as bacon cookies when available.
Order online or call (972) 316-7478 for pickup and takeout from a dedicated walk-up window or order delivery from Grubhub, Uber Eats, DoorDash, and Postmates
Courtesy of Soulman's Bar-B-Que
Multiple locations
Since 1974, Soulman's has grown to one of the largest local BBQ chains in North Texas. Eight different meats are smoked low and slow over hickory wood and come as sandwiches, platters, or their signature Fritos pie on steroids, the Soul Bowl with pinto beans, cheddar cheese, pulled pork, smoked sausage, and barbecue sauce with optional pico de gallo, jalapeño, and banana peppers.
Call your nearest location for pickup and takeout (including some locations with drive-thrus) or order delivery from DoorDash and Uber Eats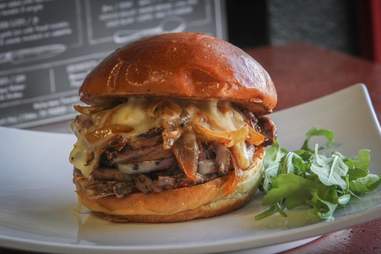 Courtesy of One90 Smoked Meats
Lake Highlands
If ever there were a BBQ joint ideally suited for the new frontier of takeout and delivery, it's One90. With only a handful of stools at a single counter in their store, the bulk of their business has always been for enjoying at home. Or in the front seat of your car if you couldn't wait. The brisket's killer, but a definite all-star in their lineup is the DLT: duck, lettuce, and tomato. The sandwich features smoked duck breast, green leaf lettuce, and vine-ripened tomatoes on toasted rustic bread with a cherry-jalapeño sauce. Chili Mac comes in at a close second, with its ooey-gooey mac & cheese piled high with brisket. Nearly every protein option can be purchased in vacuum-sealed bags, making reheating at home quick and easy even if it's days later.
Call (214) 346-3287 for take-out, curbside pickup or in-house delivery or order delivery from Caviar, Grubhub, and ChowNow.
Robert Strickland
Oak Cliff, Plano
Good barbecue never needs to be fancy, which really is part of the charm. At either smokehouse location, customers can choose Central Texas-style slow-smoked brisket, shoulder clod, turkey, pork chops, pork ribs and Kreuz sausages imported all the way from Lockhart, TX, all pulled right from the smoker and carved to order. Wrapped in butcher paper, the heavy packages of meat transport well for takeout, as do sides such as blue cheese slaw, baked beans and brisket-stuffed deviled eggs.
Call your nearest location for takeout and curbside pickup, order delivery from Grubhub, Postmates and Favor, or ship Texas BBQ to anyone you love nationwide with Goldbelly.
Deep Ellum
If there's one silver lining for Pecan Lodge fans, it's the usual long lines to get into the restaurant have subsided due to current dining-out restrictions. (But hopefully they'll be back very soon.) For those in-the-know and newcomers alike, the Trough is the best way to sample a little bit of everything -- brisket, pulled pork, housemade sausage links, pork ribs, and one enormous one-pound(ish) beef rib, all smoked on a combo of hickory and oak. Or check out the Hot Mess, a jumbo salt-crusted baked sweet potato filled with South Texas-style barbacoa, chipotle cream, cheddar cheese, butter, and green onions. Everything pairs well with green chile mac & cheese, and all meals should end with a heaping serving of Aunt Polly's banana pudding.
Call (214) 748-8900 for pickup or in-house delivery of family-size meals or order delivery from Uber Eats and DoorDash.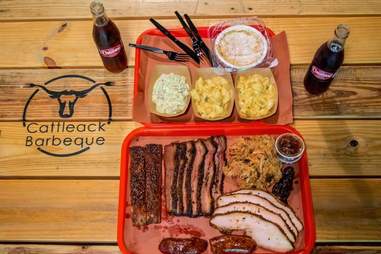 Courtesy of Cattleack Barbeque
Farmers Branch
Weekly features make a good starting point for experiencing some of what makes Cattleack different than the rest with lesser-seen items such as pork steaks, chopped whole hog, and beer-bacon-and-beef sausages. Of course, you can't go wrong with standards done just right, including tender, juicy brisket, burnt ends, and the Pitboss, a sandwich made with a hefty trio of brisket, ribs, and sausage piled on a bun with pickled red onion and jalapeño. Limited quantities of chilled whole briskets and pork ribs also make it a breeze to put together at-home meals. Oh, and don't forget the cheesy chipotle corn and decadent crack cake for dessert. (Important note: The restaurant is only open Fridays and Saturdays.)
Call (972) 805-0999 for takeout or pre-order by Tuesday for large quantities via their website.
Kevin Marple
Richardson
Prime beef can be found on nearly every Dallas steakhouse menu, but it's definitely more of a rarity to find it at a BBQ joint. Here, you'll find just that: tender, USDA Prime brisket along showstoppers such as their 1.25-pound, nine-inch beef ribs, all smoked for hours over Post Oak. Made-to-order hand-cut fries and onion rings, as well as brisket torpedoes (stuffed jalapeños) shouldn't be missed, either.
Call 1-855-QUE-1050 for takeout and curbside pickup, or order delivery from Grubhub and Favor.
Plug Public Relations
Deep Ellum
When the Austin-based original sought out a second Texas location for its iconic BBQ, Terry Black's came right to Dallas. Their simple, timeless style of barbecue gets its start in one of five, 1,000-gallon smokers with a focus on quality and old-school preparation. Brisket, beef, pork ribs, turkey, and sausage are the signature by-the-pound and sandwich offerings, while family packs can be ordered to serve up to 12 people, complete with craveable sides that include creamed corn, pinto beans, and Mexican rice. Add in a mini pecan pie or peach cobbler for dessert to cap things off properly.
Call (469) 399-0081 for takeout and curbside pickup, order delivery from Favor, or ship to friends and family nationwide with Goldbelly.
Courtesy of Legacy Hall
Plano
Legacy Food Hall is known for having a little bit of everything to satisfy practically any craving, and that list would be sorely incomplete without barbecue. Brisket Love cooks up top-quality meats smoked on-site in the Box Garden over Post Oak wood for a deeper, richer flavor profile and a smoke ring you can see. USDA Prime brisket (chopped or sliced), pulled pork, smoked turkey, and jalapeño-cheddar sausage comprise the protein list for traditional plates and sandwiches, or opt for something a little more unique such as the brisket banh mi that features chopped beef, pickled slaw, spicy BBQ mayo, and fresh cilantro on a toasted hoagie. Baked potato salad and orders of chips and queso complete your meal, while you can quench your thirst with four flavors of housemade, cane-sugar slushies.
Order takeout, curbside pickup and delivery from Grubhub or delivery only from Uber Eats.
Courtesy of The Slow Bone
Design District
Half the fun of visiting Slow Bone is walking through the line and picking out exactly what you want from the vast assortment of meats and sides. Even though they're only open for takeout daily between 11am and 2pm, diners can still walk through the line to select what looks most delicious to them for enjoying at home. Must-eats include the Pit, a sandwich comprised of ends and pieces piled high on toasted challah, Frito pie, as well as the pork chop (available Sundays and Mondays), and beef ribs on Fridays and Saturdays. Braised greens, brisket beans, brussels and cauliflower au gratin, roasted squash, and pea salad make up the huge list of creative takes on typical side dishes. Cornbread pudding for dessert will also rock your world.
Call (214) 377-7727 for bulk takeout orders, walk the line inside (with social distancing enforced) for standard takeout, or order delivery from Postmates.
Sign up here for our daily Dallas email and be the first to get all the food/drink/fun DFW has to offer.
Steven Lindsey is a Thrillist contributor.