As our recent burger renaissance has proven, Dallas has a thing for sandwiches. What you may not know is how many non-burger sandwiches from around the world can be found here at home. Here's where to get a global taste tour stuffed into buns, rolls, and pitas.
Recommended Video
This Mojito Hot Toddy Is the Destroyer of Colds
Italian: Prosciutto panino
What is it? So many of Italy's most famous ingredients stuffed into one sandwich that it even boasts the red, white, and green colors of the flag, is what it is. Think slabs of mozzarella, silky prosciutto, and basil leaves on a roll. Where to get it: Jimmy's Food Store

The East Dallas grocer and hot-food purveyor keeps things classic here, with fresh mozzarella, tomato, and prosciutto topped with basil and a drizzle of olive oil.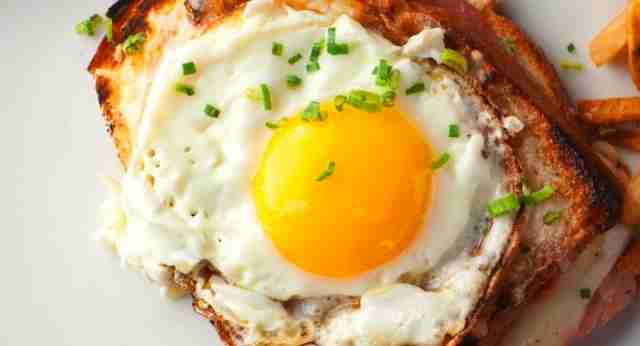 French: Croque-madame
What is it? The Frenchiest of French sandwiches, the croque-madame is actually the classic croque- monsieur -- grilled ham and Gruyère cheese -- topped with creamy béchamel or creamy-cheesy Mornay sauce and a fried egg. Throw your calorie counting out the door with this baby. Where to get it: Toulouse Café & Bar

The Uptown bistro subs big-eye Swiss cheese for the Gruyere, but otherwise, the ham, fried egg, and Mornay sauce keep this classic close to the original, right down to the accompanying mound of crisp pommes frites. The sandwich is available at lunch and dinner but, surprisingly, not at brunch, though we bet the kitchen wouldn't deny you one on a Sunday morning.
Vietnamese: Bánh mì
What is it? A mix of Vietnamese culinary custom and French baking tradition, the bánh mì is Euro-Asian fusion in the palm of your hand. In its most popular form, grilled pork, pickled cucumber and carrots, jalapeño slices, and sometimes foie gras are stacked on a fresh-baked baguette. Where to get it: Pho is for Lovers

You won't find foie gras at this fast-casual mini-chain, but varieties featuring ham and pork belly; Korean BBQ-style beef and kimchi; tofu and veggies; and roast chicken are sure to keep you occupied. These sandwiches are hefty, but save room to make dessert out of the decadently sweet and creamy Vietnamese iced coffee.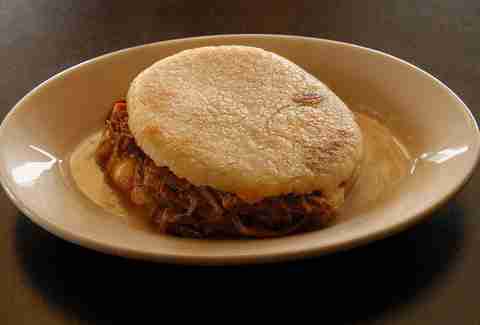 Latin American: Arepa
What is it? Anything from eggs to veggies to meat is stuffed into a cornmeal or corn flour pocket and served hot from the griddle. Where to get it: Zaguan Latin Café and Bakery

At this Oak Lawn bakery-restaurant, arepa fillings come in all stripes, from vegetables only, egg, and shredded beef to ham and cheese, and even prosciutto. Plus, you have the option of stuffing your arepa with any combination of ingredients.
German: Bratwurst on a bun
What is it? A thick pork and/or beef sausage tucked into a soft roll and usually topped with loads of sauerkraut and spicy mustard. Where to get it: Biergarten on Lamar

This Downtown beer hall serves a decidedly German-skewing menu, with the star of the show being suds-friendly wursts on locally sourced buns. Options in addition to the almighty brat include the all-beef wiener (insert chuckles here) and kielbasa, and sweet and hot peppers, grilled onions and sauerkraut are among the options for topping your tube steak.
Turkish: Doner kebap
What is it? This famed Turkish street food is made from spit-roasted lamb that's thinly sliced and served on pita bread with yogurt. Where to get it: VertsKebap

This Austin-imported outlet was launched by two UT students who missed the Turkish specialty they enjoyed in their native Germany. Now, they have more than two dozen locations throughout Texas and plans to expand to the East Coast in 2016. VertsKebap serves a beef-and-lamb iteration in kebap form (on bread), but also in a wrap or on a salad.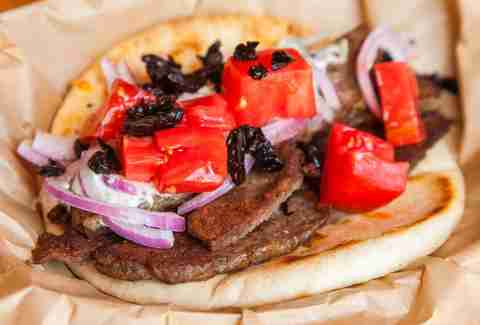 Greek: Gyro
What is it? The classic Greek dish of a cone of beef, veal, or chicken vertically rotisseried, carved into slices, and served on a pita with tomato, onion ,and creamy tzatziki sauce. Where to get it: Luscher's

One of Dallas' favorite chefs hails from Chicago and serves regional favorites from his youth at his Deep Ellum hot dog and burger joint. A hidden gem on the menu is the Greek Town gyro, which piles ground lamb-and-beef slices on a fluffy pita with red onion, olives, and a cucumber-mint sauce. If you can pull yourself away from the Uncle Herky burger, the gyro is a dish worthy of your attention.
Cuban: Cubano
What is it? Roasted pork, ham, and Swiss cheese come together with pickles and mustard on a medianoche bun, and the whole darn mess is griddled to melty perfection. Where to get it: Cuban Dulceria International Bakery

This Latin American sweets shop may be a bit of a trek, being in Carrollton, but just think: the bakery-restaurant's beloved Cubano gets to be your reward. The bread is the trickiest but most vital part of a Cubano, and the Dulceria gets it just right -- thin, crispy, and perfect for holding in the layers of meats, cheese, and pickles.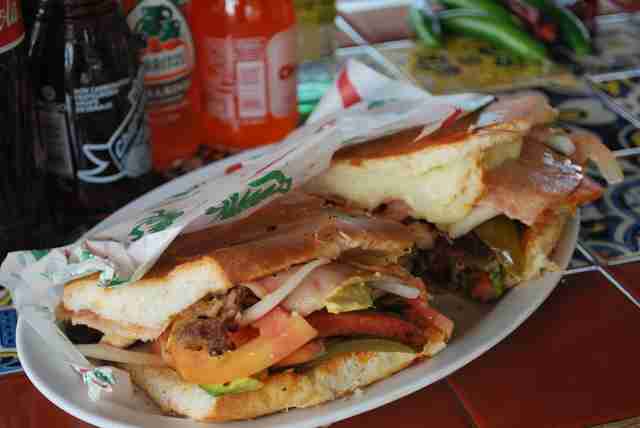 Mexican: Torta
What is it? A griddled sandwich filled with Mexican savories like chorizo, pastor pork, bistec, chicken, and sausage. Where to get it: Torteria Insurgentes

While this eatery specializing in Mexico City-style favorites offers a laundry list of tacos, sopes, gorditas, and authentic quesadillas, the tortas take up most of the menu. Dine with a group and order up a bunch, filled with ham and pineapple, sausage, eggs, chicken, steak, and enough additional iterations to keep you noshing for the better part of an evening.

Sign up here for our daily Dallas email and be the first to get all the food/drink/fun DFW has to offer.

Farah Fleurima is the foodie-centric travelista behind The Dallas Diva, and jelly sandwiches are her, um ... jam. Follow her tasty exploits on Twitter at @thedallasdiva.
Previous Venue
Next Venue
Venue Description
1. Jimmy's Food Store
4901 Bryan St, Dallas, TX 75206
This Dallas mainstay is the go-to local spot for all-things-Italian. Founded in 1996, the specialty food store has been a family-owned crowd favorite for over 50 years. Daily, the staff hand-rolls meatballs and bakes Italian sweets (with old, family recipes, of course) in the back of the shop, while in front, they help patrons select gourmet groceries and bottles from their carefully curated Italian wine selection. Locals can order hefty, fresh sandwiches at the counter, sample house-made olives, and shop for everything from imported balsamic vinegars, to handmade pastas. The imported cheese and meat selections are expansive, the antipasti bar is stuffed, and in true Italian fashion, dollar espresso shots are available all day. And while the folks at Jimmy's offer wine tastings on Saturdays, the wine room tucked behind the store is open to guests all week.
Previous Venue
Next Venue
Venue Description
2. Toulouse Café and Bar
3314 Knox St, Dallas, TX 75205
This French cafe is one of our favorite places to grab a sandwich for lunch. There is nothing quite like classing up your lunch with some European culture in the form of a croque-madame. That sandwich, by the way, is one of our favorite meals in all of Dallas.
Previous Venue
Next Venue
Venue Description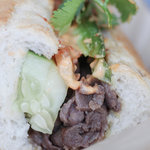 3. Pho Is For Lovers -- FND
14891 Preston Rd, Dallas, TX 75254
Pho #2 mirrors the first, with slow-cooked soup, banh mis like the Deli Special (French ham & pork belly), and plates like the sautéed filet mignon/stir fry Shaken Beef, or, when the world's strongest evil nanny tries to get two angry rappers to quit crying.
Previous Venue
Next Venue
Venue Description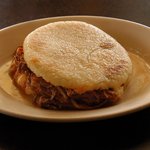 4. Zaguán Latin Bakery & Cafe
2604 Oak Lawn Ave, Dallas, TX 75219
Zaguan's is one of our favorite places to go for a unique, latin-inspired lunch or some delicious baked goods. Our personal favorite is the Aerpa sandwich, but we encourage you to stop by and taste for yourself.
Previous Venue
Next Venue
Venue Description
5. Biergarten on Lamar
665 S Lamar St, Dallas, TX 75202
This beer garden is one of our favorite places to drink beer and eat sausages in Dallas. Though you can drink here all year round, we are big fans of their patios in the warmer months. Make sure to eat a bratwurst on a bun when you stop by, because we think it is one of the best international sandwiches in Dallas.
Previous Venue
Next Venue
Venue Description
6. VertsKebap
5100 Belt Line Road, Addison, TX 75254
If you are in Dallas and craving some killer Turkish food, you need to head over to VertsKebap and chow down on some done kebap. Lucky for you, there are now about two dozen locations all over Texas, so you can fill you kebap craving anywhere you go!
Previous Venue
Next Venue
Venue Description
7. Luscher's
2653 Commerce St, Dallas, TX 75226
Deep Ellum's Luscher's Red Hots is slinging gourmet, Chicago-style dogs with a slight Texas twist. The Post Oak Red Hot is a tribute to Chicago's dog scene, with a pork and beef frank, poppy seed bun, brown mustard, pickle relish, onions, tomatoes, and sport pepper. But Luscher's doesn't discriminate in its meat repertoire; sandwiches and burgers highlight attention to lamb, "eye-talian" beef, fish, chicken, and bratwurst. If you are one of those meat-free folks, give the Tex Cobb salad a shot. Counter service and a laidback atmosphere allow for some much-desired alone time between you and your feast.
Previous Venue
Next Venue
Venue Description
8. Cuban Dulceria International Bakery
undefined N Josey Ln, Carrollton, TX 75007
Cuban Dulceria is a great place to munch on cuban-inspired treats. This bakery-restaurant is filled with delicious baked goods and sandwiches, with our personal favorite being the Cubano sandwich. This place is worth the trek, we promise.
Previous Venue
Next Venue
Venue Description
9. Torteria Insurgentes
7019 Holly Hill Dr, Dallas, TX 75231
There are plenty of places in Dallas to get Mexican food, but if you are looking for authentic Mexican cuisine that will change the way you look at Taco Tusesday, Torteria Insurgentes is the place to be. We suggest heading here with a large group, so that you can order everything on the menu and taste test it all.