An editor's guide to eating around town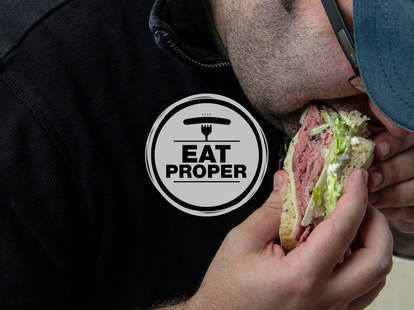 Dallas: the land of chain restaurants and steaks, right? Well, yes, kind of, but local editor Aaron Miller also wants to guide you through everything from crazy-good pho to delicious smoked meats.
Favorite Restaurant: Sure, it's since sprouted into a chain (they have one in Melbourne?), but the original Bob's Steak and Chop House on Lemmon is easily the best, and for this 3rd-gen Dallasite, it's pretty hard to top a perfectly cooked strip w/ mashed potatoes and Bob's signature glazed carrot.
Best Late-Night Eats: Post-midnight eating's all about striking a balance between booze-absorbing comfort food and buzz-maintaining booziness. That's a game DaLat's got figured out, with great Khanwiches (banh mi) and pho you can wash down with the Dragon Shot, possibly the only Vietnamese-influenced tequila shooter in Dallas.
Best Cheap Eats: With two-buck breakfast tacos and by-the-dozen tamales, the "Doctors of Tamal" at La Popular've been a Lakewood staple since the Muppets first took Manhattan (1984).
Best Sandwich: Like most Dallas Jews, I grew up going to the original, casket store-adjacent Cindi's. However, the nod here's gotta go to Jersey Joe's up in Far North Dallas. Go for the #22 (roast beef) with Joe's housemade horseradish, and get a tub of his mom's potato salad.
Best Dish: The Budin Azteca at Meso Maya's a unique Mexican dish that's at the same time mole-ey, steak-ey, very filling, and, most importantly for Dallas, goes great with margaritas.
Best Chicken Fried Steak: Head to the Bishop Arts District, where Tillman's Roadhouse pairs good, properly fried beef with poblano cream gravy, a host of Texas booze, and an excellent selection of local beers.
Best BBQ: Literally about a minute's walk from Tillman's, Lockhart Smokehouse draws on decades of tradition in the wrapped-in-butcher-paper-style meat game. Go for the shoulder clod for something that truly stands out.
Best Tex-Mex: Seats can be hard to come by during Enchilada Wednesdays at the original El Fenix downtown, but it's worth it to grab one of Dallas's staple dishes at a place that's been serving the stuff since 1918.
Best Mexican: Get over to Oak Cliff for some of Mesa's Veracruzan coastal cuisine, e.g. a brandy- and Chardonnay-cooked, jalapeno-laden combo of mussels, clams, octopus, and shrimp.
Best Food Truck: Dallas has many outstanding trucks, from Nammi, to Ruthie's, to Gandolfo's, but Ssahm's kimchi fries are so highly addictive that when co-owner Andy Park once told me he sprinkled crack on them, I wasn't sure he was kidding.
Best Burger: There's certainly no burger shortage in Big D (Off-Site Kitchen, Liberty Burger, Goodfriend...), but LA Burger really differentiates itself with it's eponymous offering, which incorporates generations of familial marinades into the kimchi and teriyaki sauce that's paired with cheese and a fried egg.
Most Gut-Busting Dish: If you can finish the 7000-calorie, seven pound burger in under an hour, Kenny's El Jefe Grande Burger is free. Many have tried, far fewer have succeeded.
Best Fine Dining: Tucked inside the Ritz-Carlton, Fearing's is named after it's chef, who happens to be the father of Southwestern cuisine, and puts forth amazingness like cactus pear-glazed antelope with rabbit-, green chile- and queso-fresco-stuffed enchiladas.
Most Romantic:The Old Warsaw's been at it for so long that back in the '60s, my parents went there and tried to guess who was married, and who was cheating on his or her spouse. But I've gotta give the nod here to SER on top of the Anatole -- it's got one of the best views of the Dallas skyline, good steaks, live jazz, and, most importantly for romance, nice hotel rooms just a few steps away.
Best for Work: If you're looking to impress your boss and/or have your company credit card on hand, head to Reunion Tower. There, Five Sixty by Wolfgang Puck offers good dim sum and and probably the best view of Dallas you can find.
Best LunchMughlai's an Indian spot from an NJ transplant, and it offers a robust lunch buffet. Protip: use the naan, not your silverware.
Best BrunchBoulevardier's got your well-executed classics (Croque Madame, Eggs Meurette...), but what separates it from the rest of the pack are more adventurous offerings like their breakfast banh mis stuffed with bacon, egg, jalapeno, daikon, and more.
Best Wings:Wingstop. It's everywhere, and that's a good thing, because you're already gonna miss enough of the game when you go pick 'em up. Get 'em hot, get 'em tossed in extra sauce, and don't forget the beer on your way back.
Best Donuts:Hypnotic's donuts are the kindest, bravest, warmest, most wonderful donuts I've ever… uh… whatever, get the Tabasco- and jalapeno-laden Mexico.
Best Drive-Thru: Drive-thrus aren't supposed to be healthy, so any drive thru where you can get NY strips and ribeyes is a place that understands Dallas. Becks Prime is that place.