El Original in Hell's Kitchen served up some excellent chili when I visited back in October. It's one of two Tex-Mex restaurants that opened in New York last year, and both were met with a barrage of nasty criticism. "This isn't real Mexican food!" "The tequila has a harsh flavor and the chile con queso forms a skin on top -- what an outrage!" Angry Tex-Mex haters seem to abound up there. Bless their hearts.
I am delighted to report that Tex-Mex is still alive and well in the homeland; pass the chips and salsa, please. Lately, I've been crisscrossing Texas doing book signings for my new release, The Chili Cookbook, and my travels have given me a chance to check up on some classic joints and discover a few more, making up the top 10 Tex-Mex restaurants across the state.
San Antonio
Cheese enchiladas in chili gravy are the essence of Tex-Mex, and the ones served at the Original Blanco Café in San Antonio are the epitome of the classic dish. The cheese oozes, the chili gravy is intense yet not fiery hot, the corn tortillas are just tough enough to stand up to the sauce, and the refried beans are creamy with lots of lovely lard. Alejandro San Miguel opened the first location of this mom and pop Tex-Mex café at 1720 Blanco Rd in 1974 and put his wife and ten children to work there. There are now two locations -- neither is located on Blanco Rd -- there is one downtown on St. Mary's and one in the Medical Center on Fredericksburg Rd. Lunch specials include Southern favorites like chicken-fried steak and Salisbury steak. Breakfast is served all day.
Houston
The little tortilla factory that Mama Ninfa made famous has become a shrine for fajita lovers. Ninfa's is one of the few restaurants in Texas where you will still see outside skirt, the original fajitas cut -- they serve it to preserve the tradition. The iconic fajitas are never marinated, just seasoned with salt and pepper and brushed lightly with seasoned soy sauce as they come off the grill. The beef is cut into thin strips against the coarse grain. This is not a tender cut -- you have to pinch the tortilla to keep from pulling the meat strips out with your teeth when you take a bite. But the toothsome meat is incredibly flavorful. The Original Mama Ninfa's on Navigation is one of the last places where you can eat fajitas that taste like they did in the old days.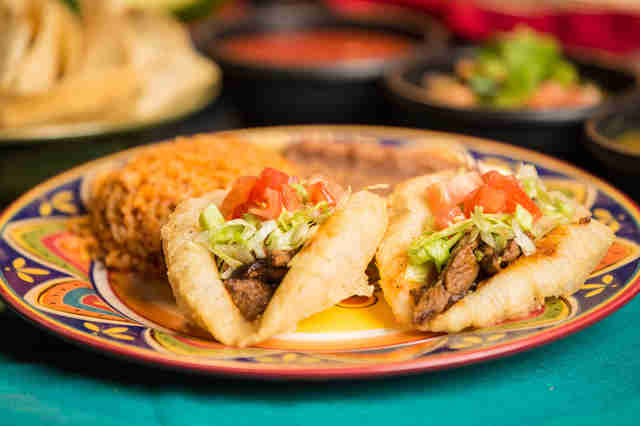 San Antonio
When asked for his secret recipe, Ray Lopez, the owner of Henry's Puffy Tacos shrugged, "everybody in San Antonio makes puffy tacos the same way," he said. You make tortillas out of raw masa, put them into a metal form that holds them in a U-shape, then drop them in the deep fryer. The resulting taco shell has a bubbly exterior and a crispy-on-the-outside, soft-on-the-inside texture that Tex-Mex fans in the Alamo City go nuts over. Order the Henry's Puffy Taco Plate, three puffies for $10.99 -- you won't need any rice and beans. Get a different filling in each -- choices include: shredded chicken, bean & cheese, carne guisada, spicy beef fajita, spicy chicken fajita, and guacamole. All puffy tacos come with chopped lettuce and tomato toppings. The salsas here are super hot and sensationally tasty.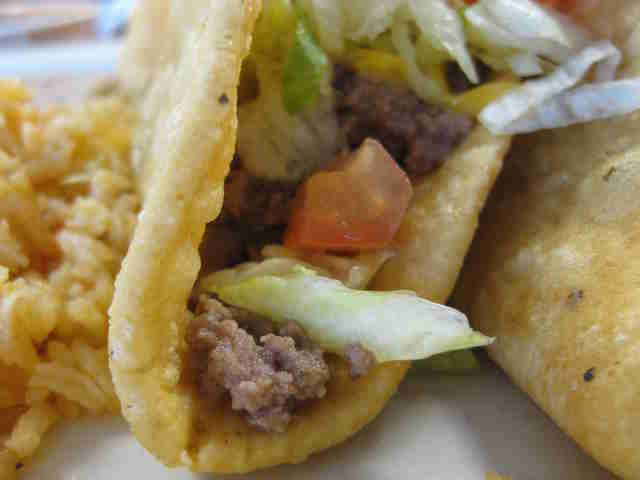 Austin
Get the "Village Taco Plate" with three made-to-order tacos. The filling options are chicken, picadillo, and fajitas. The fajitas are by far the best -- but be prepared for a $2 upgrade charge. The sensational "crispy tacos" are blistered on outside and chewy at the same time. Robert Amaya started out making this style of tacos on a home range in the tiny original location in East Austin. Before Taco Bell popularized the pre-formed taco shell, all Tex-Mex tacos tasted as amazing as this. Henry's puffy tacos in San Antonio and Amaya's crispy tacos in Austin are a throwback to the old-fashioned way of making tacos to order. And once you taste them, you will never think of Tex-Mex tacos in the same way again.
Austin
Charming, crowded, and always busy, Joe's is the hub of East 7th St. Get the huevos rancheros and don't forget to mop up your succulent refried beans with the fresh made flour tortillas. Breakfast tacos and migas are also stellar. The menudo here will cure your hangover -- or any other morning malady. Joe's is only open for breakfast and lunch, but it's the best Mexican breakfast in the state. Founder Joe Avila died in 2011, but the family has done a bang-up job of keeping the quality high and the atmosphere friendly. Try the pan dulces and ginger pigs in the bakery case, but don't complain that they are too dry -- you are supposed to dunk them in your coffee as you eat them.
Seguin
Don't miss the chile relleno here, it is quite possibly the greatest Tex-Mex stuffed pepper of all time. The exterior is firm and crunchy, as if the ground beef-stuffed poblano pepper had been chicken-fried, what an improvement over the "authentic Mexican" relleno coating, a fried egg white mixture that always seems to be limp and greasy. Freshly fried tortilla chips and a tangy picante sauce start the meal -- they go great with a frozen margarita. El Ranchito's combination plates and enchilada dinners are solid and the puffy tacos aren't bad either. The service is provided by family and staff members who have worked here for decades. The restaurant is currently run by owner Danny DelaGarza, whose grandmother Juanita Cardenas constructed the building at the original location with salvaged lumber in 1940.
Houston
Molina's classic chili con carne isn't on the menu, but if you ask for a bowl they'll bring you one. Or get a plate of enchiladas de Tejas, which are served in chili con carne sauce. The Mexico City dinner is a time-honored tradition that doesn't have anything to do with the capital city of Mexico. The Molinas family bought a Tex-Mex joint called the Mexico City restaurant on Gray St in Houston in 1941; they've had the "Mexico City" dinner on the menu ever since. It features three separate plates; there's a queso-covered fried tortilla puff on one appetizer plate and a beef taco and bean tostada on the other. The "hot plate" holds a cheese enchilada and a pork tamale topped with chili con carne with rice and refried beans. Molina's is the oldest continually operating Tex-Mex restaurant in town.
Dallas
You will want to start with the complimentary bowl of beans. Then order the legendary sour cream enchiladas with the jalapeño garnish, just to be sure they are as good as the original version. The first Herrera's opened forty years ago in a little house on Maple Ave and, until it closed in 2014, it was one of the most charming mom & pop Tex-Mex joints in the state. Things got confusing when several branches of the founding family opened and closed Herrera's locations all over Dallas. But this new Sylvan Avenue location is dubbed Original Herrera's Café for a reason. The owners are promising to carry on the traditions of the original. And if anything, the quality and service here seem to be reaching an even higher standard than those observed in the last days of the Maple Ave cottage. If the weather cooperates, sit outside on the shady landscaped patio.
Muleshoe, Amarillo, and other locations
Try the enchiladas -- they are stacked, not rolled. And they come smothered with New Mexican-style red chile sauce, not Tex-Mex chili gravy. The original location of Leal's in Muleshoe was founded by Irma Leal as a tortilla factory to provide Mexican farm workers with their favorite foods (as per the rules of the Bracero Program). The business grew into a six-store chain with five locations in Texas and one in New Mexico. The Muleshoe location is historic, the Amarillo location, run by Irma's son Victor Leal, is the fanciest. The chain also sells their outstanding seasoned tortilla chips in boutique food stores in Dallas.
Houston
First off, full disclosure: I am a co-owner of this restaurant with Chef Bryan Caswell and Bill Floyd, but others can attest to El Real's well-deserved reputation. El Real, located in the refurbished Tower Theater building in Houston's Montrose neighborhood serves vintage Tex-Mex. The chili powder is ground fresh in house from lightly toasted anchos and cumin seeds. The chili con carne is made by searing chunks of beef in bacon grease and the refried beans are made with lard from heritage hogs. The fajitas are real outside skirt steak grilled over mesquite and served on a sizzling comal with garlic butter. The most popular order is Enchiladas #7: three signature cheese enchiladas in chili con carne sauce. Hint: when the waitperson asks, "Do you want a fried egg on top of that?" Say, "Yes."
Sign up here for our daily Dallas email and be the first to get all the food/drink/fun DFW has to offer.