Living in Dallas is, generally speaking, a good decision. Eating in Dallas is, generally speaking, also a good decision. But that doesn't mean dining out here isn't without its possible pitfalls. Avoid these 15 restaurant mistakes and have yourself a happier Dallas existence.
1. Boringly ordering the Jack's Cheeseburger at Ten Bells
Instead, you're getting bangers and mash, because the beloved Oak Cliff bar and restaurant is, after all, an ode to the pub of the same name in London. Sure, the cheeseburger is really good, as are the fish and chips. But the money move here is the bangers and mash, covered in savory gravy. The follow-up move is falling into a meat-and-potatoes-induced coma.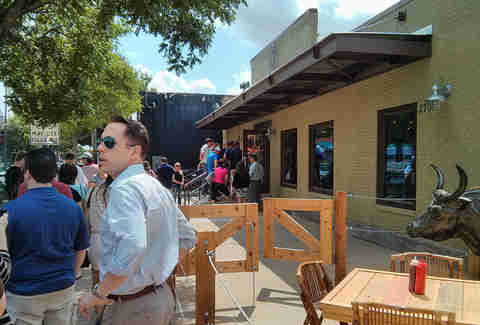 2. Letting the Pecan Lodge line defeat you
Standing in line for limited-batch BBQ has become the official pastime of Texans from Austin to Dallas. Austin may have Franklin, but they also might be facing a new smoke-restricting BBQ law. Could BBQ become ILLEGAL in Austin? Luckily, Dallas has embraced the smoke, and Pecan Lodge has grown from a modest stall at the Dallas Farmers Market to a full-fledged restaurant, complete with a line wrapped around the block as soon as it opens.
 
3. Thinking Cesar's Super Nachos at 3am is a fantastic idea
With a Davis St location dangerously close to both the Bishop Arts District and the Kessler Theater, Cesar's is the siren song summoning all over-served patrons of nearby establishments toward the rocky cliff that is an order of Super Nachos. Cesar's, a 24-hour taqueria, decided to make your life easier (or infinitely worse, depending on how you look at it) by just piling all the stuff in one styrofoam container: meats, cheeses, jalapeños, onions, hell, maybe even a rolling office chair. There's no way to be sure since no one actually looks at Super Nachos in the daylight.
 
4. Oversleeping the Late Brunch at Double Wide
For over 10 years, Double Wide has made white-trashiness fairly acceptable. And what's trashier than not even being able to show up for normal Sunday brunch hours? That's why Double Wide has started hosting a Late Brunch from 1-4pm on Sundays complete with the Easy Slider truck serving up unique brunchy sliders, like a bagel & lox slider. Oh, and the Bloody Marys will make you feel human again for a little bit as you power through your hangover.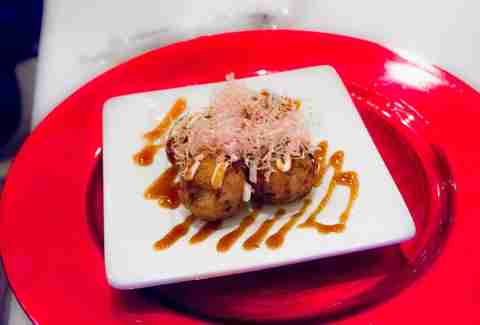 5. Not making a reservation at Café Momentum
Chef Chad Houser's social experiment-cum-restaurant stands out in the crowd. Partially because of the fact that all of the serving staff members are non-violent juvenile offenders given a chance to learn service-industry skills. But more so because the food is just that good. Also, it's not every place you eat where you know the price you're paying for food is providing much more than just a paycheck to your server.
 
6. Being too prissy to stand on the street slurping noodles from Monkey King
Remember when Deep Ellum was a dead wasteland? Yeah, those days are long gone and the neighborhood is now almost always the location of the next big culinary thing on the city's cultural radar. One of the first restaurants to start the upswing was Monkey King Noodle Company with its authentic street-style noodles and limited-seating space, giving diners no choice but to enjoy street noodles on the actual street. Remember, slurping is actually a compliment at Monkey King.
7. Being too freaked out to try the pig tail at Small Brewpub
Small Brewpub's head chef Misti Norris is famous, or perhaps even infamous, for her love of offal. No cut of meat is too offbeat for her, and now pig's tail is joining chicken feet as Small's most out-there experience. Served with dollops of malted milk and a savory sweet purée, it's a must-eat... unless you are allergic to deliciousness.
 
8. Skipping the brisket tacos at Mia's
Yes, they are on every tourist bucket list for Dallas dining. Yes, Mia's valet situation might seem incongruent with something like brisket tacos. But there's a reason why parking is at a premium at the Mia's on Lemmon Ave. If brisket is the luxury car of tacos, Mia's brisket tacos would be a Rolls-Royce Phantom.
9. Letting agoraphobia get in the way of lunch at Klyde Warren Park
The Downtown deck park provides families with a beautiful place to take the kids, but the bigger achievement that the park has accomplished is providing office workers and Arts District tourists alike a place to enjoy an affordable al fresco lunch. Food trucks line the edge of the park, and on any given day, the choices range from Nammi's bahn mi perfection to offbeat sushi combos from Crazy Fish.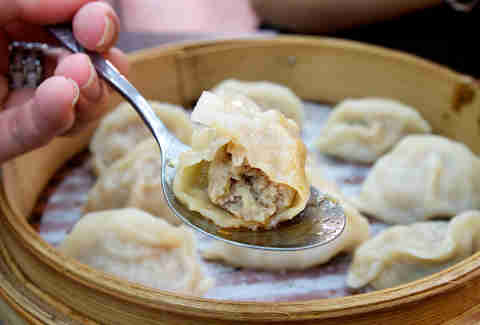 10. Being too intimidated for dim sum at Kirin Court
Dim sum seems to intimidate certain diners. But what's more American than a boundless array of foods being constantly wheeled past and offered to you? The baskets of steamed dumplings and pork baos at Kirin Court are always fresh and piping-hot as they are brought to the table. Plus, you get to keep a scorecard of all the tasty food you just ate.  
11. Chugging a bowl of Bob Armstrong Dip at Mattito's
The infamously decadent Texas dip -- consisting of queso, guacamole, sour cream and taco meat -- has even started popping up in such far-flung locales as New York City at Javelina. But Mattito's is the place to go in Dallas if you want to fully experience Bob Armstrong Dip's charms. But dear god, no matter what you do, do not give into the natural human urge to chug it like a bowl of cereal milk. That won't end well.
12. Going to Wild Detectives just for coffee and books
Books and records line the walls of the shop and Emporium Pies are perched temptingly on the bar. But the secret to Wild Detectives is its vast offering of mostly Spanish wines and a craft cocktail and food menu created by Small's Benj Pocta and Misti Norris. Then you can stake out your place at a picnic table in the cozy backyard and do some quality people-watching. Just don't be too creepy about it.
 
13. Banking on a last-minute reservation at Lucia
Lucia's reputation as the city's best upscale Italian restaurant and small dining room can make getting a dinner reservation there a months-ahead-of-time kind of thing.  But if the phrase "Italian dry-cured meat" makes your pants tingle a little bit, the wait for a reservation is well worth it.
 
14. Being "that guy" with the camera Al Biernat's
The king of steaks in a town based around cows, Al Biernat's is as well known for its celebrity clientele as its steaks. If you're a pro athlete, actor, or just generally rich and/or famous, you undoubtedly have been pointed in the direction of Al Biernat's dining room when you're in town. Just try to be cool, though. People are eating.
15. Acting too grown-up for a Pop-Tart ice cream sandwich
Do you really need the hard sell here? It's ice cream with frosted Pop-Tarts on either side of it. Carnival Barkers handmade and completely unique flavors change daily so no two visits are alike. It's available at the original Carnival Barkers inside Truck Yard or at the new digs on Jefferson, just a hop, skip, and a jump from the Texas Theatre.
Sign up here for our daily Dallas email and be the first to get all the food/drink/fun DFW has to offer.