The Weekend Playbook: A pub crawl, plus every car of all time ever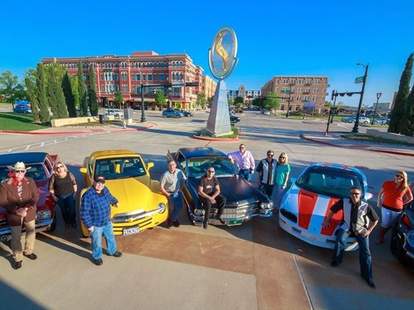 Event of the WeekThe first-ever Texas Dream Cruise is aiming to be the largest car show in the Southwest on Saturday, with literally thousands of DFW's finest rides hitting the streets of Frisco. General admission's free, too, if you click here.Friday, June 28thNew Kids on the Block, Boyz II Men, and 98 Degrees are in town. You can get tix here if you want, but you probably much more likely want to click here and read what our 32yr-old heterosexual executive editor had to say about the show.The Camp Bowie District in FW has paired with Rahr for a pub crawl with stops at Riscky's BBQ and Buffalo West, plus $3 beers. Giddy upShinsei is hosting a class on proper margarita-making, and it comes with luau-y hors d'oeuvres.Sunday, June 30thThe Lot's hosting Okra Palooza, where Graham Dodds (Central 214), Chad Houser (Café Momentum), and Janice Provost (Parigi) are facing off to see who can make the best, well, okra. Your tickets come with beer!OpeningsThe Addison Ice House is now open in Vitruvian Park, with solid craft beers, air hockey, and cute girls, which you can see right here.
Susan Friedman
Local Lady We Love, and Where to Meet Her
Meet Susan Friedman. Her PR company represents everything from the Bud Light Pro Fight Series to the Wounded Warrior Project's half-marathon, and after slaving away on a 15hr Monday, she likes nothing more than kicking back at Vickery Park with a few drinks. Reasons we love her: 1) She's 5'11" and still drives a Miata. ("I get a lot of 'How do you fit?' comments."), 2) she has absolutely no regrets about coloring her hair pink while she was at TCU, 3) she's absolutely convinced that the Pussycat Dolls have enough bling to win a fight against Jem and the Holograms purely by blinding them, and 4) she's adamant that the original Green Room had the best jukebox in all of Deep Ellum.