You'd love to already know about all the best new bars and restaurants that have popped up all over Dallas throughout the year, but you've been busy building a 40ft catapult in your backyard. We get it. Well, you can catch up in a jiffy with this year-end primer of the best of the best new things to eat and drink from 2015.
Recommended Video
This Restaurant Reinvented the McGriddle
Best new burger
Uncle Herky at Luscher's
Address and Info
Deep Ellum
In March Brian Luscher, of longtime bistro stalwart The Grape, opened this paean to his hometown of Chicago's cuisine. There's everything a Chicagophile would require: fried smelt, depression dogs, red hots, gyros, and Italian beef. Trust, it is all top quality, as good as the renditions in the Midwest proper. But, improbably, none of those items is this shop's signature dish. That would be the incomparable, inimitable Uncle Herky burger, instantly Dallas's best burger, and, heretics be damned, likely the best in the Lone Star State. Peppered bacon, a perfectly baked bun, oozing mounds of ample American cheese, two salty and savory wagyu beef patties -- the Uncle Herky is a psychedelic meat-induced hallucination.
Best new restaurant overall
Filament
Address and Info
Deep Ellum
It began, as rumors do, with wide eyes and hushed tones: "McCallister is opening up a second spot." Those in the know murmured and harrumphed; conjecture and hearsay from the public followed. Where? What? When? As time marched on, details emerged. Deep Ellum, approachable fare (to contrast FT33's haute cuisine), sometime in the fall. And then the delays. And the leaked photos and menu possibilities and quoted sources and endless speculation. But now -- now, Filament, the second restaurant from the punk rock prince of Dallas chefs, Matt McCallister, is here, and somehow it has matched, and damn near exceeded, its own crazy hype. A braised pork tamale on a bed of pintos is a Southern supper masterpiece, and achingly spicy BBQ gulf shrimp taste like the salty tears angels cry in heaven.
Best new bar
The Theodore
Address and Info
North Dallas
If you're a put-upon dad mired in the midst of another NorthPark shop-a-thon, have I got news for you: now, you can wander off, sit down, and tie one on in a place a whole lot classier than the PF Chang's. While Bread Winners and La Duni have done their part to heighten the NorthPark gastro-experience, The Theodore, from the owners of Bolsa and the chefs at Smoke, practically reinvents it. At once modern and retro, masculine and elegant, classical and original, The Theodore, which opened in November, is effortlessly cool. With Kyle Hilla, former cocktail maestro at Bolsa, heading the bar program, it's no surprise that the drinks, like the Campari-tinged Redwood, are adroitly prepared and damn tasty.
Best new spot to eat local
Wayward Sons
Address and Info
M Streets
When people talk about the evolution of Dallas cuisine and its relatively recent rise into the fooderati mainstream, people often talk specifically of one man: Graham Dodds, who, when he cheffed at Bolsa in its late-2000s infancy, ushered in the vanguard of what is now a sweeping infatuation with local, sustainable cooking. Dodds, now at the recently opened Wayward Sons, continues to push the locally sourced envelope, fanatically obsessing over the footprint and ethics of everything that touches each dish. Unsurprisingly, produce, meats, and dairy from local farms dominate his menu, and the combination of these ingredients, plus the kitchen's everyday precision and flair, is singular and winning.
Best new spot for brunch
Pink Magnolia
Address and Info
North Oak Cliff
We knew it would be like this: over the top, chicken-fried, cream-based, salty and comforting and belt-loosening and béchamel-tingly thick. Yet we were powerless to stop it. Though it's not as if we tried hard; after all, this -- an unapologetic, brazenly hot-pink ode to Southern decadence from the queen of that kind of cuisine, Blythe Beck -- this is something we, all of us, in the backs of our addled brains, knew that we craved and desired. Brunch at the Pink Magnolia -- hotcakes and bourbon syrup, anyone? -- is, frankly, wrong. It's a sin, but it's worth every single guilt-soaked, grease-stained penny.
Best new ramen
Ten
Address and Info
West Dallas
Tei-An -- pound for pound, secret ballot, every head bowed, every eye closed -- is simply the best restaurant in Dallas. It's no surprise, then, that when Tei-An chef Teiichi Sakurai announced plans to open a ramen joint, prospective diners shivered with anticipation. Well, in April, it finally arrived, and unsurprisingly, it very much delivered. Inside Ten Ramen -- named such because it's so damn tiny, Tokyo-style, that it can house, max, ten people -- meaty bowls of chicken and pork are presented, broth steaming and soothing, noodles chewy and bouncy. Locally, from conception to execution, the bowls of ramen here remain unmatched.
Best new seafood spot
Uchi
Address and Info
Uptown
The Dallas outpost of the universally lauded Uchi empire opened in June, and from then till now it's been basically a mob scene, but a deserving one. Food this varied and vitalized is meant to be mobbed. Marketers might describe Uchi as "Japanese fusion," but that's like describing Fury Road as "a film about travel." While everything's expertly prepared, your best bet here is seafood -- fresh-as-can-be nigiri, boquerones, shrimp tempura, and most pressingly, the machi cure, with baby yellowtail and crispy yucca chips, which the same marketers might describe as "nachos."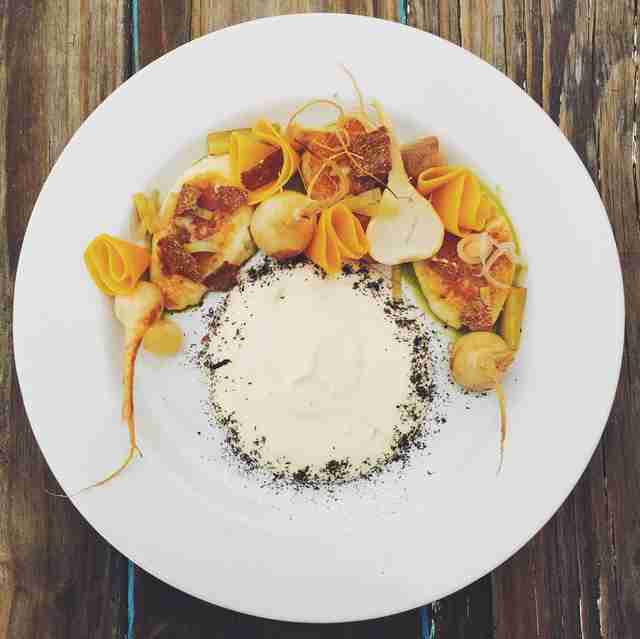 Best new brewery
Small Brewpub
Address and Info
Oak Cliff
While it may have the word brewery more or less in the name, one can reasonably argue that doing so is a misnomer; Small Brewpub (which technically opened in December 2014) -- with its culinary emphasis on exploration and experimentation; its chic, modern, masculine, lumber-forward decor; its penchant for on-premise bohemian jazz sessions -- is just a brewery the same way that Mad Men is just a show about advertising. It's so much more than that, man. Where else can you order a brewed-on-site stout alongside beef heart ravioli and braised chicken neck? The question is rhetorical.
Best new spot for fried chicken
Rapscallion
Address and Info
Lower Greenville
As far as food trends go, 2015 said goodbye to the ramen craze, and to cronuts, and waved hello to kouign-amann and Nashville-style hot chicken. The Music City's regionally raved-about, cayenne-bolstered fried bird parts were spotted across many a new restaurant menu, from coast to coast, and in Dallas it was Rapscallion, which opened in July, that introduced a version of this southern delicacy to the frothing Metroplex masses. Judging from the lines, the wait times, and the OpenTable reservation queue, Rapscallion's hot chicken has been nothing if not a hit. Crispy and cracklin', bubbling and piquant, it's absolutely worth the wait.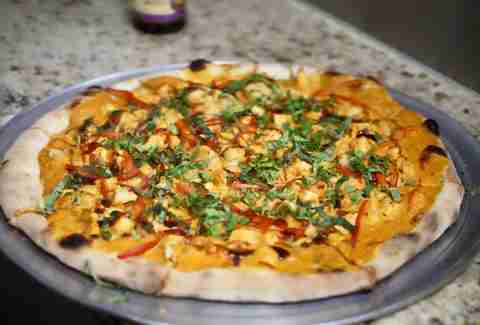 Best new pizza
ZaLat
Address and Info
East Dallas
Describing ZaLat as new is surreal, even though it opened a mere eight months ago. It feels as if ZaLat has been in Dallas for decades; I can't imagine life without it. In such a short time it has become a staple of late-night Dallas food and essential to the city's pizza identity. Simultaneously creative (a pho pizza and an elotes pizza) and traditional (an NYC pie to which modifications are outright refused), ZaLat is also open 'til 4am, seven days a week! Plus it gave us all Srirancha, a condiment at once inevitable and unbelievable.
Best new spot for a first date
Midnight Rambler
Address and Info
Downtown
A furtive and funky riff on the hush-hush speakeasies of American yore, the Rambler (which technically opened in late 2014) is ideal for attempting to impress an otherwise total stranger you obviously met while lurking in the sordid, unsavory fringes of the Internet. Tucked away, clandestine and curious, in the swanky and hip Joule hotel, the Midnight Rambler is accessed via a winding staircase that leads to a dimly lit lounge accompanied by a soulful vinyl setup and bartenders who mix well and pour strong. At the Rambler, inhibitions are lowered and innermost desires are confessed, and everything about the ambiance wantingly coos, "I am a cool and sexy human against whom you should closely press."
Best new spot for crepes
Whisk Crêpes Café
Address and Info
West Dallas
Whisk's digs, nestled right in the heart of the fledgling Sylvan-Thirty compound, where West Dallas meets Oak Cliff, likely won't flood the mind with the kind of images evocative of picturesque Parisian reverie. But the exact opposite can be said about the food: it's all crepes, baby, delicate and decadent, and c'est magnifique. Dallas' first full-time creperie, Whisk opened just a few months ago, slinging pastries both savory and sweet; there's butter and sugar, for the traditionalist, or peanut-butter-jelly-and-Nutella, for the adventurous. Between Whisk and Boulevardier and the faux-French geniuses at Village Baking, Dallas is becoming quite the arrondissement.
Sign up here for our daily Thrillist email, and get your fix of the best in food/drink/fun.
Mitch Wright, a writer and copy editor, is selfish and drunken and vulgar and lazy. A recent Texpat, he loves processed cheese food, vinegar-based hot sauce, a variety of pork products, Maldon salt and Manhattans. He is also cranky and chronically looking for work.