Booze & burgers on Beckley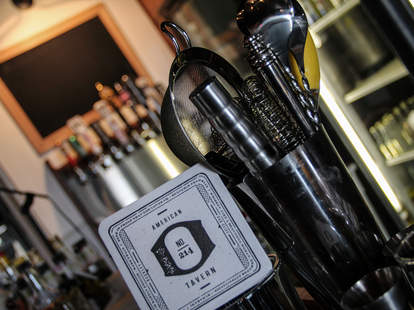 The old Campo spot in Oak Cliff's been reborn as Outpost, a heavily-wooded tavern anchored by a 10-seat bar..
... opposite tables with benches no longer occupied by Michael Young

The patio's perfect for watching traffic on Beckley, which is also an adjective that means "in the manner of Jeff Beck". Seriously, ask him -- he won't answer though, which is so Beckley

The menu kicks off with apps like these elotes (grilled corn w/ cotija, sour cream/mayo sauce, lime, and chili powder), sweet-buttered skillet cheddar cornbread, and deviled eggs w/ smoked paprika, because hey, this isn't Washington.

Ramp up to a ham & gruyere loaded w/ a fried egg & bechamel, or PBR-battered whitefish tacos, though the really cool whitefish have switched over to High Life. No, Busch. Hamm's

Liquor floats above the bar on custom iron shelves before going into classics like Aviations, French 75s & Old Fashioneds

They've got 10 taps ranging from Fireman's #4, to Santa Fe's Happy Camper IPA, to St. Arnold Santo, to Stone Ruination, the tavern-induced state that causes people to get born again.