There are good clones (Scarlett Johansson in The Island) and then there are bad clones (anything not Scarlett Johansson in The Island). Just added to the Scarlett pile: Le Bilboquet, a decades-old staple of NY's Upper East Side which's been pretty much exactly duplicated in Uptown by a couple of the guys who used to work at the NY spot.
When we say "pretty much exactly duplicated" we're talking stuff like this custom-made, pewter-topped bar, which is a replica of the one on the UES.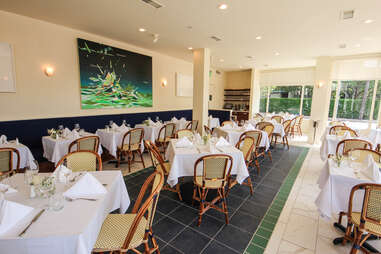 But when we say "pretty much exactly duplicated", well, the art on the walls and the blue-tiled floor are different. The chairs, though? The chairs are the same (phew, right?), as is the chef, who has permanently moved here after 20yrs of running the original's kitchen.
Relocation, for him, means giant wad of French blue cheese stuck on a bed of endives and drizzled with Dijon vinaigrette for you.
Also: surfy mains like these pan-seared sea scallops, sauteed halibut with caviar, and "moules marinieres" -- white wine shallot sauce-aided mussels that're every bit as steamed as Seattle baseball fans.
Oh, and don't forget to meat up with escalope de veau au citron (veal scallopini served in an underpowered French family car), or this wine-sauced cajun chicken with, naturally, French fries.