Like eating hanger steaks on scenic patios in rad neighborhoods? Well, in that case...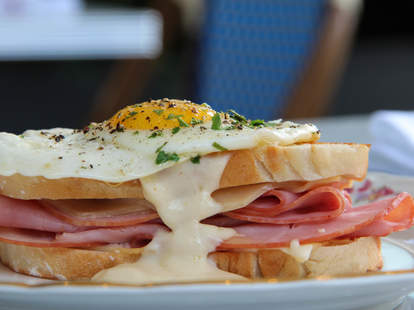 Harwood International's Mercat Bistro. Some would say it gets its name from the Spanish word for "market". Others who are much smarter would say it gets its name from the dude in The Lion King who's friends with Pumbaa. Either way, though, this continental-style... uh... bistro's a must(afa!), and conveniently located just across the courtyard from Harwood's other jewel, Saint Ann.
The bar-anchored interior's appointed with intentionally mis-matched chairs and plates, all lorded over by (try not to get excited) a giant piece of hardwood.
Outside, the patio's abutted by Saint Ann Court right next to Harwood St, which means lots of green, mister.
Only waking up in time for lunch? Get started with burrata-topped bruschetta while thanking whoever designed the building for the fact that the patio's 100% out of the sun.
Or screw it and get breakfast anyway. This omelet is, after all, covered in Brie.
They make their red wine-sauced hanger steak...
Daniel Drienski
... WITH FIRE!!! Important quote from the chef: "When we do the steak, this happens."
Daniel Driesky
Also: classic 'tails that back up a Alsatian-/Belgian-/Lakewood-heavy beer lineup.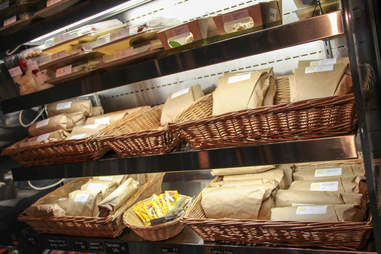 And in case you don't like sitting on scenic patios, they've got to-go-ness like turkey/bacon/avo wraps and ham sammies coated in enough extra butter your arteries'll be the ones who're Scar-ed.