Because good things come in threes (Indiana Jones movies, Bronte sisters, Destiny's Children), the chick behind Del Frisco's and Bubble Bar's getting her trilogy on with Dee Lincoln Steak & Burger Bar, a meat eater's paradise that's aiming for the Sky, despite being located across the street from BBC.
Recommended Video
This Restaurant Serves Burgers on Purple Buns
The old JoJo Eating House interior's been refreshed inside and out, including this covered, open-air patio which now features drapes redder than... the drapes that were there before.
They'll help you ramp up your appetite with fried green tomatoes, miso eggplant in a shiro glaze (pictured), or steakhouse street tacos that're covered in the unofficial motto of the Emeril Lagasse-coached Odessa Permian Panthers (garlic chili mojo).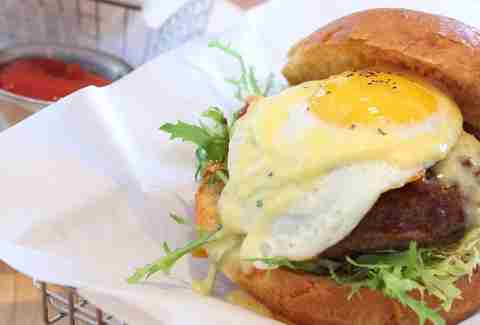 Now this might surprise you if you didn't read the title of the piece or the first sentence, but they've got steaks and burgers (wha?????????????), including The VooDoo (made outta crab cake covered in ravigote sauce), The Cowboy (onion shavings, molasses glaze, pepper jack), and The Benedict, covered in tomato bacon jam, Bearnaise, and a sunny-side-up egg.

Wash it all down with over 100 wines (not all at once!), a quality selection of local brews, and slightly altered classic 'tails like the Slow Burn w/ jalapeno, vodka, and lime.