Vote for Brian Luscher's Chili Cheese Frito Pie Dog in our Search for the Most America-est Hot Dog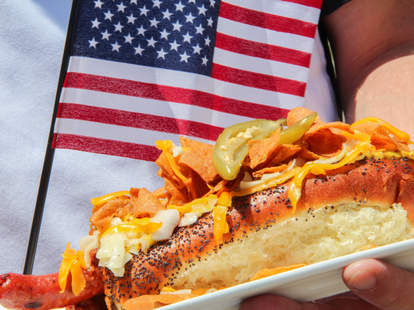 The Fourth of July is this week, which means two things: 1) it's time to make fun of John Adams again for declaring July 2nd would be "the most memorable epoch in the history of America", since that was the day the resolution of independence was approved in a closed session of Congress (wrong AGAIN, John!!), and 2) it's time to eat some hot dogs. But since we here at Thrillist don't just eat any old hot dogs, we've corralled some of the country's top toques to go a little crazy and make the most patriotic hot dogs on Earth, and we're asking you, dear reader, to vote for who's got the best wiener.We tapped Brian Luscher to rep Big D: chef/owner of Lower Greenville staple The Grape, proud papa of Luscher's Red Hots, and big believer that "A hot dog should always be a hot dog." With that in mind, he went full Texan on us, and delivered a larger-than-life take on the chili dog.
The chef uses his own Red Hots -- natural, Texas-raised beef and pork that're smoked before getting tossed on the grill.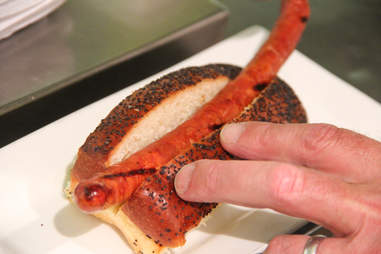 He'll slide your wieners into poppy seed buns, son, that're freshly baked by a local bread maven.
Remember when we said this was a chili dog? Yeah, that's Texas-raised Wagyu.
Hot dog, meet chili. Chili, meet spicy brown mustard. As Samuel L. Jackson said long before getting eaten by a hungry, hungry Velociraptor, "Hold on to your butts", because we're just getting started.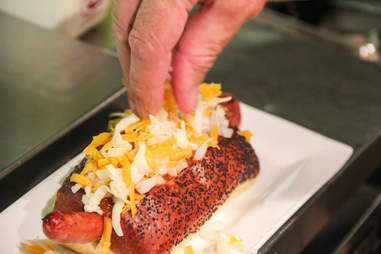 Ok, maybe you could've guessed that a heaping helping of Vidalia onions would be involved, but the Veldhuizen Redneck Cheddar's made with Texas bock beer -- sometimes St. Arnold, and sometimes Shiner, about which there's probably a lot you don't know.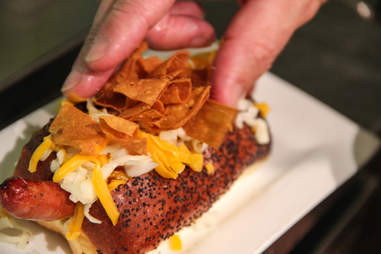 Topped with Fritos? No! These are the way better "corn chips".
One last thing to add on, because yes: sport peppers.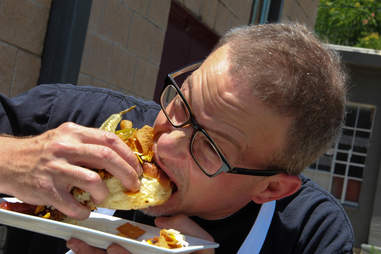 Add it all up and what do you have? A "Frito" pie-slash-chili dog hybrid made with Texas-raised Wagyu and local beef/pork links, then topped with peppers, onions, and beer-soaked cheese. Well, half of one, because the chef already ate his half.

Wipe away that drool and check out the rest of the All-American dogs. Then vote for Brian's anyway, because it is a thing of beauty.