Of course you know Texas staple Whataburger in a general sense -- it's always been there when you've needed an early morning Honey Butter Chicken Biscuit, some late-night taquitos, or some jalapeño cheeseburgers and Monterey Melts in between. But have you taken the time to really get to know it? Or do you just show up when you need something? Stop using it for food (well, actually keep doing that), and get to know it on a deeper level with these 10 tasty Whataburger facts.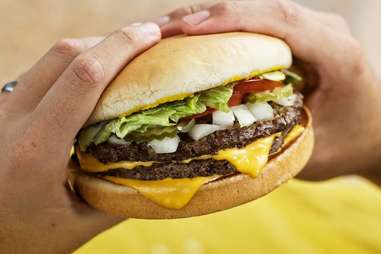 1. Whataburger was founded by Harmon Dobson in 1950 in Corpus Christi
His only goal was to serve a burger so big that you had to use two hands to eat it. He thought the reaction to eating a side of beef on a bun would be, "What a burger!". Then he put it in the name to ensure you have to say it no matter what.
2. The iconic A-frame design was intended make a statement
...as it sat taller than most of the architecture around its Corpus Christi location. It's also built to withstand winds up to 150mph, which is perfect fodder for a joke about flatulence from a less classy publication.
3. There are currently 36,864 different ways you can enjoy a burger there
...so, probably shift to an all-Whataburger diet if you're intent on trying them all. If you can take down an average of three per day that's just 33 years! Assuming you make it that far.
4. There is a conspiracy theory situation surrounding the ketchup packets
The numbers range from one to five and it is rumored that "1" is more vinegar based and "5" has more sugar, making it sweeter. Some Whataburger loyalists have collected all of the numbers and conducted their own taste tests to corroborate the claim (Whataburger ketchup has its own separate Facebook page with 20,000 likes)! However, General Manager Matt Houston says that the numbers are strictly for quality control. But what does he know? He only manages… generally… or something.
5. There's a secret menu drink called The Whataburger Hulk
It's created by filling your cup with ice, then filling between an eighth and a quarter of the cup with blue Powerade and topping the rest off with Vault soda. There are other variations that include The Insatiable Hulk, in which you swap Powerade with Orange Fanta. The Inconceivable Hulk consists of one quarter Vault, one quarter Fanta Orange, one quarter Powerade, one eighth Dr. Pepper, and one eighth root beer -- it's supposed to taste like Bottle Caps candy. It may also taste like diabetes.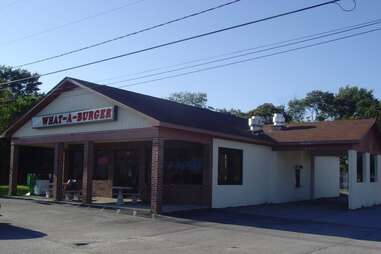 6. In North and South Carolina, there's a chain of restaurants called What-A-Burger
...which looks and even sounds like Whataburger, but is probably not as good. Strike that, definitely not as good. The Texas (aka real) Whataburger sued What-A-Burger for copyright infringement, but eventually dropped the case because they felt bad about the upstart's clearly inferior burgers and realized that the name thing didn't matter. At least we assume that was the reason. It just looks sad, doesn't it?
7. The orange and white stripes that have become synonymous with Whataburger came into use because Mr. Dobson was a pilot
But that's not all! He was also a car dealership owner, a wildcatter, and a diamond courier. If the whole burger thing hadn't worked out, it's entirely possible he would have ended up starring in a series of Dos Equis commercials.
8. There have been dozens of weddings at various Whataburger locations
...and this couple had an entirely Whataburger-themed wedding -- including this Whataburger cake and party favors inside of Whataburger to-go bags. Three months later they were divorced and vegan. Just kidding, we have no idea.
9. Every other year, Whataburger holds something called the WhataGames
...that tests its team members in three categories; operations, corporate history, and customer service. They compete with all the stores across the US and the winning team gets a gold medal and $165,000 cold hard cash. Whataburger #790 in San Antonio took the 2013 title.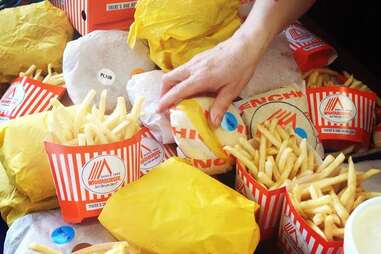 10. Fact: Cali-based Texas interloper In N Out will NEVER be as good as Whataburger
It's not a rival and doesn't even belong in the same sentence as Whataburger. Apologies for that first sentence. The only reason a true Texan likes having In N Out around is so all the foreigners (read non-Texans) can go somewhere else and make the lines shorter at Whataburger. Apologies again. Animal style is for animals.
Sign up here for our daily Dallas email and be the first to get all the food/drink/fun DFW has to offer.
This article originally published on January 29, 2014.