Where to eat: 5 new September openings you need to know about
New restaurants in the Metroplex are sorta like internet ads for totally free iPods OH MY GOD YOU SHOULD TOTALLY CLICK THAT!!! -- they just keep on popping up. Here're the five Thrillist-approved September adds you absolutely have to check out.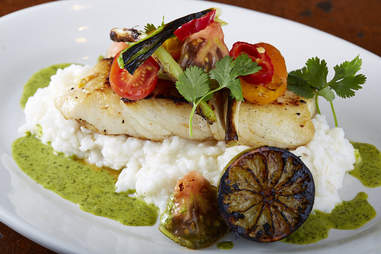 Mesero Miguel
Mesero Miguel
2822 N Henderson Ave; Knox-Henderson
The dude behind Mr. Mesero (not, like, hangs-out-in-the-parking lot-in-back behind, but, like, behind behind) just opened up a new twin-storied Tex-Mex-topia in the old Cuba Libre/Alma spot; NOSH ex Jon Stevens pitched in an assist on a menu that includes everything from Wagyu steaks & burgers, to garlic-y offshore numbers, to tacos stuffed with duck confit.
Samson's Gourmet Hot Dogs
Samson's Gourmet Hot Dogs
2615 Oak Lawn Ave; Oak Lawn
OK, so they've got just about any topping you could realistically want (jalapeno hummus!), and they're putting their hot dogs in Empire Baking Company buns, and and and they've got a quartet of chilis (green, chicken, beef, vegan), but you've gotta go here for Samson's "9 Inch Wonder Weenies", which Samson calls "nine inches of fun in a bun" with almost no double entendre.
Savor
Savor
2000 Woodall Rodgers Fwy; Klyde Warren Park
This? It's just another restaurant inside of a giant glass box that serves delicious eats (pork & beef meatballs, grilled flat iron steak, high-marbled pork loin) and drinks (cocktails + 12 craft taps).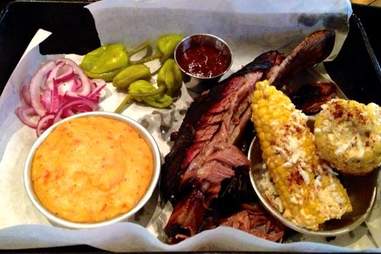 Gas Monkey Bar 'N Grill
Gas Monkey Bar 'N Grill
10261 Technology Blvd E; Dallas
Aiming to give Toby Keith a run for his bar & grill's money that he probably won't love, GMBNG's a Toby Keith-proximate, sprawling ode to music and great food from the dudes behind Discovery's Fast 'N Loud. Grab smoked brisket alongside three-cheese mac and fried green beans, then wash it all down with brews from one of 32 taps.
Ai Sushi Sake Grill
Ai Sushi Sake Grill
41243 Cedar Springs Rd, Ste 102; Oak Lawn
Replacing the old Axiom sushi spot in Ilume, Ai Sushi is... another sushi spot! This time, they're also running cooked numbers like Korean-style seafood pancakes, deep fried soft-shell crab, bulgogi, NY strips, and a fried rock lobster.