There are a few things Texans hold sacred: the Alamo, Lone Star beer, and especially our love of food. Certain dishes that have managed to span the state's varied landscapes -- from the prairies and lakes to the hillsides and deserts -- and cultures, uniting us through full flavor and an admittedly insane amount of beef. In addition to local darlings like Blue Bell and Dr Pepper (there's no period in Dr, get it straight), these Texas staples show how the South meets Mexico, who meets Germany, who gets to know Louisiana, who then says "hey, y'all!" to Vietnam to create a food culture that is all its own.
The Texas Trinity
The history: It's never blasphemous to idolize meat around these parts, especially The Texas Trinity that is brisket, sausage, and ribs. The sausage is typically beef but may be pork, while the ribs are either full spareribs or giant beef ribs. That's what's going on with the holy trinity today, but things all got started in the mid-19th century, when Czech and German immigrants made Central Texas their home. In doing so, they brought the meat party with them, or more specifically, the smoked meat and sausage party. See in the days before refrigeration, those guys were known for getting the most out of leftover meat by smoking it in enclosed brick smokers and grinding it up to stuff their own smoked sausages, Old World-style.
German meat markets began opening up in towns like Lockhart, Luling, Taylor, Elgin, and Bastrop, and it didn't take long for spots like Kreuz (open since 1900) and Louie Mueller (opened in 1949) to carve their way into Texans' hearts. Today, the focus of the Texas Trinity remains on the meat, a fact that is the cause of much local pride and dissent for who dare ask for barbecue sauce.
Where to get it: Central Texas remains a hotbed for the trinity, with spots like Louie Mueller, Kreuz Market, Black's Barbecue, Snow's BBQ, and La Barbecue, being among some of the most highly regarded (though we also think these other Austin, Dallas, and Houston spots deserve a shout, too).
East Texas hot links
The history: You wouldn't know it by the $28 beef ribs you'll find today, but barbecue was historically a poor man's food. As is the case with East Texas hot links -- aka juicy links or hot guts, which again, were born out of not knowing what the hell to do with the leftover scraps of meat. According to Texas Monthly, they were first popularized by Pittsburg butcher Charlie Hasselbach in 1897. The all-beef sausages incorporated finely ground cuts like tongue and cheek, a heavy hit of spice to mask any meat past its prime, a bit of water and pretty much no binder, giving them a somewhat mushy feel that isn't as gross as it sounds, we swear. Today, the links are made with fresh meat (thankfully) and are a staple in many African American-owned barbecue joints.
Where to get them: Pittsburg is hot link mecca, with all-star Pittsburg Hot Links Restaurant serving up and shipping out the real deal links; Ray's Barbecue Shack in Houston makes a fiery, all-beef Lott link that is impossibly juicy; and Patillo's Bar-B-Q in Beaumont proves that there's actually a reason to visit Beaumont.
Beef fajitas
The history: Have you realized that Texans have a thing for beef yet? The "Fajita History" by the Austin Chronicle dates this Tex-Mex staple as starting off as a cattleman's special back in the Rio Grande Valley ranches of the 1930s. Ranchers would give vaqueros, or Mexican cowboys, leftover beef trimmings as part of their pay. One of those trimmings was the lowly outside skirt, which transformed into something special once cooked directly over a campfire or grill. The meat was known as arracheras or fajitas, names that were likely derived from the French word arrachar, meaning "to grab or pull" as in a saddle and the Spanish word faja, meaning a "belt-like sash or girdle."
The dish was pretty much a regional specialty until the late 1960s and early '70s, when it was introduced to Anglo communities by places like Sonny Falcon's taco stand and Otilia Garza's late Round-Up Restaurant (which was famed for adding the hot comal and sizzling accompaniments that we know and love today).
Where to get them: Poncho's in the Rio Grande Valley or The Original Ninfa's on Navigation in Houston (look up 'fajita' on Wikipedia and you'll see Houston's own Mama Ninfa also gets a shoutout for popularizing the dish after opening her empire in 1973. There, the fajitas are still made with outside skirt, just like they should be).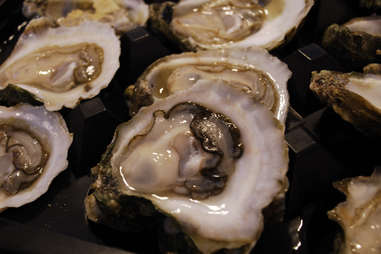 Gulf oysters
The history: Everything's bigger in Texas, including the oysters that grow like weeds down by the Gulf. People don't often foo-foo over Gulf Coast bivalves like they do for those of East and West Coast descent. The Third Coast mollusks were once classified by their respective estuaries just like Beau Soleil from NB and Montauk Pearls form LI; though the practice came to sudden halt in the mid-1800's, when sheer quantity, an increase in demand and the arrival of the railroad made "commodity" oysters a thing. That's OK, Texans don't seem to need the prissy qualifiers (especially when we do things like chicken-fry them). The lack of attention just means more shuckin' and suckin' for us.
Where to get them: Gulf oysters are best eaten on the half shell in season (when they're bigger and sweeter), and are even better when you get them at happyhour pricing; though we're truly suckers for the garlic butter and Parmesan crusted, oak and pecan wood-roasted variety at Dickinson stalwart Gilhooley's.
Tacos
The history: Breakfast, puffy, barbacoa, chicharrón, al pastor. You name a type of taco, Texans crave it, make it, and eat it every chance they get. Though the origins of the humble street food are unclear, anthropological evidence shows indigenous people of the Valley of Mexico were eating fish tacos way back in the day, and the first documented "taco feast" was said to be arranged by Spanish conquistador Hernán Cortés in 1520, much to the delight of his captains in Coyoacán. Another theory suggests the birth of the taco can be traced to the silver mines in 18th-century Mexico (according to historian, author and professor Jeffrey M. Pilcher, "in those mines the word "taco" referred to the little charges they would use to excavate the ore").
Soon after taquerias became a thing among the working class in Mexico, spreading to Texas in regions like the Rio Grande Valley, San Antonio, and Austin and becoming even more popular with the introduction of the railroad in the 1880s. Today, there are legitimate Texas turf wars over who invented the breakfast taco. The mayors of San Antonio and Austin held a taco truce summit at SXSW, so as you can imagine, tensions are pretty high to this day.
Where to get them: Hope you're ready to put in work, because we put together this Texas Taco Bucket List with no less than 50 tacos to consume before you die.
Chicken fried steak
The history: Also known as country fried steak, the floured-and-fried hunk of steak smothered in thick gravy seems as all American as it gets. But is it? Probably not. Though some legends say CFS was born out of a restaurant mishap, when a cook at Ethel's Home Cooking misread a ticket for "chicken and fried steak"; its roots likely go back to those good ol' German immigrants again. The dish is considerably similar to Viennese wiener schnitzel, where pounded thin veal gets dredged in flour and pan-fried in lard. Other theories suggest the dish hails from Oklahoma, where chicken-fried-chicken was popular. It doesn't seem to matter what lineage chicken fried steak boasts, because today, Texans will chicken-fry whatever the hell they damn please (we already mentioned chicken-fried oysters).
Where to get it: De Wese's Tip Top Café, Babe's Chicken Dinner House, and any roadside cafe, the shadier looking the better.
Kolache/Klobasnek
The history: If you don't know about kolache, you've been Texaning all wrong. Its name derived from the Old Slavic word kolo, meaning "circle" or "wheel." Kolache are Czech pastries made with yeasted dough, traditionally shaped into a circle and dimpled with preserved fruit, sweetened cheese, or poppy seed filling. Before we go further, you need to know that the savory sausage, jalapeño, and cheese thing you've been eating is actually a klobasnek, though it's commonly mistakenly referred to as a kolache throughout Texas.
So how did a traditional Czech pastry come to rival the beloved breakfast taco as Texans morning staple of choice, you ask? Easy. In the 1840s, Bohemian and Moravian Czechs began to settle in a stretch of land in Central and East Texas, an area that is known today as the "Czech belt." As explained by food historian Dawn Orsak, kolache were so labor intensive, there was a community aspect to them, with the women of the community gathering together to prepare the treats for social gatherings, including church events, weddings, funerals, and holidays.
This social aspect has carried through to today, as there's no better morning than when someone shows up with a box full of kolache to share (it's pretty much a sin to buy kolache only for yourself). Traditional varieties still rule, but you'll find the kolache are beginning to take a note from gourmet donut culture, with fillings like Oreo and BBQ brisket kolache becoming a thing. We're OK with that.
Where to get them: For the classics, Czech out traditional heavy-hitters like the Czech Stop, Weikel's, and Hruska's. For neo-traditional pastries, Houston's Koala Kolache is banging out the good stuff, from pulled pork mac & cheese to jalapeño popper numbers.
Crawfish
The history: With Texas' proximity to Louisiana, Cajun culture has also jumped the border. So many Cajuns settled in the Southeast corner of Texas from 1840 on, the region even got its own name. We can thank both the need for workers to cultivate rice in the area and the labor force required for the Southern Pacific Railroad line for the Cajun invasion (seriously, thank you!). The "Golden Triangle" includes Beaumont, Port Arthur, and Orange, but you'll find gumbo, po-boys and boudin all over East Texas, even creeping into Houston.
It's the humble crawdaddy, however, that has spread like wildfire. With mudbug festivals reaching as far west as Odessa, the crawfish boil practically has its own food group in the Texas food pyramid. One of the coolest things to come out of all this crawfish love is this cultural mashup of Cajun and Vietnamese cuisine. After the Vietnam War, an influx of Vietnamese immigrants settled in Houston, one of the major resettling sites established by the Indochinese Assistance and Refugee Assistance Act of 1975. Its proximity to the Gulf also attracted families with fishing and shrimping backgrounds. By 2010, the US Census showed that Harris County was home to over 80,000 Vietnamese people. If you head to Houston's Chinatown today, you'll find a flood of Vietnamese eateries that have taken the Louisiana crawfish boil to the next level by incorporating the spices and aromatics of Vietnam.
Where to get them: Get your hands dirty at a crawfish festival; or head straight to H-town's Chinatown, where you'll find spots like Cajun Kitchen and Crawfish & Noodles, serving the baby crustaceans with spices and glorious heaps of garlic butter. Whatever you do, don't forget to suck the heads.
Frito pie
The history: Call it junk food, call it a stomach grenade, call it "warm crap in a bag" (thanks for the picture, Bourdain). It doesn't matter. The beloved state fair fare blends two things Texans love: Fritos and chili. Fritos were created by a man named Charles Elmer Doolin in San Antonio in 1932... kind of. The story goes that during the depression, Doolin, who owned a confectionary, was looking for a savory corn snack to add to his roster of sweet stuff. After finding a man making fritos -- or "little fried things" -- out of masa outside a gas station, he made the best decision ever by buying the recipe from the man and perfecting it in his kitchen (with his mom's help, of course). Thus the snack that we pick up at gas stations every damn time we take a road trip today was born. Because deep-fried corn was never enough for the local palate, Texans (or New Mexicans, depending on who you believe) began piling chili, cheese, and onions on top some time around the 1950s.
Where to get it: Austin institution Texas Chili Parlor gives its already awesome chili con carne mad ups by throwing some corn chips on top, making it a bonafide fat kid's dream.
Chile con queso
The history: Queso, affectionately dubbed "liquid gold," likely has its roots in a Mexican staple, queso flameado or queso fundido, a dish of hot, stretchy cheese that is often mixed with chorizo and served flambéed. The Tex-Mex version, however, is a bit gooey-er, mostly because processed cheese is used in lieu of fresh cheeses like Oaxaca or Chihuahua. Velveeta, known for its smooth, velvety texture, entered the American food scene in the 1920s. In the 1940s, Carl Roettele started a family canning company in Elsa, Texas, one of his products being the canned tomato and green chile concoction that is married with Velveeta at pretty much every Texan potluck today.
According to Serious Eats, recipes for chile con queso began to appear in regional cookbooks as early as 1949; Even Lady Bird Johnson got down with the queso, contributing a recipe to the San Antonio Symphony League's community cookbook in 1976. Things seem to stick, as the liquid gold is the state's nosh of choice to this day.
Where to get it: Use these handy queso guides for Austin, Dallas, and Houston; just don't use your actual hands when eating it, that would be pretty messy.
Sign up here for our daily Dallas email and be the first to get all the food/drink/fun DFW has to offer.
Brooke Viggiano is a Houston-based writer who can't quite put her finger on the important food group missing from the Texan food pyramid. Oh right, it's vegetables. Give her a shout at @BrookeViggiano if you know what else is missing.