Where to Score Free Food in Dallas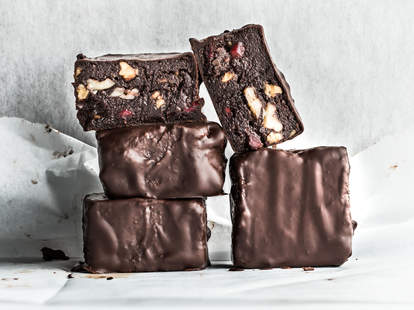 <strong>Dude, Sweet Chocolate |&nbsp;</strong><a href="http://www.mannyrodriguez.net/" target="_blank">Manny Rodriguez</a>
Free food is always good, but outside of crashing your parents' house or stealing from your roommates (neither of which we can endorse), there aren't a whole lot of options, right? Wrong! We put together a list of altruistic Dallas bars and restaurants offering everything from free snacks to free desserts. So take that penny saved and put it toward a drink (or tip).
Free snacks
The Mucky Duck (address and info)
Addison Circle
If you visit the Mucky Duck on a Thursday and you like tacos, you're in luck. Why? Because of the complimentary taco bar, that's why. The taco bar is open from 6-8pm... but there's a catch: you must order a drink to wash that taco down. It's a good thing tacos and beer are a good combination; actually, tacos are a good combination with everything.  
Blue Mesa Grill (address and info)
Far North Dallas & other locations
Along with having an actual bar, the Blue Mesa also offers a free quesadilla bar from 4-6:30pm during happy hour. Now you'll just have to convince yourself to not continue the quesadilla party at Taco Bell later that night.
The Bottle Shop (address and info)
Lower Greenville
When you drink beer, you get hungry; it's a problem. The Bottle Shop has solved that problem. On Mondays, you can enjoy free pizza with your beer. Problem solved. The problem it has yet to solve is how to choose a beer amongst the over 100 selections.
Chuy's (address and info)
Uptown & other locations
Chuy's is known for it's superb Tex-Mex; it's also known for its free and ingenious nacho bar, open during happy hour from 4-7pm. The gym will always be there, but today, the nachos win.
Rattlesnake Bar at the Ritz-Carlton (address and info)
Uptown
Free mini-margaritas and guacamole bites Fridays at 6pm. You can keep your wallet fat and your figure slim, for once.
Stephan Pyles (address and info)
Arts District
Impress that new girl/guy at the office by inviting him or her to swanky Stephan Pyles. When the clock strikes 7pm, suddenly forget about that late 'call' you have to get on. Enjoy complimentary flatbreads and drink specials for happy hour and a cheap bill.
Steel Restaurant & Lounge (address and info)
Oak Lawn
Stop in on Wednesdays from 5:30-7pm and get free sushi. Yes, free with the order of a drink or two. For once, you won't be upset that your dinner is as cold as your drink.
Free chips & salsa
Gloria's (address and info)
Uptown & other locations
There are a lot of Mexican restaurants that serve free chips & salsa, and there are a lot that don't. This is one that does, with a side of black bean dip that's worth the trip alone.
Bandito's Tex Mex Cantina (address and info)
University Park
The salsa here is a perfect combo of naughty and nice. Sort of like that girl from college... anyway, it's good, and free.
Uptown Pub (address and info)
Uptown
Free chips & salsa, only not at a Mexican restaurant. Go with it.
Jorge's (address and info)
Arts District
Because sometimes looking at art makes you want chips & salsa. It just does. And a drink, it also makes you want a drink, which Jorge's also has.
Ozona (address and info)
Greenville Ave
These chips & salsa are best enjoyed on Ozona's awesome patio. Free air and free chips & salsa.
Free appetizers and dessert
Mattito's Tex-Mex (address and info)
Centrum Oak Lawn & other locations
The good thing about happy hour is that drinks are cheap, but drinking on an empty stomach is just bad. Why not grab some free appetizers here to help offset the couple of drinks you might have. You'll be happy, but your stomach will be happier. Happy hour specials are Monday-Friday 3-6pm, with free appetizers, $3.99 margaritas, and $2 draft beer.
Bread Winners (address and info)
Bluffview & other locations
Give and take, it's a part of life. Buy an entrée and receive a free dessert here on Sunday. The best things in life just might be free, in the form of a free dessert.
Free samples
eatZi's (address and info)
Oak Lawn & other locations
Sampling is generally awkward. You nervously walk up, ask what the shower-capped sampler is sampling, and then squeeze the small paper cup into your mouth and exclaim how delicious it is. At eatZi's, it's far from awkward. Waltz through the isles and sample everything, from gourmet chocolate to exotic cheeses & bread, with opera music softly playing as your soundtrack. The best part is, no one is judging you. You can sample over and over without having to ask what aisle the food is on or saying how you're going to buy some "later." Sample away.
Dallas Farmers Market (address and info)
Downtown
Forget farm to table, how about farm to mouth? Drop in any weekend and sample fresh fruits, veggies, and an assortment of goodies from actual farmers and growers. The cherry on top (pun intended) is that everything is fresh and you're supporting your local farmers.
Paciugo Gelato & Caffè (address and info)
Oak Lawn & other locations
Paciugo has some pretty unique flavors, like Rose and Goldfish, which is exactly the reason why you'll be taking advantage of their unlimited sampling. But the thing about sampling is that, after a while, you will want more, so sample at your own risk.
Dude, Sweet Chocolate (address and info)
Kessler & other locations
Chocolate samples at Dude, Sweet Chocolate should be labeled as a gateway drug solely for their addictiveness. These chocolatiers craft some of the best chocolate in Dallas, and aren't afraid to let you taste it for yourself. But be careful: you'll start with a small piece and, before you know it, you're upgrading to full bars or -- God forbid -- pounds. Sample responsibly, and don't let it progress into a full-fledged intervention. Be strong.
Sign up here for our daily Dallas email and be the first to get all the food/drink/fun DFW has to offer.
David Maez is a writer at Thrillist and believes in free food. Say hello to him in the samples line one day, or just follow him here @davidfmaez.