Jose Ralat/Thrillist
Jose Ralat/Thrillist
"This is Taco Country!" Those four words -- painted on the burnt orange façade of San Antonio's legendary breakfast taco haunt, Taco Haven -- are carried in every Texan's heart and stomach. They are as fundamental to the Lone Star State's identity as Friday Night Lights, "Pancho & Lefty," and Dr Pepper. This is true across our tortilla-based wonderland from Big Bend to the Piney Woods and South Texas to the Metroplex.
I'm not only referring to the fried envelopes whose broken shards litter much of our cultural landscape. No, I mean all the tacos: jaralillos de res, carne asada tacos smothered under a salty tarp of queso fundido at Tacos El Toro Bronco in El Paso; the ground beef-nestling airships that are Ray's Drive Inn's puffy tacos; the slivers of paprika-lacquered pork served across Oak Cliff; Brownsville's many Sunday barbacoa huts; the big-city gals that love dressing up; the just-this-side-of-familiar menu at new regional restaurants; and, yes, breakfast tacos.
As part of the promotion for its 120 Tacos to Eat Before You Die issue, Texas Monthly is hosting an online reader poll to determine which Texas city has the best tacos. (Full disclosure: I'm a contributor to the editorial package, but the poll we're addressing is all fan voting.) As of Tuesday, Austin was in the lead with 43% of the vote. Dallas, where I live, is left in third place with 16%.
"Without a great tortilla, there can't be a great taco. Austin's default tortilla sucks."
That the capital city is in first place doesn't come as a surprise. Austin has an incredible PR machine fueled by its perceived coolness compared to other Texas cities. Austin has barbecue. Austin has SXSW. It has breakfast tacos. And, with the assistance of New York food writers who have visited Austin during a big festival or lived in the city for a spell, it's fooled many into believing breakfast tacos are Austin-style.
Breakfast tacos, or tacos meant to be consumed in the morning, have roots in the first tacos: tacos de mineros. Named after the miners who ate the rolled snacks and the rolled paper dynamite stick the workers used to blast through rock, tacos de mineros evolved into tacos de canasta (prepared tacos steamed in baskets). From there we get to tacos de guisados. In Northern Mexico and the border region, breakfast tacos are often called tacos mañaneros and have the same components as breakfast tacos in the Rio Grande Valley, South Texas, and Austin. It's from the Texas-Mexico borderland that we get our modern concept of breakfast tacos. Austin merely repackaged the food to maximize its cultural cachet and sold it to the hungry masses to consume the next Austin cool thing.
They couldn't have chosen a shoddier foundation.
Tacos are composed of three elements: the salsa, the filling, and most importantly, the tortilla. Without a great tortilla, there is no great taco. El Milagro, an East Austin tortilleria, produces the flour tortilla most commonly used for Austin breakfast tacos. The finished product is a gummy, quick-to-cool, supermarket-grade disc used by restaurants both iconic (Torchy's Tacos and Tacodeli) and small (Tyson's Tacos and Pueblo Viejo). The use of El Milagro's tortillas fulfills the city's obsession with all things "local." Unfortunately, Austin's El Milagro isn't local. The factory is part of a national operation established in 1950 in Chicago with outposts in Illinois and Georgia. To say El Milagro is Austin local is to say Chili's is Dallas local.
"With the assistance of New York food writers who have visited Austin, it's fooled many into believing breakfast tacos are Austin-style."
Not only is its default tortilla a poor one, Austin lacks the taco diversity of Dallas or Houston. The latter two metro areas boast a Mexican immigrant population from across Mexico evident in the range of regional cuisines available. Austin is struggling to move beyond Tex-Mex and tacos of the pork, beef, or chicken variety. It's generic at best. Even for all its influence and its incredible strides in dining, San Antonio and the Rio Grande Valley remain in much the same condition. Still, down there, handmade corn tortillas are a source of pride. It's almost unfathomable to provide a tortilla made elsewhere.
If Austin doesn't have the state's best tacos, what city does? Dallas. The answer surely draws snickers and rolled eyes from those in the Austin camp. Dallas is big hair, big money, big steaks, and big attitude, right? Not when it comes to tacos. Here, a handmade corn or flour tortilla is crucial. The dining public wants to know what they're eating is fresh, and restaurateurs believe when it comes to tortillas they either go local or don't bother.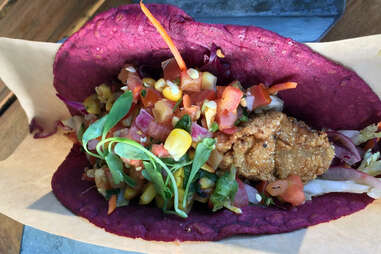 The standard is set by restaurants such as Revolver Taco Lounge serving seconds-old tortillas, and businesses sourcing nixtamalized masa or tortillas from Araiza Tortilla Factory in West Dallas, including Taco Stop, El Tizoncito, Urban Taco, and Tacos Mariachi. At the latter restaurant, Dallas' only Tijuana-style taqueria, octopus, and huitlacoche come on corn tortillas that leave behind the aroma of a cornfield on your fingers.
Even the Anglo-owned, recently opened Resident Taqueria handles their default flour tortillas in-house. That cauliflower taco sprinkled with crunchy pepitas -- the taco that converts haters -- it has a loose bantam base like a beloved down comforter. Corn tortillas made from nixtamalized masa is available by request and then only by availability. When Tacodeli announced the first location outside of Austin would be in Dallas, I immediately reached out to them, recommending La Norteña Tortillas, a small concern specializing in handmade Sonoran-style flour tortillas three miles from the restaurant's location. It's the tortilla they use now. Nearly translucent in spots, with a sweet, rich chew, the tortilla is the perfect wrap for the unassuming Otto taco, with refried black beans, bacon, and avocado combining to deliver not only sustenance but also comfort that eases you into the day.
Say what you will about Velvet Taco, but at least that restaurant -- with locations in Dallas, Fort Worth, Houston, and Chicago -- makes its tortillas in-house. There is no such movement toward such a seriousness regarding tortillas in Austin. Until there is, Austin can't be the best.
Sign up here for our daily Dallas email and be the first to get all the food/drink/fun DFW has to offer.
José R. Ralat is the food editor of Western-lifestyle magazine Cowboys & Indians and the writer behind the Taco Trail blog, where he reviews taquerias and explores the history of tacos. He has written for both local and national media outlets, including D Magazine, Imbibe, MUNCHIES, and Texas Monthly. Follow him on Twitter.