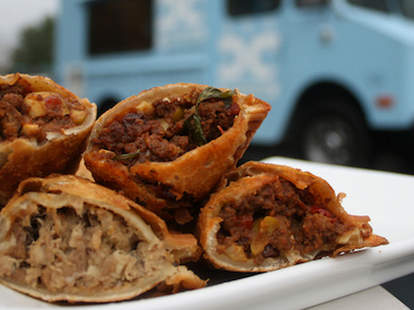 Most childhood sweethearts don't become wedded business partners, especially since our tyrannical government still won't let Donny and Marie get a little bit rock and roll. Hunt down roving deliciousness from two non-sibs who did, with DC Empanadas.
Run by a husband-wife team who first met in kindergarten, just-rolling DC Empanadas serves the "scratch-made" delicacies from a light blue, converted ice cream truck plastered with their "DC E" logo and wrapped with the slogan "Flavor Fulfilled", a feat even VH1 couldn't accomplish. The baked bundles are broken down by type of meat, with beef options including the ground sirloin/ Spanish olives/ hard boiled eggs/ raisins "Traditional", the meatballs/ marinara sauce/ mozzarella cheese "Jersey Shore", and the "Executive Order" stuffed with bacon cheeseburgers, as opposed to the Executive Decision stuffed with Steven Seagal...stuffed with bacon cheeseburgers. Swine-based goodies range from the exotic chorizo/ potatoes/ spices "El Matador" and prosciutto di Parma/mozzarella di Bufala/dates "Il Paesano", to the domestic pulled BBQ pork "Divine Swine" and ham & cheese "Lunchbox", unlike the Steve from Full House lunchbox, which was just ham.
Less meaty empanadists can also get down on fowl (like the yogurt-marinated tikka "Taj Mahal" and the buffalo chicken/blue cheese "Badass"), and veggies like the brie/figs/almonds "Menage a Trois", which if you're trying to pull off with your siblings, will mean you have to get really country.