Back hair and weird breweries are among the most shocking thangs of 2012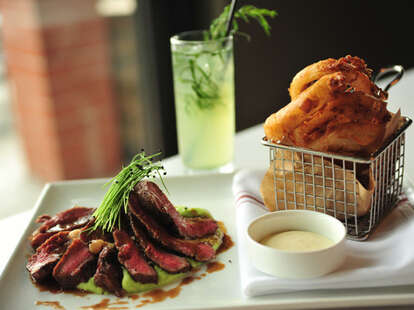 Mile High's top chefs spill about what surprised them in 2012, none of which were restaurants named "boo!"
Justin Cucci, Chef/Owner, Linger and Root Down "2012's biggest news is that a new restaurant opened this year in every insecure city in the nation (including Denver), and it's said to be a "neighborhood" place. Finally! A neighborhood establishment that aims to connect to the community it occupies space in -- what a breath of fresh air! Finally a restaurant that selflessly puts the needs of a community above all else, and offers a genuine warm place for the people that live there. It's nice that "The Neighborhood Emotional Vampire" tag line of 2011 is finally put to rest. I think that sent out a mixed message.
Lance Barto, Executive Chef, Central Bistro & Bar "Despite the number of already established microbreweries, there are more and more popping up every week, and it doesn't seem as if the expansion is going to slow down anytime in the near future. Denver's always been a great beer city, but I never imagined that it would grow to be this prolific. It's really exciting.
Hosea Rosenberg, Chef/Owner, Blackbelly Catering "Passing of legal pot. Keeping some of my employees 'focused' is going to be that much harder...
Ryan Leinonen, Chef/Owner, Trillium "Hmm. I guess my surprises this year have been that I haven't lost too much more hair on my head, that none of it has turned grey, and more continues to grow on my back. Oh, and that Trillium is doing so well and has been so well received. Making 5280's 25 Best Restaurants issue was a huge surprise. I'm very proud of my staff and what we've accomplished in our first year.
Jeff Bolton, Executive Chef, Second Home Kitchen + Bar "People are more focused on where their food is coming from and how it is raised or grown. Also, I have seen a lot of people turning to a more plant-based diet and staying away from as much animal byproducts as possible. I think this will also pour into 2013 because of the price increase of animals. And Bigfoot is still at large…
Hunter Pritchett, Executive Chef, Luca D'Italia "The biggest surprise to me was the sheer volume of restaurants opening, and the niche-iness of most of them. Whoda thunk that our lil Denver would ever have a black metal brewery [TRVE]?"