Here's a riddle: why should a single person go to a sushi bar? So they can see how many fish there are in the sea! Some of which they can probably even take home and seduce, assuming the sushi bar is Epernay, a Champagne lounge that drips sophistication, sex, and sashimi

Lounge like a goddamn big shot in one of the booths, and drink like one by ordering Dom, Veuve Clicquot, or even something less reasonable from their extensive Champagne list

Or park yourself at a table closer to the sushi bar for a more intimate feel. Valet yourself for a more expensive feel

Specialty cocktails include this WL Weller bourbon/ Leopold Bros maraschino/ yuzu essence/ muddled orange/ grapefruit bitters "Samurai Old Fashioned", which distinguishes itself from those damn modernist samurais of 1872

Every meal should start with a crispy pork belly atop truffle mac and cheese

Pilfer the ocean by selecting one of a plethora of signature rolls, including this eight-piece mash-up of salmon tartare/ capers/ red onions topped with salmon roe

Further enjoy the fruits of the sea with pan-seared sea scallops aside braised fennel/ frisee/ shiitakes/ pea tendrils. So actually, screw meeting someone -- more scallops for you.
Recommended Video
It's Worth Getting Sloppy For This Grilled Cheese Taco
Previous Venue
Next Venue
Venue Description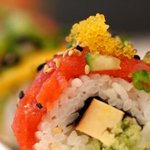 1. Epernay Lounge
1080 14th St, Denver, CO 80202
Boldly and by all accounts truthfully proclaiming the biggest Champagne list in the state, at Epernay Lounge, you're entering a sophisticated, luxurious affair. A raw/sushi bar that also offers an NY sirloin steak for a main course and all the bubbly you can afford, you might stretch out that velvet dinner blazer.