Experience multiple slices on Colfax without needing stitches afterwards at Udi's Pizza Cafe Bar, a 'za-focused Mediterranean joint by the famed bread-making family in the former Encore on Colfax space

The stylish bar was a carryover from Encore, but the floors are all new hardwood, and really spruce up the joint

Comfy booths are a highlight of the new design, including one that took over what used to be a wine room

The crab is likely blue because it ended up in this salad, but it's also quite delicious when paired with pink grapefruit/ avocado/ yuzu aioli

This classic, simple pepperoni/ mozz/ Pecorino is one of 11 styles of 'za that populate the menu

Two people or one-third of Chris Christie are recommended for this 21-spice Jerusalem Chicken

Seared salmon aside truffled celery root/ cauliflower/ porcini vinaigrette serves as a lighter option

Perhaps the only popular Israeli dish pronounceable without any throat-clearing syllables (probably because it's originally German), the chicken schnitzel comes atop mashed potatoes

Close out the meal with challah bread pudding, a dessert that looks so good, everyone at the table's gonna want a stab at it.
Recommended Video
Potato Skin-Breaded Queso Balls Will Make All Other Apps Obsolete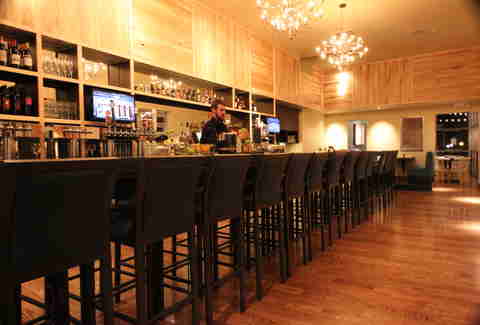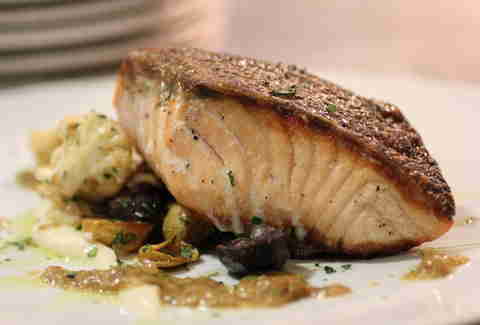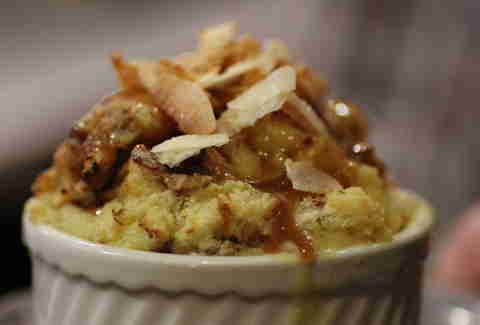 Previous Venue
Next Venue
Venue Description
1. Udi's Pizza Cafe Bar
2550 E Colfax Ave, Denver, CO 80206
Udi's Pizza Cafe Bar is serving up rustic-style pizza out of their brand new 6000 pound wood-burning oven in a space once occupied by the Bonfils Memorial Theater Lowenstein Theater. While the space is no longer an entertainment center Udi's decor and food are sure to please.