The reCyclery Bike Cafe is the rare place where you can go to get your java fix, lunch fix, and fixie fixed. If only they did neuterings, you could also get your getting fixed fix.
Previous Venue
Next Venue
Venue Description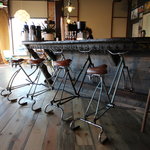 1. The reCyclery Bike Cafe
1405 Ogden St, Denver, CO 80218 (Capitol Hill)
The attention to detail of the decor should be a strong indication of the quality of their service and menu items. The amount of work that went into making and gathering the parts used to create The reCyclery Bike Cafe is impressive and definitely deserves a pit-stop.