Meatballs served a million ways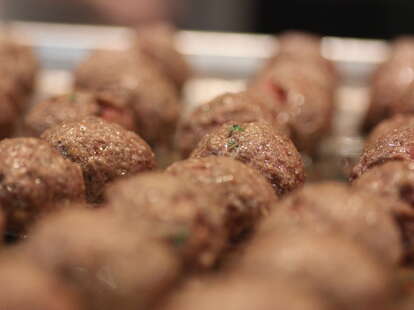 A fast-casual, meatball-centric mess hall, Slotted Spoon open near DU to serve up customizable plates in a Chipotlean environment from one of the former chefs at Row 14. It's also a utensil that takes like three hours to find at Bed Bath & Beyond, but that's beside the point
Select a locally sourced meat (Italian pork/ harissa lamb), "vessel" (hoagie/ salad/ bowl/ The USS Monitor), and hot or cold sauce (Romesco/ chipotle ranch). Those who can no longer think or feel anything can opt for something from the already-paired Signature Series
The recycled Coke can chairs brighten up the industrial look, and the open kitchen provides additional eye candy. An aside: it took them 18hrs at Bed Bath & Beyond to find the models for those photographs
Any menu item goes great with a side of bacon mac & cheese
Invent better combos than even the Pizzeria Pretzel by selecting adobo chicken (given a kick by jalapeno/ garlic) atop penne with onions/ 'shrooms/ chile queso.
Or go healthy with Swedish salmon (seasoned with garlic/ dill) in a salad drizzled with tzatsiki crema.
While most CO beef happens on Colfax, Spoon seasons theirs with nutmeg/ coriander/ oregano. Here it's served with fettuccine and doused with pesto
As for a signature option, the chef loves the Chicken Picnic (with honey jalapeno BBQ/ provolone/ slaw on a locally-baked roll) because he's a fan of cramming sides onto a sandwich in order to "skip a step", much like your heart, which just skipped a beat.