Power ranking EVERY SINGLE ice cream at Mile High's finest scoop shop
Sweet Action Ice Cream has 24 creamy, creative flavors to choose from on a hot Summer day, but it's tough to know which is the best unless you've tasted each one. Instead of asking for 24 samples like a super-indecisive freeloader, three of Thrillist Denver's finest food detectives (Rebecca Feder, Alex Lerman, and your lactose tolerant author) taste-tested each one for you, scored them on a scale from 1-10, and then ranked them from worst to first.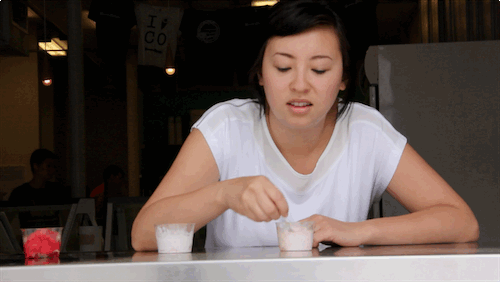 A dramatic reenactment of the tasting.
Alex Lerman
Rank: 24
Flavor: Vegan Maple Walnut
Tasting Notes: Not a pleasing texture. If you don't have anything nice to say, don't say it. We have nothing nice to say about vegan maple walnut ice cream. Other than that it makes their other awesome ice cream flavors seem infinitely more awesome.
Average Score: 1.5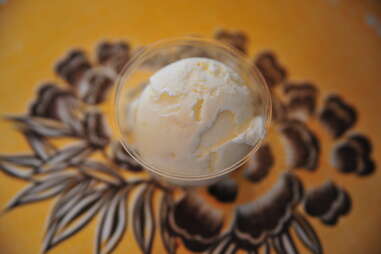 Rebecca Feder
Rank: 23
Flavor: Vanilla Rose
Tasting Notes: Grandma's perfume made edible.
Average Score: 1.75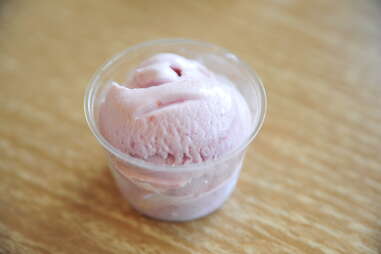 Rank: 22
Flavor: Vegan Raspberry
Tasting Notes: One of us noted it didn't taste like ice cream (probably because it's not made with cream, eh?). Outside of the raspberry flavor, we didn't find much to like about it.
Average Score: 2.5
Rebecca Feder
Rank: 21
Flavor: Black Walnut
Tasting Notes: A flavor called "polarizing" by one of the owners, it's perfect if you're a fan of really weird flavors, many of which don't resemble those you'd expect to come from a walnut.
Average Score: 2.75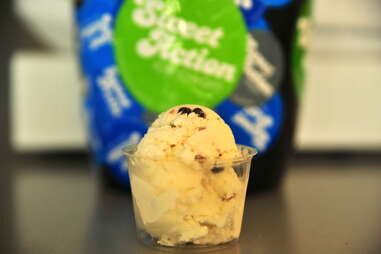 Rebecca Feder
Rank: 20
Flavor: Almond Currant Saffron
Tasting Notes: Currants are like underdeveloped raisins. Saffron is a spice. Combined, it's unlike any ice cream you've ever had. But not really in a good way.
Average Score: 3.5
Rank: 19
Flavor: Grand Marnier
Tasting Notes: Funky aftertaste. Maybe it's good if you like brandy. We do not. Hence the face he's making.
Average Score: 4.5
Rank: 17 (tie)
Flavor: Triple Chip
Tasting Notes: The peanut butter chips in this (along with vanilla and white chocolate chip) are almost salty, giving off an odd flavor. Also has a slightly unpleasant aftertaste.
Average Score: 4.75
Rank: 17 (tie)
Flavor: Blueberry
Tasting Notes: Tastes like blueberry yogurt in a cup. Real blueberries are all up in here.
Average Score: 4.75
Rank: 15 (tie)
Flavor: Vanilla Bean
Tasting Notes: Tastes like vanilla extract used when you bake -- fitting, as it's often consumed by people who come pre-baked themselves.
Average Score: 5.5
Rebecca Feder
Rank: 15 (tie)
Flavor: Green Apple
Tasting Notes: Tastes nothing like a Jolly Rancher candy unfortunately, but manages to overcome that by being refreshing and light. Made with Granny Smith apple puree.
Average Score: 5.5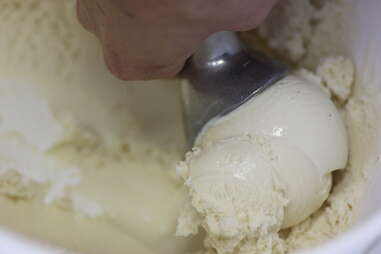 Rank: 14
Flavor: Stranahan's Whiskey Brickle
Tasting Notes: The CO-made spirit comes through strong right off the bat. Sweetness from the brickle is nice.
Average Score: 5.75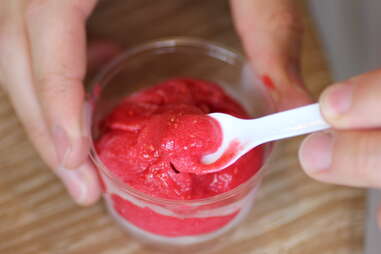 Rank: 13
Flavor: Raspberry Sorbet
Tasting Notes: Unanimously named the best vegan pick at the shop, it's also a beautiful sight to behold.
Average Score: 6
Rank: 12
Flavor: Blood Orange Sorbet
Tasting Notes: So refreshing you'll wanna pound it on the patio, this and all their sorbets are made using fresh-squeezed juice or fruit puree.
Average Score: 6.25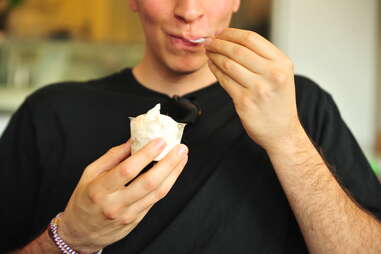 Rebecca Feder
Rank: 11
Flavor: Lemongrass
Tasting Notes: Refreshing as all get out. The palate cleanser of ice creams.
Average Score: 6.5
Rebecca Feder
Rank: 10
Flavor: Coffee & Donuts
Tasting Notes: If it tastes to you like they blended in five different kinds of LaMar's donuts and then dunked it in coffee, then you have an excellent palate!
Average Score: 6.75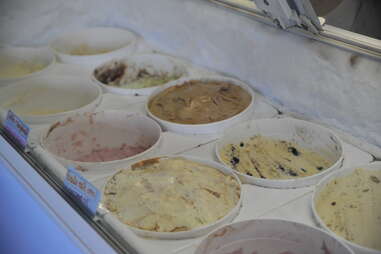 Rebecca Feder
Rank: 9
Flavor: Banana Split
Tasting Notes: The interplay between banana and chocolate is strong in this one, and those flavors overpower the peanuts, almonds, Brazil nuts, and pecans it shares the cup with.
Average Score: 7
Rebecca Feder
Rank: 8
Flavor: Cinnamon Roll
Tasting Notes: Cinnamon out the wazoo here, but it's not overpowering. They swirl cinnamon roll filling into this, which is why it's so delightfully creamy.
Average Score: 7.25
Rank: 6 (tie)
Flavor: Vanilla Malt Oreo
Tasting Notes: Like a delicious homemade milkshake with Oreos blended in. Nice subtle malt flavor.
Average Score: 7.5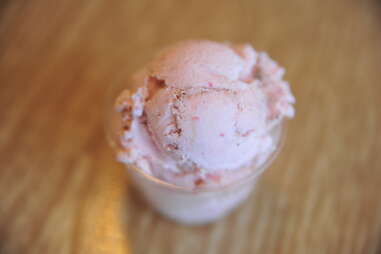 Rank: 6 (tie)
Flavor: Strawberry Balsamic
Tasting Notes: No real strong balsamic notes, but the strawberry part of the equation is so darn tasty, it doesn't even matter.
Average Score: 7.5
Rank: 5
Flavor: Maple Walnut Caramel
Tasting Notes: A smooth, cinnamony caramel aftertaste. Good texture. Nice crunch from the walnuts. Maple walnut caramel is also a fine finish to have on a coffee table.
Average Score: 7.75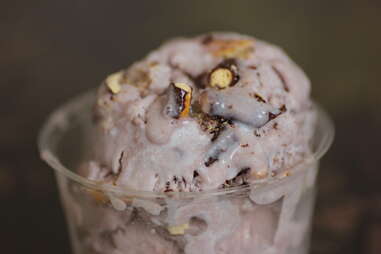 Rank: 4
Flavor: Pocky & Red Bean
Tasting Notes: The red bean plays off the chocolate from the Pocky nicely. It's a Japanese dessert-lover's heaven.
Average Score: 8.25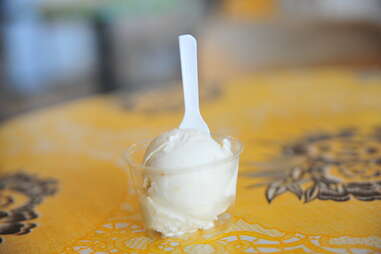 Rebecca Feder
Rank: 3
Flavor: Salted Butterscotch
Tasting Notes: One of the most popular flavors, this sucker is the perfect combo of salty and sweet.
Average Score: 8.5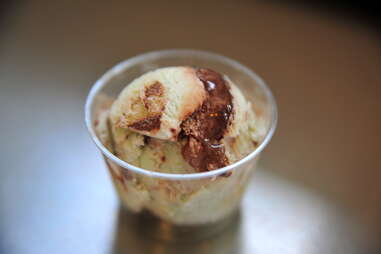 Rank: 2
Flavor: Mint Ripple
Tasting Notes: A simple mix of peppermint ice cream and homemade fudge swirl. Tastes like a frozen Andes mint bathed in cream.
Average Score: 8.75
Rebecca Feder
Rank: 1
Flavor: Milk Chocolate
Tasting Notes: One of the most "boring" flavors is also the best. It's perfection in a cup, full bodied like a fine wine, and a scoop of goodness in a world full of freezer-burned crap. You can't go wrong.
Average Score: 9.5