A lot of cities have an intimate connection to BBQ -- Kansas City, Memphis, the entirety of Texas, just to name a few. Denver, however, has sadly never been one of them. And while cacophonies of "there's no such thing as good BBQ in this city!" could be throughout the Mile High from anyone who's ever spent time down south, that's all changing.
Over the past few years, an influx of of new barbecue restaurants specializing in the art of slow smoked meats have completely changed the game around here. Want proof? Just bring your appetite to these nine delicious BBQ joints. And then be on the lookout for number 10 with the reopening of Owlbear in their permanent brick and mortar home that's (hopefully) coming soon.
Recommended Video
Please Don't Hang Up: The Best BBQ & Barcade in Dog-Friendly Kansas City
Globeville
This place made our best of 2015 highlights as the ideal new dive bar. And now, they're serving up some of the best Texas-style BBQ in town. The ribs are big, meaty, and tender -- so they often sell out early. But if you miss them, you can't go wrong with the brisket. Sides are pretty standard; they offer slaw, potato salad, and beans, but you're also getting to enjoy high quality meats cooked on their custom-built smoker while drinking at the city's best new dive, so we can easily forgive the limited options.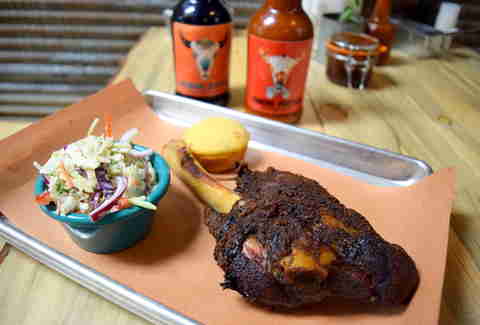 Rosedale
Defining Colorado 'cue one bison rib at a time
If you think there's no such thing as Colorado-style BBQ, you haven't been to Roaming Buffalo. Texas-raised Coy Webb along with his Colorado native wife Rachael are defining the state's regional mark on the cuisine daily. The menu is filled with Southwestern flair, from house-made green chile potato chips and cilantro lime slaw to Colorado lamb shank and bison short ribs. Plan on getting here early or you'll risk seeing the dreaded "Sold Out" sign ominously glowing in the window. Pro tip: On Saturdays and Sundays for can get a sandwich made with a mix of beef and pork smothered in BBQ sauce and served on a hamburger bun for just $3.
Greenwood Village
Denver's biggest (and best) Carolina-style pulled pork sandwich
We told you about the magic that is Jabo's Utah Sconut, one of Denver's best doughnuts, but this a BBQ place first and foremost, and their take on meats is as delicious as it is unique. The spot is located in a strip mall, so it's easy to overlook, but then you'd be missing out meeting owner Dwight "Jabo" Lawson himself and learning all about his hickory-smoked offerings. And we know...purists think sauce belongs on the side, but here it serves as a highlight. For newbies, expect to get a silver tray of sauce samples (to test before you order) that's filled with unique choices like smoky mango and pecan, which can be mixed if you're feeling adventurous. All are available in mild, medium, and hot . Choose wisely then throw your sauce on the super-sized pulled pork sandwich -- and absolutely opt for Carolina-style which comes complete with slaw on top. Then schedule a nap soon after.
Westminster
St. Louis BBQ with creative daily specials you can't miss
This St. Louis-born spot decided to head west and open its first location in Colorado. They've got all the standards -- brisket, pulled pork, ribs, jalapeno cheddar sausage, and even smoked turkey, but what you're really here for are the ever-changing specials. One day you might find a burger patty piled on top of potatoes, topped with bacon, a fried egg, pepper jack cheese, and smothered in chorizo chile (they called this one the Tadder Tot). The next, it's bacon-wrapped pork belly sliders on a soft bun with tomato jam and grilled onions (aka the Baconology). Sides get the same treatment, ranging from gumbo and salmon hash cakes to beer cheese soup and horseradish cauliflower. Follow them on social media for daily updates on that day's mouthwatering menu options.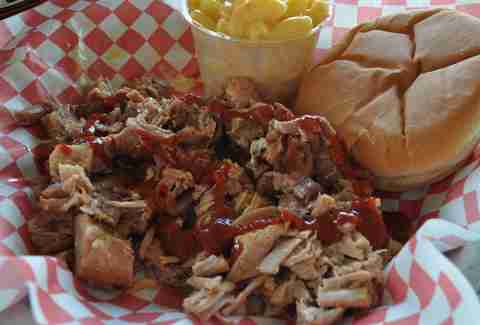 Five Points
Southern-style BBQ from a top female pitmaster
This place serves up Southern style BBQ and expertly smoked meat from co-owner and pit master Colleen Vantuyl. She hails from Alabama and you can taste the South in every bite of items like the smoked pork, hot links, and collard greens. The meat's flavor stands up on its own and is served dry, but Ragin' Hog also offers five different sauces that cover the flavor spectrum of traditional BBQ regions. So whether you like it sweet, spicy, or somewhere in between, you'll be happy.
Overland
The newcomer that's serving up damn good BBQ every Saturday
Heavy hitters in the Chicago BBQ scene, owners Jared and Amanda Leonard recently brought their food game to Denver with Au Feu in Zeppelin Station (where you can get his Montreal-style smoked brisket), the Budlong Hot Chicken food truck, and this spot. It's not a traditional BBQ joint. The space is primarily used for cooking up food for the catering side of the business along with a schedule of barbecue classes, but every Saturday at 11am Leonard opens up for business serving whole hog, brisket, and beef ribs by the pound until it's gone. You can also enjoy a full dinner of whole hog, sides, dessert, and a dose of barbecue knowledge at the Pit to Plate dinners which are hosted at the space regularly.
Westminster
Championship-winning meats you'll want with a side of beans
Originally from Missouri, owner Jason Ganahl knows his BBQ. And before opening this joint, he took to the competitive barbecue circuit where the GQue team dominated many national and regional events. Now, you can get a taste of his slow-smoked eats anytime. The menu's got all the classic meaty choices you could want all available by the pound, ¼ pound, or sandwich style. It's best to try a sample of them all so you can find your favorites, but don't skip the smoked wings with GQue's signature dry rub with a side of pit-smoked beans.
Littleton
Your go-to for the brisket taco
If the aroma of mesquite-smoked meats gives you immediate hunger pangs, then owner and pitmaster James Diaz's spot in the parking lot Pyramid Liquors is where you need to find yourself. His Tex-Mex style creations change daily, so he's another one to watch on social media for those all important menu updates. But if you see brisket tacos on the list, make it a real priority to get here. These culinary mash-ups are popular in cities like Austin, but are almost non-existent in the Mile High, and Diaz does 'em right with piled, tender meat on house-made tortillas. Other recent items include beef cheek, Duroc pork loin, and pork belly burnt ends. Add a side of smoked baked potatoes for the full effect.
Superior
'Cue that's more than worth the drive out of town
Hop in the car early for this one. Wayne's opens at 11am and it's not unusual for them to sell out and close up early. Why? Their authentic Texas-style BBQ is made with care, and local ingredients including meat from area ranchers. This place is gimmick free. It's all about that smoky flavor taking the lead. And it will lead you straight to a serious case of meat sweats as you gorge on brisket, pork ribs, beef sausage, and more. Smoked catfish and salmon also make appearances along with scratch-made sides like creamy mac and cheese, and slow-cooked green beans. Just remember to save room for a scoop of peach cobbler for dessert.
Arvada
(Mobile) home of classic Texas-style brisket
Owner and pitmaster Ryan Smith uses his Texas culinary background to create expertly crafted smoked meats on an offset smoker at this food truck which makes its regular home at Malara Gardens. Typically open Thursdays-Sundays, be sure to check social media and his website for the latest updates as he also does many off-site events. But when DO make it to the front of the line, go straight for the USDA prime beef brisket served with white bread, house-made citrus dill pickles, onions, and sauce on the side. This choice shows off Smith's skills with its tender texture, perfectly pink smoke ring, and just the right touch of smoky flavor. And while the menu generally sticks to the basics (if you call heritage pork shoulder, turkey breast, and sausage links basic), when you see the brisket topped baked potato making an appearance, go ahead and add that on too.
Sign up here for our daily Denver email and be the first to get all the food/drink/fun in town.