A lot of cities have an intimate connection to BBQ: Kansas City, Memphis, anywhere in Texas, etc., but Denver's sadly never been one of them. And cacophonies of "there's no such thing as good BBQ in this city!" could be throughout the Mile High from anyone who ever spent time down south. Until now. Recently, an influx of new places specializing in the art of slow smoked meats has completely changed the BBQ game around here. Want proof? Just bring your appetite to these eight spots.
Recommended Video
The Mexican-Style Grasshopper Tacos You Have to Try When You're in South Beach
Baker
It's only been open since mid-February but the newest addition to the Denver BBQ scene is already making a big impression. Crazy Mountain Brewing has made it's way down from Vail Valley and now you can get their popular brews alongside smoked meats created by a master on the topic, Chef Jay McCarthy. They're serving up the classics like pulled pork and chicken along with sliced (or chopped brisket), served dry with their sauce (made with their Amber Ale and available in regular and spicy) on the side. But as tempting as it may be to stick with the familiar, don't miss their flavorful smoked wings or the smoked salmon, an unexpected addition to the menu that's beer-kissed and addictive.
Globeville
This place made our best of 2015 highlights as the ideal new dive bar. And now, they're serving up some of the best Texas-style BBQ in town. The ribs are big, meaty, and tender -- so they often sell out early. But if you miss them, you can't go wrong with the brisket. Sides are pretty standard; they offer slaw, potato salad, and beans, but you're also getting to enjoy high quality meats cooked on their custom-built smoker while drinking at the city's best new dive, so we can easily forgive the limited options.
Various locations
Unlike the other food truck on this list, Churn & Burn is mobile, so you'll need to do a little research to find them on any given night. But chasing down these eats is totally worth it. BBQ traditionalists might want to stop reading now, as this truck's doing some progressive things with their meats. Sure, you could get a plate with brisket, pulled pork, and the rest along with traditional sides like slaw and mac and cheese... OR you can get something that's like nothing you've seen before: their signature bowl. This indulgence starts with a cornbread waffle bowl that's filled with mac and cheese then topped with your choice of meat, sauce (try the smoked jalapeño chimichurri) and slaw. Oh, and they also serve up ice cream and sorbets flash frozen with liquid nitrogen.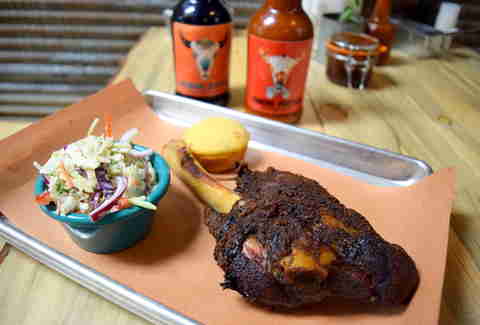 Rosedale
If you think there's no such thing as Colorado-style BBQ, you haven't been to Roaming Buffalo. Texas raised Coy Webb, along with his Colorado native wife Rachael, are defining Colorado BBQ daily with a Southwestern flair and menu items like Colorado lamb shank and bison short ribs. Plan on getting here early or you'll risk seeing the dreaded "Sold Out" sign ominously glowing in the window.
Five Points
When Finn's Manor opened late in 2015, the excitement swirled around this bar/host to a rotating list of food trucks. But now that the dust has settled on their opening, one major highlight stands out: Owlbear Barbecue. The food truck is permanently located in the back of Finn's Manor and serves up their signature, can't-miss Texas-style brisket along with other standards like pulled pork and spare ribs every Thursday-Sunday.
Greenwood Village
We told you about the magic that is Jabo's Utah Sconut, one of Denver's best donuts, but this a BBQ place first and foremost and their take on this classic cuisine is as delicious as it is unique. The spot is located in a strip mall, so it's easy to overlook, but then you'd be missing out meeting owner Dwight "Jabo" Lawson himself and learning all about his hickory-smoked offerings. And sure, purists think sauce belongs on the side, but here it's a highlight. For newbies, expect to get a silver tray of sauce samples (to test before you order) that's filled with unique choices like smoky mango and pecan, which can be mixed if you're feeling adventurous. All are available in mild, medium, and hot spice levels. Choose wisely and throw your sauce on the super-sized pulled pork sandwich. Then schedule a nap soon after.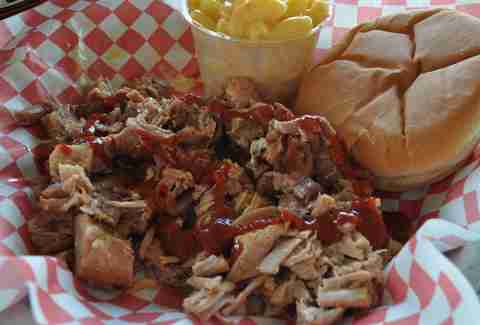 Five Points
This place serves up Southern-style BBQ and expertly smoked meat from co-owner and pit master Colleen Van Tuyl. She hails from Alabama and you can taste the South in every bite of items like the smoked pork, hot links, and collard greens. The meat's flavor stands up on its own and is served dry, but Ragin' Hog also offers five different sauces that cover the flavor spectrum of traditional BBQ regions. So whether you like it sweet, spicy, or somewhere in between, you'll be happy.
City Park West
Odds are you've never driven by this neighborhood favorite, but it's more than worth going out a little out of your way for. Everything here is made from scratch, out of largely local and organic ingredients. The meals -- served on thick paper plates -- taste like something you might find at a family get together... if your family consists entirely of great cooks. Can we be friends? While you'll find homestyle daily specials like their sloppy joes and fried chicken, the real draw is the Kansas City-style BBQ. The burnt ends are a must-order (if they're not sold out) and with side options that include lighter choices like an avocado kale salad and dill cucumbers, you can feel just a little less guilty about stuffing your face here.
Sign up here for our daily Denver email and be the first to get all the food/drink/fun in town.
Molly Martin is a freelance writer in Denver, Colorado who craves burnt ends on the regular. See what else she's eating around town @mollydbu on Twitter and Instagram.