For all our fuss over green chile, we Denverites don't expend much energy on chili with an "i." Maybe it's because the spicy meat stew hails from the Lone Star State -- you know, home of the Cowboys, aka the team the Broncos ousted as America's favorite in a recent Harris Poll. At least they won something this year!

But let's face it, chili is also classic game-day grub, whether traditional -- con carne, sin frijoles -- or bean-based. Here are six serious versions to cry into during the Super Bowl, sure to keep you warm right on through the rest of basketball and hockey season.
Bison
Second Home Kitchen & Bar (address and info)
Cherry Creek
American buffalo simmered in beer: that's what lends this concoction its Rocky Mountain magic, while black beans and three types of pepper (poblano, chipotle, and roasted red bell) bring the funk. Make that four types -- the kitchen sneaks some jalapeño into the otherwise cooling crème fraîche that tops those cornbread croutons.
Chicken
So Perfect Eats (address and info)
Cherry Creek
This dainty café is the place to go if you're looking for frosted cupcakes and appliquéd tea towels. It is not the place you'd think to look for a rib-sticking, kicking bowl of chili. But like a kitten letting out a roar, So Perfect sure enough offers just that: its staple stew is nice and thick, crammed with chunks of breast meat and white beans, and plenty redolent of spices too. (Granted, the cute cheddar mini-muffin on the side softens the effect a little.)
Elk
West End Tap House (address and info)
Berkeley
Get your game face on (in more ways than one): ground elk is the boss of this bowl, supported by black beans, tomatoes, onions, garlic, cheddar-Jack cheese, and scallions. Comfortingly hearty rather than fiery, it's a natural match for an IPA from West End's solid beer list -- the hops will highlight those subtler spice notes.
Steak
Elway's (address and info)
Cherry Creek
Even if this chop house weren't owned by inarguably the greatest quarterback of all time, and even if its bar -- filled, of course, with his personal memorabilia -- weren't the place to watch the mating rituals of cougars who love Broncos, Elway's chili would belong on this list. Culinary Director Tyler Wiard takes a purist's approach to the longtime signature dish, loading it with steak (usually New York strip), onions, garlic, copious chili powders -- and absolutely no beans.
Turkey
Punch Bowl Social (address and info)
Baker
How much fun would it be to watch a Texan throw a fit over being served an herb-flecked "chili" made of ground turkey, white beans, and potatoes (along with tomatoes and poblanos)? Almost as fun as eating it, because traditional or not, Punch Bowl's punchy bowl is satisfyingly soulful.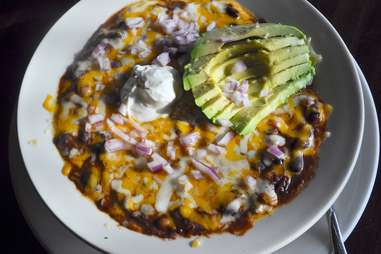 Veggie
Vine Street Pub & Brewery (address and info)
Uptown/City Park West
To sweeten the pot -- literally -- of its black bean-based vegetarian chili, this brewpub's kitchen adds a splash of house stout. And totally covers each serving in cheese. And throws in a basket of tortilla chips. In other words, you're not going to go hungry here in the absence of meat. (But if you do start to feel faint, just order a cheeseburger -- you know, on the side.)
Sign up here for our daily Denver email and be the first to get all the food/drink/fun in town.