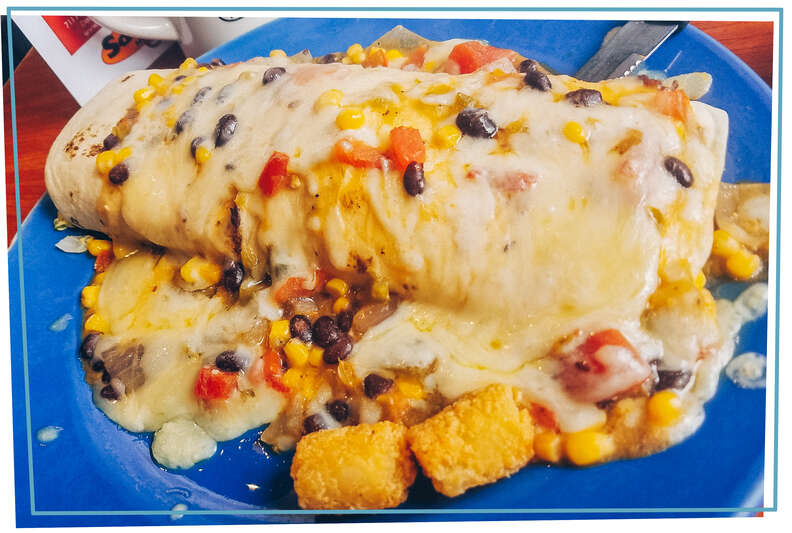 Breakfast burritos are a way of life in Denver

| Sam's No. 3 - Glendale (edited)
Breakfast burritos are a way of life in Denver

| Sam's No. 3 - Glendale (edited)
If you ask a native Denverite what food best defines this city, the answers will run the gamut from Rocky Mountain oysters to green chile to breakfast burritos. As for the first option, while those fried bull testicles are certainly worth a try, they are most certainly not an everyday staple. The breakfast burrito, however, is a lifestyle. An arbiter of taste.
And when it happens to be loaded -- or smothered -- with green chile? A more iconic Denver dish does not exist.
The breakfast burrito is to Denver what breakfast tacos are to Austin: Essential. Coloradans will debate all day long which one is their favorite, a dispute that even stretches across the southern border to New Mexico. People have been eating eggs inside tortillas for, well, a really long time, but it's widely acknowledged that the breakfast burrito made its official debut in 1970s New Mexico (many ping its first appearance on a restaurant menu to Tia Sophia's in '75). Still, Denverites will vehemently claim they perfected it.
While New Mexicans prefer smothered on-the-plate burritos filled with eggs, cheese, a protein, and hash browns, Denverites will tell you cubed potatoes rule. Here in the Mile High you can absolutely find Chipotle-sized, smothered burritos for dine-in, but the smaller, green-chile-on-the-inside handheld is the most ubiquitous -- hence the balled up foil wrappers lining trash cans all over town. Denverites enjoy them before work or after a long night out. Abuelas hawk them out of Igloos at Rockies games. Upscale Sunday brunch spots serve them next to bottomless mimosas.
The griminess of a restaurant's exterior is often directly related to how wildly dank the burrito inside will be.
Besides getting a spicy kick in the shorts to start your day, the ongoing appeal of the breakfast burrito is its egalitarian nature. You'd be hard-pressed to spend more than a Hamilton on one; for a hand-held, that price will hew closer to two bucks. Their affordability is rivaled only by their deliciousness.

So, what does one look for when seeking out the perfect breakfast burrito in Denver? In many cases, the griminess of a restaurant's exterior is directly related to how wildly dank the burrito inside will be. As the adage goes: Don't judge a book by its cover. Do, however, mangle up a metaphor and judge it by the quality of its green chile. That's what it's all about: roasted chiles with pork, sometimes chunky and more stew-like, sometimes saucier. The spicier the better.

Honestly, there aren't many bad breakfast burritos in town -- eggs plus green chile wrapped in a tortilla ain't exactly rocket science -- but many of the best places advertise how long they've been around on their facades. If a place has been slingin' burritos for longer than you've been alive, that's a good indication it's worth hitting.
Here's where to find some of the most beloved breakfast burritos in Denver:
Central Business District
In 2017, The Denver Post pitted 32 competitors against each other in something that could only take place in the Queen City of the Plains: a breakfast burrito bracket. And what burrito, voted by readers, reigned supreme at the end? This one, born of a humble food cart that resides on the 16th Street Mall. Rico caters mainly to workers Downtown, who have the option of grabbing a premade ("express") burrito or one made to order. Either way, it's a hefty handheld gut bomb filled with green chile, cheese, potatoes and optional meats. Note that Rico closes early and isn't open on the weekends.
Sloan Lake, Westwood, Baker, Washington Virginia Vale, Hampden
This is Denver's most ubiquitous breakfast burrito. So famous, it's hard to believe it's only been around since 1991, not 1891. So important, "half and half" (half mild green chile and half hot green chile) has entered the Denver lexicon forever. So revered, Denver Mayor Michael Hancock, in 2017, declared -- in some kind of head-scratching partnership with Santiago's -- a Breakfast Burrito Day. Sure, you can dine in at one of Colorado's 27 Santiago's locations, but the true experience lies in a massive to-go order of petite handhelds, packed with cubed potatoes, eggs, cheese, and your desired chile Scoville unit. Another now-well-known eccentricity of the local chain is that the meat in the burritos rotates every day of the week. We also recommend calling your order in first.
Highland
La Casita specializes in tamales -- and, to be clear -- we're not out here saying you shouldn't get tamales and a breakfast burrito when you stop by. Because you 100% should (and try at least one of each of the green chile and cheese, and red chile and pork). The shop's breakfast burritos come with the option of beef, bacon, sausage, or chorizo, but the true standout here is the green chile sauce that is either tucked inside or lathered across the top. Much like El Taco De Mexico's green chile, it's a smooth, thin delight that would make the leg of a chair taste good. Make sure to pick up a quart as you waddle your way out.
Sunnyside
If you've ever been to Chubby's on the morning of a Denver Broncos game, then you've seen true chaos reign. But the hectic atmosphere at this Mile High institution is part of its charm. Order a breakfast burrito smothered and sit in one of the booths, or take your egg and bacon, egg and bean, egg and whatever -- always with chile and cheese -- and post up in a parking lot or field or park or demilitarized zone to devour away. Chubby's doesn't overdo it with the chile, so fluffy eggs are never swimming, but it still has a famous kick that will rouse any bleary-eyed wanderer.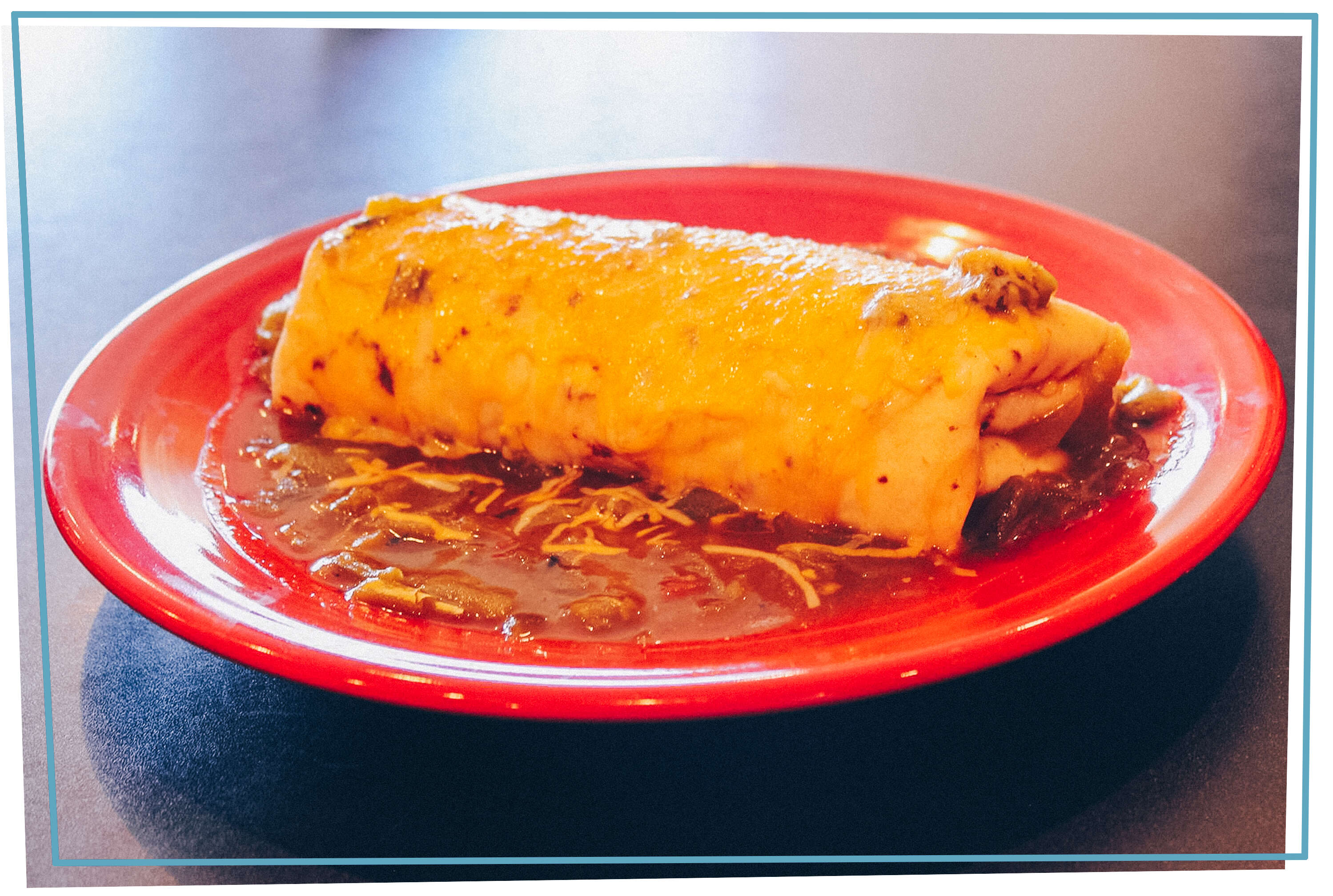 Virginia Village
Certainly some might find it heretical to put a restaurant that serves New Mexican cuisine on this list, but, hey, we Coloradans are friendly folk. As long as the burrito has eggs and kickass green chile in it, anything is fair game. And at Little Anita's, they serve a classic New Mexican take -- with hash browns instead of cubed potatoes -- smothered in its addictive green chile. You can also order it "Christmas style" for both red and green sauces, which -- come to think of it -- is heretical. Give us green chile or give us death!
Central Business District, Glendale
This Denver diner staple -- which has been around since 1927 -- offers both handheld breakfast burritos to-go, as well as sit-down, smothered bohemeths the size of a lineman's forearm (both come with Sam's meaty, spicy green chile, inside or out). And as you'd expect from a place with a roughly 800-page menu, there are tons of options. A breakfast burrito with ground buffalo meat? Sure, why not? Gyro meat, chile rellenos, chicken fajitas? You bet. If they can cook it, they can stuff it in there. Handhelds come with hash browns; smothered burritos have the option of that, home fries, tater tots or -- whoosh -- French fries.
Lincoln Park
El Taco is such a Colorado treasure it almost feels insulting to view it merely in the context of a breakfast burrito list. And, yet, on this list it must be: El Taco's breakfast burrito is of the dine-in (or styrofoam to-go) variety. It's a hefty roll-up, filled with rice (yep, rice), beans, eggs, and one of the following: chorizo, ham, bacon, or potato. Any of those choices will be delicious, but make sure of one thing and one thing alone: Order it smothered -- and if you don't, expect one of the regulars to holler at you about it. The green chile at El Taco is a saucy flavor bomb and comes flecked with creamy white cheese. Pro-tip: Belly up to the counter so you can watch the ladies in back ply their delicious trade, chopping unique cuts of meat and doling out mind-expansive aromas.
Jefferson Park
If you come at the king, you better not miss. Araujo's makes no bones about its battle with Santiago's. Like Santiago's, Araujo's rotates the meat inside its handheld breakfast burritos on a daily basis. It even undercuts the Santiago's price by 50 cents -- an Araujo's green chile-infused eye-opener will set you back a total of two bucks. They'll even hook you up with a smothered, larger burrito -- like Santiago's -- if you want to dine in. Hell, there's even a Santiago's across the street! The main difference here is that Araujo's simply has one location. If you're a Santiago's acolyte, it's worth a stop at this mom 'n' pop. That should be their motto, honestly.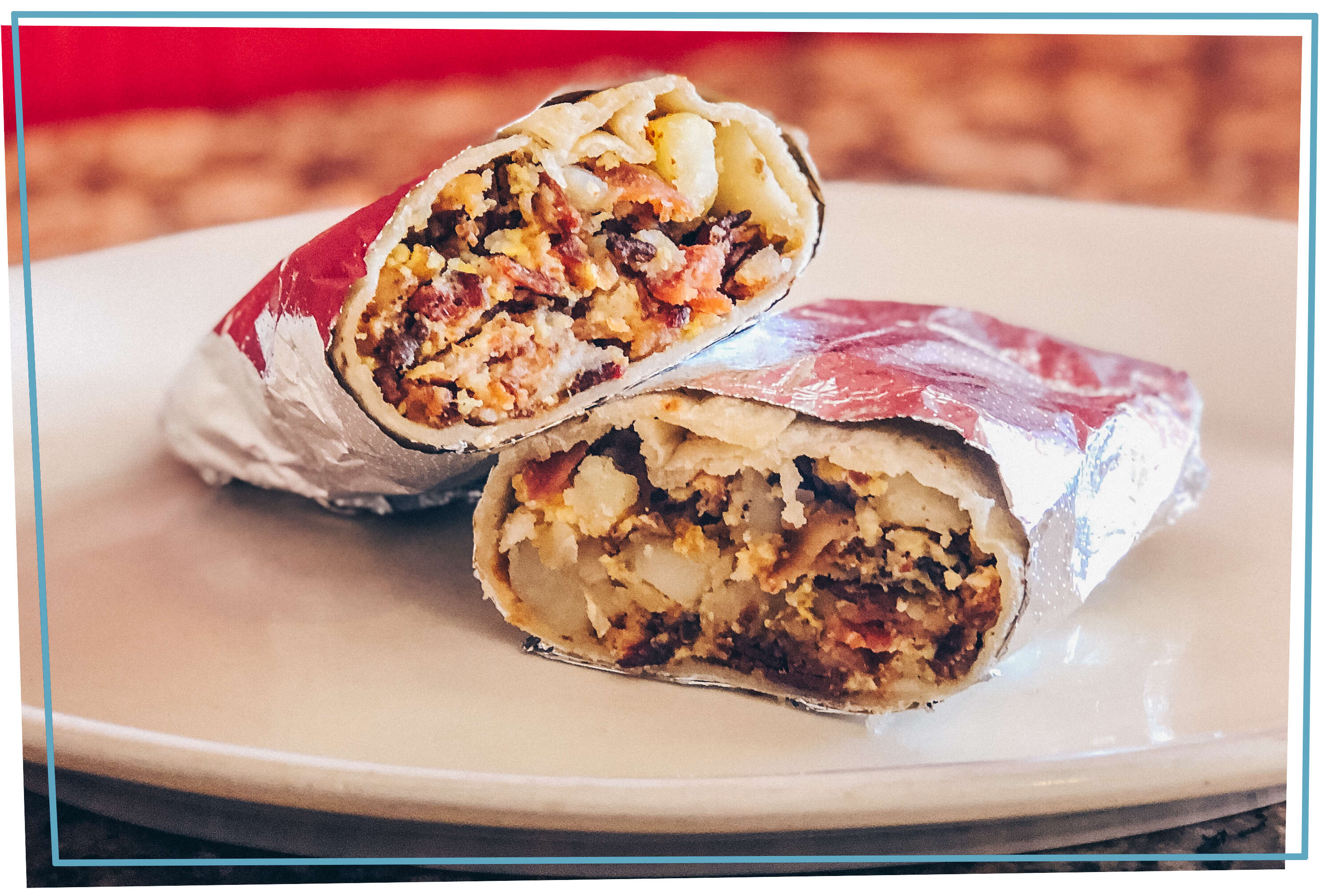 Berkeley
This humble spot on the west side also keeps it real with dine-in (bathed in green chile on a plate) and to-go (wrapped in foil like a present fit for Christmas morning) options. The restaurant specializes in a steak and egg breakfast burrito and offers a handful of extra salsas to help you take your green chile spiciness up a few notches. Trust us: splash 'em all on there.
North Washington
Stop us if you've heard this one before: Tamale Kitchen specializes in tamales, BUT, they also bust out a damn fine sunrise burrito, and sling the handhelds all day and night. Tamale Kitchen has a ton of different combos for its breakfast burritos and, most notably, not one, not two, but three spice levels for its green chile. Oh, and tamales are 65 cents on Tuesdays, so you should probably stop in then and give your burrito a new best friend or two.
Sign up here for our daily Denver email and be the first to get all the food/drink/fun in town.
Colin St. John is a Denver native who contributes to Rolling Stone, Esquire, McSweeney's Internet Tendency, Deadspin and other various publications. He likes some specific things (chicken sandwiches, Richard Linklater movies) and dislikes others (sliced tomatoes, guns).