Why do Denverites love brunch so much? It could be the fact that we work up insatiable appetites playing outdoors in the Rockies. Maybe it's the legal weed. Or maybe it's the fact that we just love our booze. To help you answer the age-old "where should we go eat?" question, we've rounded up the best spots for Bloodies, Benes, and all things brunch.
Recommended Video
The Best Things to Eat in Puerto Rico
Wash Park
Homestyle, made-from-scratch comfort food classics
The Devil's Food bakery has been a neighborhood favorite since 1999, and you can still grab a cup of coffee and a fresh-baked pastry there. But The Cookery is now its own separate dine-in space that looks like it was decorated by the most hipster grandmother ever. The "Myrtle Hill" reference in the name pays homage to the neighborhood's past, and a cell phone-free stipulation on the menu upholds the spot's commitment to honoring simpler times. The menu covers all the basics: buttermilk pancakes, challah French toast, quiche, and eggs Benedict, but the undeniable charm makes the dining experience anything but ordinary.
Baker (& other locations)
Creole brunch mecca that's always worth the wait
This Boulder-based family business has built a mini-empire out of the impeccable Creole food it's been dishing out for over three decades. For Southern transplants -- or anyone who can appreciate brunch with a side of hot pepper vinegar-doused collards -- Lucile's should be your No. 1 pick. From the giant, flaky buttermilk biscuits that accompany most plates to favorites like po-boys, crawfish etouffee, eggs Rockefeller (like the oysters, but with eggs), and shrimp & grits, Lucile's is the move when your stomach is running on empty.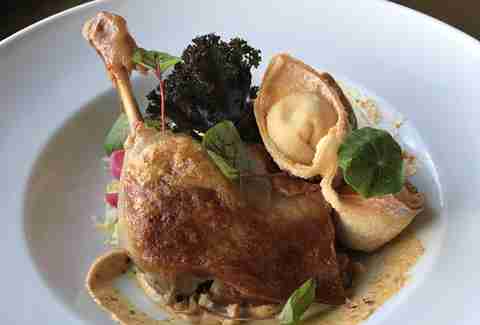 Capitol Hill
A dependable old-school staple dishing out comfort foods
This classy American bistro is primarily known for its dinner service, but on Sundays from 10:30am-2pm, you can land yourself a serious brunch. The menu changes seasonally (all the more reason to keep coming back) but has featured everything from a croque-monsieur amped up with cranberry mustard to more fanciful creations like pork belly and donuts with a maple apple broth.
Downtown (& other locations)
Home to gut-busting burritos and green chile covered-everything
This down-to-earth joint has what you need to cure your hangover. The extensive food menu (16 pages!) has seemingly everything from American diner classics to plates overflowing with Greek and Mexican cuisines. There's even an entire page dedicated breakfast burritos, which are as big as your head and covered in Sam's famous green chile and a ton of cheese, as is Denver tradition. Pro tip: Do not make big plans after Sam's.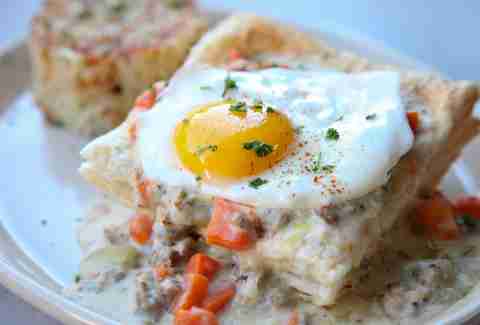 Five Points (& other locations)
A crowd-pleasing destination with options for everyone (especially at brunch)
This Colorado-born chain (with newer outposts in Arizona, Texas, and California) has formed a cult following since opening in 2006. The menu features a plethora of breakfast goodies -- some traditional, some crazy. Breakfast pot pie, breakfast tacos, pancake flights, and prosciutto Benedicts are just a small sampling of the indulgences that await you. But fair warning, be prepared to combat lengthy waits on weekdays and weekends alike.
Congress Park (& other locations)
Towering biscuit sandwiches you have to try
Leave your gluten-averse friends at home because everything here is served on a homemade, fluffy biscuit. There are gourmet sandwiches with fat-boy fillings like fried chicken and pork belly, as well as larger plates like the biscuit French toast, biscuits and gravy, biscuit pot pie, and shrimp and grits served in a biscuit bowl. You get the idea. There's also a full bar, complete with Bloodys and mimosas for washing down all those carbs.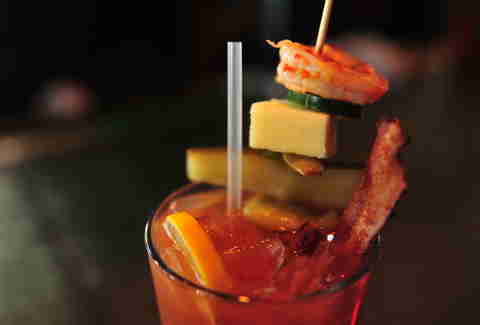 LoHi
For the times when nothing but a seafood feast will cure that hangover
Serving up coastal Mexican food, Lola is known for its tableside guacamole and delicious selection of margaritas and Mexican-inspired cocktails. If you're tired of the usual brunch suspects, head to the weekend brunch here for grilled oysters, lobster tamalitos, and smoked trout with mole negro. To drink, opt for the Bloody Mary complete with chile-poached shrimp, or the michelada popsicle. Linger after brunch on a Sunday to catch live music, which starts at 2:30pm (along with happy hour).
Ballpark
Creative cuisine with a side of live entertainment
Restaurateur Justin Cucci has the brunch game on lock. Root Down, Linger, and Vital Root all have their own unique and craveable contributions to Denver's booming brunch scene. But it's his former brothel-turned-trendy restaurant that we can't get enough of lately. Beyond the playful menu filled with choices like a bison pastrami Reuben and an arepas Benedict, brunch here often comes with a show. Don't be surprised to find anyone from DJs to folk bands taking the stage while you dine.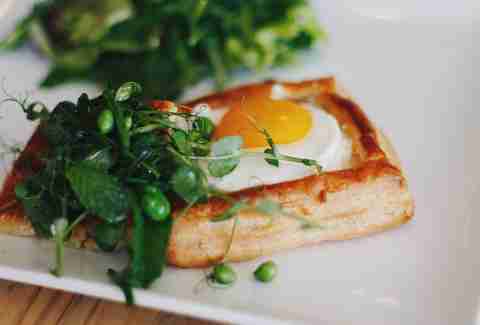 Uptown
A sophisticated spot highlighting locally sourced ingredients
With a subdued vibe thanks to homestyle hospitality and a touch of class, this spot proves that keeping it simple often leads to the tastiest results. Though simple certainly doesn't mean boring, a point proven with just one bite of the pork shoulder tostada or the chicken cherry sausage. But you'll surely take more than one bite. Come with a large group so you can fully explore the menu.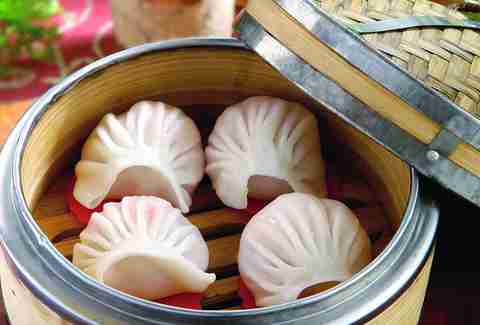 Athmar Park
The dim sum to rule all others
If you think brunch should be about eggs, pancakes, and waffles, you're missing out on some of the best things in life. Namely, dim sum. Star Kitchen repeatedly draws crowds for its weekend brunch, where cart after cart of steamed buns and dumplings (don't skip the taro version) complement less-familiar dishes, like chicken feet and leek with pork blood. Go with a group and get adventurous: This is the place to try something out of your comfort zone done right. Dim sum is served daily until 3pm, so if you've got time for a weekday brunch, head here ASAP.
Stanley Marketplace
A small but mighty menu of rustic, wood-fired options
This may be chef Caroline Glover's first restaurant, but her time learning from longtime industry pros at spots like Acorn and The Spotted Pig gave her the wisdom to create a space that was recently named one of America's best new restaurants. The brunch menu is small but strong, featuring dishes that sound simple, but deliver big on flavor and execution. The daily buttery biscuit may read as a side-dish afterthought, but it's good enough by itself to warrant a trip. As is the pork shank hash dotted with pickled mustard seeds, and the standout yeasted waffle. In fact, it's pretty difficult to choose poorly here, so multiple trips to work your way through the menu is highly recommended -- or opt to go with some hungry friends.
Platt Park
A South Broadway hotspot for satisfying morning sustenance daily
When you walk into this restaurant, you may feel a bit like your mom or grandma could walk out of the kitchen at any moment. There's a reason for that, as the owners were inspired by their moms and wanted to create a place that would make them proud. From the retro wallpaper to the mouthwatering menu, Morning Collective is all about coming together and feeling right at home. It's got healthy options like ancient-grain porridge and egg white scrambles, along with cheat day-worthy eats like stuffed banana hazelnut pancakes, coffee-braised pork belly and eggs, and perfectly golden tots.
Highlands
Mouthwatering modern spins on Latin-inspired cuisine
Often, when a restaurant tries to put its own mark on classic dishes, you're left craving the original. Not here. The team behind SB truly embraces traditional flavors and techniques while updating them with touches that enhance the experience. Take the chicken-fried steak, which isn't actually a steak at all but rather a generous portion of tender beef short rib, battered and fried, then drizzled with bright chimichurri. And the misto quente, aka your new favorite breakfast sandwich stacked with ham, tomato jam, and plenty of cheese. And whatever you do, no matter how much you're "not a sweets person," don't skip the impossibly light churros with vanilla lime sugar and a brown butter "puddin" that will literally have you licking the plate.
Sign up here for our daily Denver email and be the first to get all the food/drink/fun in town.