Photo courtesy of Urban Egg
In Denver, the only thing we love more than an early morning hike to watch the sunrise is being back in town in time for bottomless mimosas. Now that dining is almost back at full capacity following a year with super limited in person brunching options, it's time to celebrate. So grab your favorite bloody mary crew and head to these spots where the booze and hollandaise flows freely. Except for one, all of these spots are open for in-person dining and they all also have options for pickup and/or delivery if you'd rather opt for a brunch-at-home situation. Cheers, to Denver's tastiest burritos, biscuits, and Bennys!
Multiple locations
With eight locations from the Springs to Ft. Collins and a ninth opening this summer in Cherry Creek, this locally born brunch favorite is quickly becoming a statewide go-to. Their menu is loaded with brunch faves, from Benedicts, housemade biscuits and gravy, and three different types of avocado toast to the award winning cinnamon swirl pancakes and indulgent stuffed french toast. And they've stepped up the brunch beverage game too with mimosas and bloodys (dub) plus fresh juices and coffee-shop worthy caffeinated drinks.
How to order: Curbside carryout available via their website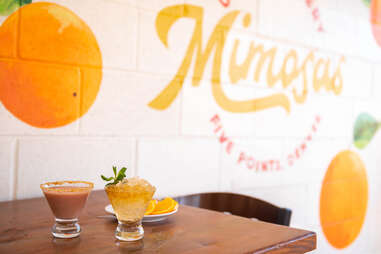 Five Points
This new addition to Five Points recently reopened with a new chef, Brain Smith, who's bringing a bit of his New Orleans roots to the eatery with the addition of items like beignets served with lemon curd and panko crusted fried green tomatoes with black peppercorn ranch. Along with other Southern-inspired favorites like shrimp and grits, this spot's also got a lock on its namesake cocktail, mimosas, with two flight options: the Savage which features the classy, bougie, and ratchet mimosas and the Kokomo flight with the sunshine, pina colada, and bellini versions.
How to order: Order via Toast for pickup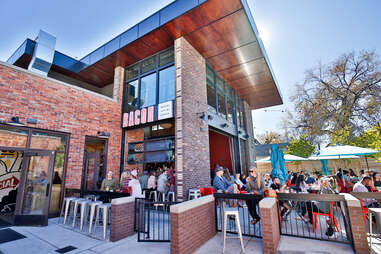 Multiple locations
With "bacon" in the name, it's clear what you're coming here for. Many of the menu items feature bacon, from the bacon Cheddar biscuits loaded with peppery sausage gravy to the hash loaded with thick cut bacon, sweet potatoes, hatch chiles, and caramelized onion—you can even get bacon-infused vodka in your Bloody Mary. But whatever you do, don't skip the signature bacon flight which comes with six flavors of bacon and a pair of shears so you can share with the table… if they ask nicely. And now, with the opening of a brand new location on South Broadway, there are three options for getting your bacon fix in town.
How to order: Order pickup and delivery via their website
Multiple locations
This down-to-earth joint with three locations (Glendale, Aurora, and downtown) has what you need to cure your hangover. The extensive food menu (16 pages!) has seemingly everything from American diner classics to plates overflowing with Greek and Mexican cuisine. There's even an entire page dedicated to breakfast burritos, which are as big as your head and covered in Sam's famous green chile and a ton of cheese, as is Denver tradition. Pro tip: Do not make big plans after Sam's.
How to order: Visit their website for pickup and use DoorDash for delivery
Multiple locations
Leave your gluten-averse friends at home because everything here is served on a homemade, fluffy biscuit. There are towering, Instagram-worthy gourmet sandwiches with fat-boy fillings like fried chicken and pork belly, as well as larger plates like the biscuit French toast, biscuits and gravy, biscuit pot pie, and shrimp and grits served in a biscuit bowl. You get the idea. There's also a full bar, complete with Bloodys and mimosas for washing down all those carbs.
How to order: Click here for pickup and use DoorDash for delivery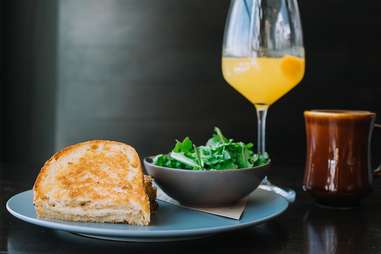 Aurora
If you want a brunch that just feels special from start to finish, head to this Stanley Marketplace eatery led by award winning chef/owner Caroline Glover. The brunch menu is small but strong, featuring dishes that sound simple, but deliver big on flavor and execution. Don't skip the pork shank hash dotted with pickled mustard seeds, and the standout yeasted waffle. And whatever pastry Glover's whipped up that weekend, which has recently included a rotating roster of bombolinis with seasonal ingredients like strawberries and sage. In fact, it's pretty difficult to choose poorly here, so multiple trips to work your way through the menu is highly recommended—or opt to go with some hungry friends.
How to order: Curbside takeout is available via Toast
Multiple locations
This Boulder-based family business has built a mini-empire out of the impeccable Creole food it's been dishing out for over three decades (they've got locations in Boulder, Longmont, Ft. Collins, and Littleton along with the Denver-area University and Speer neighborhoods). For Southern transplants—or anyone who can appreciate brunch with a side of hot pepper vinegar-doused collards—Lucile's should be your No. 1 pick. From the giant, flaky buttermilk biscuits that accompany most plates to favorites like po-boys, crawfish etouffee, eggs Rockefeller (like the oysters, but with eggs), and shrimp & grits, Lucile's is the move when your stomach is running on empty.
How to order: Visit their website to order for pickup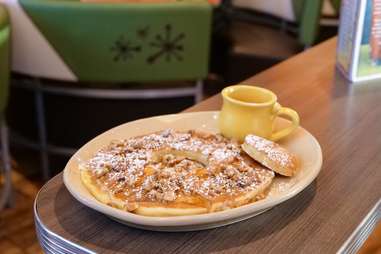 Multiple locations
Since opening in 2006, this Colorado-born chain has developed a cult following of brunch fans. The menu features a plethora of breakfast goodies—some traditional, some crazy. Breakfast pot pie, breakfast tacos, and prosciutto benedicts are just a small sampling of the indulgences that await you. They're probably as well known for their long wait times as they are for their popular pancake flights, but good news: You can now join the waitlist virtually via Yelp. Just find the location nearest you and skip right to mimosa-time.
How to order: Visit their website to order pickup and delivery
Athmar Park
If you think brunch should be about eggs, pancakes, and waffles, you're missing out on some very important options. Namely, dim sum. Star Kitchen typically draws crowds for its weekend brunch, where steamed buns and dumplings and noodles complement dishes like chicken feet and leek with pork blood. While the traditional dim sum carts are not roving around the restaurant right now, you can still order off the full dim sum menu in person.
How to order: Visit their website to place an online order for pickup
Wash Park
The Devil's Food bakery has been a neighborhood favorite since 1999, and you can still grab a cup of coffee and a fresh-baked pastry there. But The Cookery is now its own separate dine-in space that looks like it was decorated by the most hipster grandmother ever. Hopefully you'll be able to enjoy the homey vibes again soon, but in the meantime, they are open daily from 7:30 am - 2:30 pm for curbside pickup only. The menu covers all the basics with Belgian waffles, challah French toast, quiche, eggs Benedict, and more. This is classic brunch comfort food done right, and we all need a bit of comfort right now.
How to order: Call 303-733-7448 (option 1) for pickup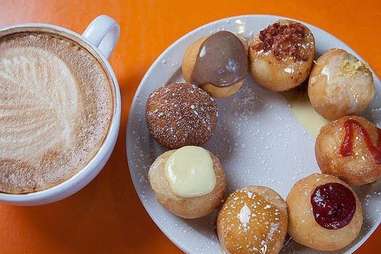 Capitol Hill & University
With walls adorned with retro cereal boxes and a brightly colored interior that's basically made for Instagram posts, this spot (and it's second location near DU) have quirky style covered. But the steady crowd is thanks to more than good looks. First, there's the donuts. Or really donut holes to be accurate, with a variety of fillings like maple bacon, Thai peanut, and salted caramel. Once you've got a sweet start to the meal, move to to filling entrees like a not-to-be-missed Molly Hot Brown (aka turkey served on savory french toast with a slathering of poblano cheese sauce, bacon, and griddled tomatoes) or their southwest spin on a classic, the Haco Chili Benedict (a fluffy biscuit topped with poached eggs, hollandaise, and a smoky stew of chorizo, tomato, and poblano).
How to order: Visit their website to order for pickup or use DoorDash for delivery
City Park West
They've got a take on the ubiquitous breakfast burrito (with the indulgent addition of duck fat fried potatoes). There are breakfast tacos (adorned with griddled mozzarella). There are crepes if you're craving something on the sweeter side. But what you're really here for are two dishes that are unexpected and oh-so-welcome for brunch: bacon fried rice and congee. Bacon fried rice is pretty self-explanatory, although Onefold's is topped with eggs fried in duck fat, giving the whole dish an added layer of savory depth. Congee, if you need an introduction, is a rice porridge popular in many Asian countries. Here, they add duck confit, a poached egg, green onions, tamari soy sauce, salted ginger, and a generous swirl of chili. If you've never given congee a try, let Onefold help you out.
How to order: Order pickup & delivery through their Square site
Sign up here for our daily Denver email and be the first to get all the food/drink/fun in town.