Why do Denverites love brunch so much? It could be the fact that we work up insatiable appetites playing outdoors in the Rockies. Maybe it's the legal weed. Or maybe it's the fact that we have a lot of damn good Bloody Marys. To help you answer the age old "where should we go eat?" question we've rounded up the best spots for bloodies, benes, and all things brunch.
Cherry Creek
Cherry Creek has a reputation for being... pretentious, one might say. Disgustingly rich, some others might say. However, Harman's is the perfect mix of comfort and affordability without sacrificed sophistication. Get yourself a steak Benedict that may well be the reason hollandaise was invented, or a plate of sourdough French toast with sweet cream, pecans, and bourbon barrel-aged maple syrup. Bonus: there's plenty of space here, so if you're rolling with a sizable crew, they can accommodate.
Wash Park
This neighborhood favorite is ideal for grabbing a cup of coffee and a fresh baked pastry for a weekend stroll, or (ideally) sitting down and digging into a homestyle meal in a space that feels like it was designed by the most hipster Grandmother ever. Dig into classics like huevos rancheros and challah French toast, but don't hesitate to hit up creative twists, like pomegranate crepes served with honey mascarpone & a white chocolate drizzle. On the lunch end of things, the chicken pot pie is something special.
Multiple locations
This Boulder-based family business has built a mini-empire based on the impeccable Creole cuisine it's been dishing out for 32 years. That means breakfast goodness like eggs Rockefeller (like the oysters, but with eggs!) and shrimp 'n grits -- and as a bonus, most breakfast dishes come with a giant, flaky buttermilk biscuit. Of course, you're also going to want beignets. And don't sleep on lunch options, from po' boys to crawfish etoufee. Come here really, really hungry, basically.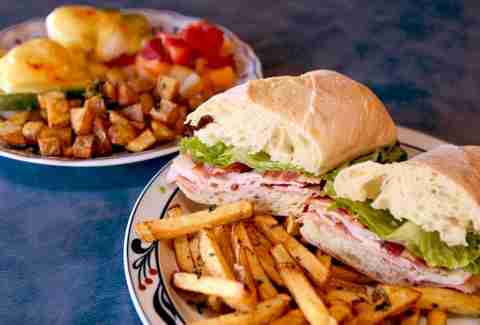 Multiple locations
It's the breakfast place where everybody knows your name. Ok, maybe not, but it's a no-frills, affordable cafe that'll make you feel like a regular even if you aren't. More importantly, it's a place where you can economically load up on heartiness, like chicken fried steak and PB & J French toast. There's a small espresso bar where they do some serious coffee, and they also have booze. They have a lot going for them, basically.
Capitol Hill
This classy American bistro is mostly known for its dinner service, but on Sundays from 10:30am-2pm, you can land yourself a seriously special brunch. There just aren't many other options if you're craving fried duck meatballs with rice crepes & Sriracha aioli, or papadum flapjacks with garam masala & peach-ginger chutney. And once you've had them, you will be... though be warned -- the menu's subject to change. But if an old favorite went away, something equally tasty has probably taken its place.
Multiple locations
This down-to-earth joint is the place to come cure your hangover. Their novel-length food menu (16 pages!) has seemingly everything, and has it in enormous portions. Look, there's an ENTIRE PAGE of breakfast burritos, okay? And they're all as big as your head and smothered in Sam's famous green chile and a ton of cheese, as is Denver tradition. Do not make big plans after Sam's.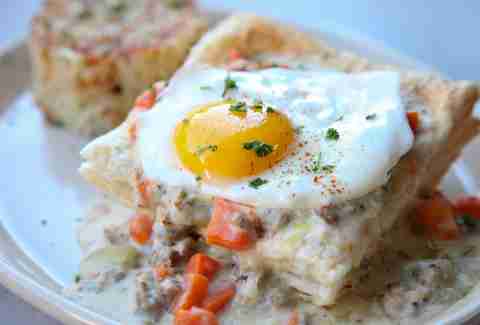 Multiple locations
This Colorado-born AM eatery started in 2006, and has had a cult following ever since. The menu is a plethora of breakfast goodies -- some traditional, some crazy. Breakfast pot pie, breakfast tacos, pancake flights, and prosciutto Bennies are just a small sample of the indulgences that await you. Be prepared to combat lengthy waits on weekends, but be prepared to be happy you did so.
Downtown
People may not think of DazzleJazz as a go-to restaurant, but those who enjoy live jazz while they eat should check it out. Every Sunday from 9:30-1:30am they have a full brunch buffet for $20 a person and a bottomless Bloody Mary/mimosa bar for an extra $10. If you're looking for a more lively experience to go with your eggs, this is it. Reservations are highly recommended, because they do fill up fast, so don't wait until the last minute.
Highlands
They're open at 7am every day, which is clutch because it can be tough to snag a table on weekends. The must-try dish here is the cornbread huevos rancheros, which has black beans, roasted tomato salsa, two eggs, avocado, and sour cream layered onto homemade cornbread. They also feature a rotating "grits of the day", which, no matter what day it is, seem to always end up delicious.
E Colfax and S Broadway
Leave your gluten-averse friends at home, because everything is served on a homemade, fluffy biscuit of goodness. There are gourmet sandwiches with fat-boy fillings like fried chicken and pork belly, and then there's the biscuit French toast, biscuits and gravy, biscuit pot pie... you get the idea. They also have a full bar, complete with Bloodies and mimosas for breakfast -- to help wash down all that buttery goodness.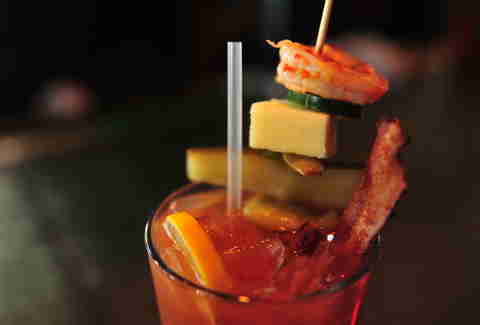 LoHi
Serving up coastal Mexican food, Lola is known for it's table-side guacamole and a delicious selection of margaritas and Mexican-inspired cocktails. Don't miss out on the weekend-only brunch. Chicharron Bennies, lobster green chile omelettes, and chicken fried steak served with a green-chile chorizo gravy are just a few reasons to get there. That Bloody Mary is another. Stay after brunch on a Sunday to catch live music, which starts at 2:30pm, along with happy hour.
Sign up here for our daily Denver email and be the first to get all the food/drink/fun in town.