We in Denver take our burger preferences seriously (as confirmed by a recent unofficial poll where I asked for opinions and got plenty to dig through). Everyone's got a favorite, and they're as varied as burger toppings themselves. But a really good burger -- the best burgers, if you will -- all have a few important factors in common. They should be greasy in a good way. They need to excel in all three components (patty, toppings, and bun). And ultimately, they are undeniably craveable. After thorough research, these twelve burgers reigned supreme, so go forth and eat your way through this list for pure Mile High burger bliss.
Recommended Video
Birria + Ramen = Birriamen
Highland
The best no-frills bar burger
As the oldest bar in Denver, this spot's got some colorful history including notable former patrons like beat writers Jack Kerouac and Neal Cassady. But enough about them, you're here to eat. The JCB, with jalapeno cream cheese, might be one of the most talked about burgers in town with nearly everyone having had at least one (usually late night) encounter with this creamy, salty, slightly spicy meal between two buns. But if you want to step it up, go for the Johnny which also comes with a slather of jalapeño cream cheese along with American, Swiss, and grilled onions. The best part? Every burger gets delivered with your own condiment caddy complete with pickles, onions, pepperoncinis, and more.
Cherry Creek & Ballpark
The customizable classic that's been around for decades
The Cricket's been serving up food in Denver for 70 years, so it's pretty clear that this 1950s trucker bar-turned-burger joint is doing something right. It starts with the basics: a half-pound patty on a sesame seed bun. Then you take over, picking from the extensive list of additions. At this point, this place has seen it all, so if herb cream cheese, grilled pineapple, and corned beef are what you're craving -- go for it. Plus now there's a second location near Coors Field featuring arcade games and fish tanks and those same beloved burger patties loaded with all the peanut butter and bacon your heart desires (seriously, try that combo, it rocks).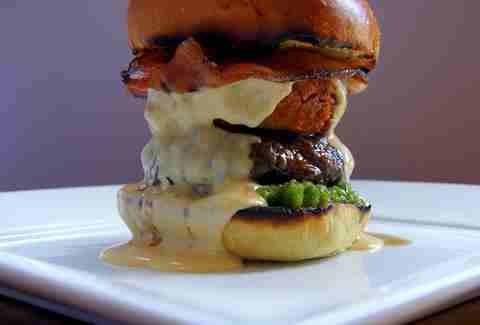 RiNo
The (literal) sauciest burger in town
It's also probably the most Instagram-worthy, if you're into that sort of thing. But let's talk about flavor. Meadowlark's towering burger is stacked with Irish cheddar sauce, candied spicy bacon, a thick onion ring, poached egg, and a jalapeno bacon confit on a house made brioche bun is equal parts messy, spicy, cheesy, and savory. The bright, colorful space covered in murals is eye-catching, but this burger is what truly steals the show. Tip: Ask for extra napkins.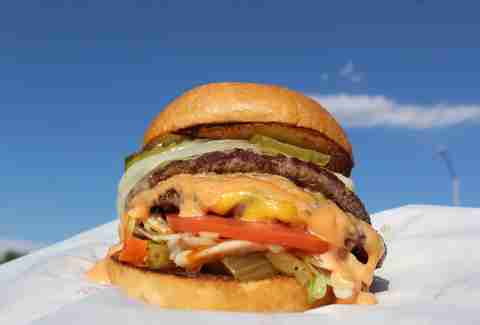 Sloan Lake
Best burger for your hard-earned buck
Yup, that Snarf's. One of the regions most beloved local sandwiches chains has brought their burger game to the Mile High and you should be excited. Snarfburger first debuted in Boulder but is now open on Federal -- with a third location opening soon in Cap Hill. Nothing on the menu is over $7, and that includes a double cheeseburger with both Swiss and American. Premium toppings like bacon and avocado are available for an extra charge, but you don't need those for a satisfying bite. For the full experience, add a side of super crispy onion rings and a cup of frozen custard, all of which will cost you just over $10 total.
 
Goldsmith & Hampden South
The epitome of a Denver-style Mexican hamburger
Let's start with the basics: what exactly is a Denver-style Mexican hamburger? It's a beef patty (preferably char-grilled) and refried beans tucked inside a tortilla, smothered with pork green chile (because this is Denver after all), and usually topped with melted cheese, lettuce, and tomatoes. Does this really count as a burger? Is it more a burrito? Take a bite of La Fogata's version and tell me if you really care. It's friggin' delicious. This duo of casual south Denver eateries (which also happens to have one of the best house margs in town) has been low-key serving up some of the Mile High's best Mexican since 1990, and on a menu of hits, the Mexican hamburger is at the top of the list.
Sun Valley & Arvada
The epitome of a Mexican street food-style hamburger 
While the "Mexican hamburger" in Denver means a smothered, melty plate of meat and cheese under a tortilla blanket, in Mexico, hamburguesa stands serve up a totally different take on char-grilled beef, often topped with sliced pineapple, ham, avocado, and other less traditional American choices. Enter Hamburguesas Don Jesus, an easy-to miss spot where that approach is upped even further with burgers featuring a bevy of unexpected topping combos. Exhibit A: the Texana. It starts with a familiar base -- a beef patty on a sesame seed bun with cheese, ketchup, mayo, mustard, lettuce, tomato, and onion. But then things get interesting. Jalapeno joins the party along with avocado, a slice of ham, and...wait for it...a bacon wrapped hotdog (or as they call it, "weenie"). Other menu choices include toppings like chicken nuggets, anaheim chiles, and, sliced pineapple. Go big and be adventurous and you will be rewarded.
Union Station
The burger that's worth a few extra bucks
At $15 (which includes fries or a side salad), this burger is a little pricier than the rest of the ones on this list. But one bite and you'll have no regrets. The Denver Burger Battle peoples' choice winner for the last two years in a row comes topped with thick-cut bacon, cheddar, and their version of a secret sauce (umami aioli) on a roll specked with everything bagel spice. The fact that you get to enjoy it at a swanky spot that's also home to a hell of a whiskey collection (over 300, in fact), doesn't hurt either. So splurge a little. You deserve it.
City Park West
Best beer & not-your-average-burger combo
Have you ever had a bacon-wrapped date? If you have, you know that it's basically a perfect bite: salty bacon, sweet date, creamy goat cheese. Now put that on a burger and add roasted poblano. It's phenomenal. As an added bonus, Vine Street is also a brewery from the Boulder-based Mountain Sun family, so pick a burger buddy from their tap list and give yourself a pat on the back for indulging in one of the city's best food & drink combos. Just don't forget to stop by the ATM first; this place is cash-only.
RiNo & Highlands Ranch
The guilty pleasure burger (you know you love it)
It's not local, obviously. But when Shake Shack finally opened a Denver outpost in March 2018, there was a line out the door for a reason. There is no denying the pure, blissful craveability of their classic ShackBurger -- not to mention the vegetarian-friendly cheese-stuffed, crispy fried wonder of the 'Shroom Burger and the satisfying tang of their regional special, the Green Chile CheddarShack Burger. If loving Shake Shack makes us guilty, then go ahead and sentence us to a life of cheese-sauce laden crinkle fries and throw away the key.
LoHi (lunch only) & Capitol Hill 
The ultimate classic double champion
You know it: two patties, american cheese, pickles, onions, lettuce, and that ever-present yet enigmatic special sauce. McDonald's may have made it iconic, but this spot's perfected it in a way that draws no comparison to fast food. What started as a weekday lunchtime pop-up inside Old Major serving some of the best fried chicken sandwiches in town now has its own stand-alone home at Broadway market. And while their fried chicken remains the main draw, you'd be wise to buddy up when visiting so you can go halfsies on a classic rooster and a double burger. If you happen to be further north, a newer kid on the block, Norm's Deli (located inside Zeppelin Station) is now churning out a nearly equally appealing version of the classic double dubbed the "hamburger stan" which is also served on what both places call a "squishy bun." But despite the similarities, Royal Rooster's deep-fried meat cooking method (!) and 100% grass fed all beef patties take the win over Norm's blend of brisket and smoked pork belly.
16th Street Mall & Westminster
The topping combo experts
Sure, it can be fun to pick your own topping combos. But when you're in a place that's got "burger" in the actual name, it's a good sign that you should leave the burger-building to the experts. That's exactly the case here where the menu is jam-packed with carefully crafted topping combos like the aptly named "Perfect Burger" gruyère, bacon onion jam, pickled red onions, shredded lettuce, and roasted garlic aioli and the Durango with jalapeño cream cheese, lettuce, roasted red peppers, fried onion straws, and pecan smoked bacon. If you really can't decide between all of the tantalizing options, get the "I Can't Decide" (see, they really do think of everything) which includes two jumbo-slider size versions of any of the full size burgers. And if you really, really think you can do better, they've got a menu item for that too. Called "The A**hole." Happy ordering!
Golden
The burger that you'll leave town to eat
This burger shack with a retro feel keeps things simple and fun, just the way a good burger should be. The burger sleeve has a sheet where you can check off your picks for toppings and other options, so ordering is made clear and easy. Order numbers are replaced by celebrity names (think "Marilyn Monroe" and "Donald Duck") and when you hear your assigned famous moniker, grab your burger and dig in. The patties are charred just right, the toppings are fresh, and the onion petals are crunchy. It's a fully satisfying, classic burger experience that goes perfectly with Golden's other draws, like a Coors Brewery tour or a riverside stroll.
Sign up here for our daily Denver email and be the first to get all the food/drink/fun in town.