The Best Denver Burgers to Enjoy From Home
All available for pickup and delivery.
If you ask a group of Denverites where to get the best burger, everyone will have a different answer (just try it on your next Zoom call, it's a great topic for virtual happy hour debates). We take our burgers seriously in the Mile High, and no amount of dining room closures can change that. Really good burgers -- the best burgers, if you will -- all have a few important factors in common. They should be greasy in a good way. They need to excel in all three components (patty, toppings, and bun). And right now, they need to be available to-go in all their juicy, chargrilled glory. Denver restaurants have delivered (literally) on our quarantine burger cravings, bringing the best of the best to our homes and saving us from another round of dishes.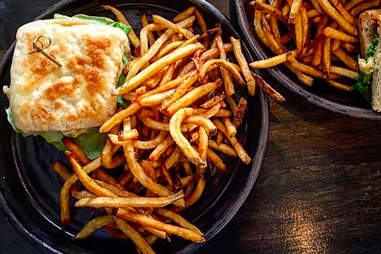 Courtesy of Annette
Aurora
What used to be a hard to catch, very occasional staple at this award-winning eatery from equally award-winning chef Caroline Glover is now a staple of their takeout offerings. The Annette burger features 7x Wagyu beef served up on a house-made English muffin with chow chow, sour pickles, and Cheddar. It's a perfectly crafted burger, but more than that, it's a very real (and very delicious) symbol of what this small spot has done to survive.
Order online for contactless pickup or delivery
Tap & Burger

| Nomadik Creations
Highland, Sloan's Lake, DTC
Two words: Shroom Luva's. This burger spot from the team behind Bar Doug and Senior Bear has expanded to three locations in recent years, and they offer a ton of burger options including a make-your-own menu. But one signature burger needs to be on your must-try list. The Shroom Luva's is, well, loved, for it's umami explosion of sauteed mushrooms and white truffle aioli with melted swiss. It's a classic combo that elevates the burger from backyard BBQ staple to "damn, I need another" craving.
Order online for pickup or get delivery via GrubHub and DoorDash
Highland
As the oldest bar in Denver, this spot's got some colorful history including notable former patrons like beat writers Jack Kerouac and Neal Cassady. While you can't post up at the bar like they did these days, this historic watering hole has reopened for takeout. It won't come with their signature condiment caddy, but you can take home one of the most talked about burgers in town -- the JCB, which is loaded with jalapeno cream cheese.
Call 303-455-9991 or order online for pickup, or order delivery from Uber Eats or DoorDash
Cherry Creek & Ballpark
The Cricket's been serving up food in Denver for 70 years, so it's pretty clear that this 1950s trucker bar-turned-burger joint is doing something right. It starts with the basics: a half-pound patty on a sesame seed bun. Then you take over, picking from the extensive list of additions. At this point, this place has seen it all, so if herb cream cheese, grilled pineapple, and corned beef are what you're craving -- go for it. Plus now there's a second location near Coors Field featuring arcade games and fish tanks and those same beloved burger patties loaded with all the peanut butter and bacon your heart desires (seriously, try that combo, it rocks).
Order online for pickup and delivery from both locations
Sloan Lake
Yup, that Snarf's. One of the region's most beloved local sandwiches chains has brought their burger game to the Mile High, and you should be excited. Snarfburger first debuted in Boulder but is now open on Federal and in Cap Hill. Nothing on the menu is over $7, and that includes a double cheeseburger with both Swiss and American. Premium toppings like bacon and avocado are available for an extra charge, but you don't need those for a satisfying bite. For the full experience, add a side of super crispy onion rings and a cup of frozen custard, all of which will cost you just over $10 total.
Walk-ups are welcome (masks and social distancing required) or order delivery via DoorDashGoldsmith & Hampden South
Let's start with the basics: What exactly is a Denver-style Mexican hamburger? It's a beef patty (preferably char-grilled) and refried beans tucked inside a tortilla, smothered with pork green chile (because this is Denver after all), and usually topped with melted cheese, lettuce, and tomatoes. Does this really count as a burger? Is it more a burrito? Take a bite of La Fogata's version and tell us if you really care. This duo of casual south Denver eateries (which also happens to have one of the best house margs in town) has been low-key serving up some of the Mile High's best Mexican since 1990, and on a menu of hits, the Mexican hamburger is at the top of the list.
Order online for pickup from both locationsSun Valley & Arvada
While the "Mexican hamburger" in Denver means a smothered, melty plate of meat and cheese under a tortilla blanket, in Mexico, hamburguesa stands serve up a totally different take on char-grilled beef, often topped with sliced pineapple, ham, avocado, and other less traditional American choices. Enter Hamburguesas Don Jesus, an easy-to miss spot where that approach is upped even further with burgers featuring a bevy of unexpected topping combos. Exhibit A: the Texana. It starts with a familiar base -- a beef patty on a sesame seed bun with cheese, ketchup, mayo, mustard, lettuce, tomato, and onion. But then things get interesting. Jalapeno joins the party along with avocado, a slice of ham, and… wait for it… a bacon wrapped hotdog (or as they call it, "weenie"). Other menu choices include toppings like chicken nuggets, anaheim chiles, and sliced pineapple. Go big and be adventurous and you will be rewarded.
Call 720-366-6906 to place an order for pickup
RiNo & Highlands Ranch
It's not local, obviously. But when Shake Shack finally opened a Denver outpost in March 2018, there was a line out the door for a reason. There is no denying the pure, blissful craveability of their classic ShackBurger -- not to mention the vegetarian-friendly cheese-stuffed, crispy fried wonder of the 'Shroom Burger and the satisfying tang of their regional special, the Green Chile CheddarShack Burger.
Order online for pickup
16th Street Mall & Westminster
The 16th Street Mall location of this local burger haven is currently closed but Westminster is still serving up burgers with carefully crafted topping combos like the aptly named "Perfect Burger" gruyère, bacon onion jam, pickled red onions, shredded lettuce, and roasted garlic aioli and the Durango with jalapeño cream cheese, lettuce, roasted red peppers, fried onion straws, and pecan smoked bacon. They've also added a line of family dinners including a burger grill pack for four.
Order online for contactless pickup or get delivery via Grubhub, DoorDash, Postmates, and Uber EatsGolden
This burger shack with a retro feel keeps things simple and fun, just the way a good burger should be. The patties are charred just right, the toppings are fresh, and the onion petals are crunchy. It's a fully satisfying, classic burger experience, even if you've gotta take it home before enjoying it right now.
Order online for curbside pickup
Sign up here for our daily Denver email and be the first to get all the food/drink/fun in town.
Molly Martin is a Denver-based freelance writer who will totally eat your pickles if you don't want them. Or just steal 'em. Follow her @mollydbu on Instagram and Twitter.