As the undisputed capital of Colorado (go ahead and argue, person who did poorly on his State Capitals test in fourth grade!), Denver understandably tends to dominate the discussion when it comes to the state's best restaurants. But that doesn't mean there isn't ample deliciousness to be found elsewhere around the state -- specifically at these 11 places, ranging from fancy ski-town bistros to down-home diners.
Programming note: even though Boulder isn't technically part of Denver, we omitted it for the purposes of this exercise, because we already wrote this.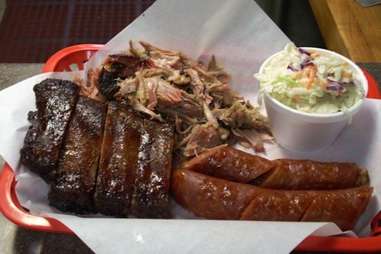 Smokin Yard's BBQ (address and info)
Idaho Springs
This family-owned business serves arguably the best BBQ in Colorado, and most certainly the best you'll find in Idaho Springs. They're fluent in BBQ specialties from Texas-style brisket to Carolina pulled pork to moist, peppery burnt ends. Enjoy the scenic view from the patio -- you'll be there a while if you happen to show up on a Monday, as they serve up all-you-can-eat ribs.
Kelly Liken (address and info)
Vail
The eponymous restaurant of a Top Chef and Iron Chef America alum, KL delivers an upscale experience befitting the fact that, you know, you're in Vail. The menu screams Colorado (in much subtler, classier ways than the dudes who were sitting behind you at the Rockies game) with seasonal dishes like Rocky Mountain elk carpaccio with bulgar tabouleh salad and whole grain mustard aioli, or Durham Ranch quail with duck fat-roasted carrots. Also: Sticky. Bun. Sundae. Throw in a tightly curated Franco-American wine list and cocktails like the lemongrass vodka-based Get Hi-On-Biscus (guess what else is in it?!) and you're in for quite an evening.
The Pullman (address and info)
Glenwood Springs
Famous for having the world's largest hot springs pool along with vapor caves and some serious hiking, quaint little Glenwood Springs also has a standout spot ready to feed you after you've rendered yourself famished with all that outdoor exploration, where you'll indulge on next-level snacks like duck nuggets with rhubarb ketchup and bacon-pickled deviled eggs with maple gastrique. Then move onto bigger portions of truffled potato pierogies with scallion creme fraiche and pan-seared Colorado bass with creamy asparagus orzo. Finish with some Black Forest bread pudding with homemade "Nutella" and you'll be done moving for a while.
Quincy's (address and info)
Locations in Buena Vista, Salida, and Leadville
The only option on the menu is steak, steak, or steak. If you go Sunday-Thursday, you get filet mignon. If you go Friday or Saturday, you can have prime rib or slow-roasted sirloin. No matter what, it comes with a baked potato, salad, bread, and a shockingly reasonable price tag at the end. And fine, they have veggie lasagna if you're dragging one of those types along with you, but it's better to show up with carnivores.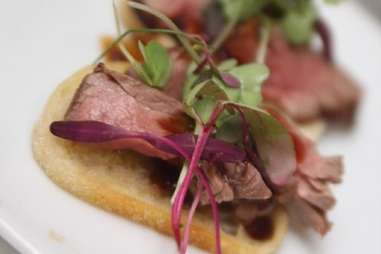 Soupcon (address and info)
Crested Butte
Known for standout snowboarding, backcountry skiing, and mountain biking once the snow subsides, Crested Butte has its share of hungry visitors to feed. When said visitors are ALSO feeling fancy, there's this French-American bistro serving up the likes of crispy duck confit and twice-baked potatoes with date coulis, port gastrique, haricots verts almandine, and apricot demi glace. So yeah, maybe brush up on those French culinary terms before you drop in.
Secret Stash (address and info)
Crested Butte
On the OTHER end of the feeding-hungry-people-in-Crested-Butte spectrum is this beloved pizzeria serving up "this doesn't sound like it should work" specialty pies that somehow, well, work. Take the ricotta-based Steazy Ryder (beef, shrimp, cream cheese, bacon, pineapple, jalapeño, garlic, green onion & cilantro). Then take some of their celebrated BBQ wings (with toasted sesame seeds & green onion), some Meat Candy (aka spice-rubbed pork shanks), some Crack Fries (aka spuds tossed in truffle oil, cracked black pepper & Parm), and a nap.
Fat Albert's (address and info)
Greeley
Greeley's mainly known for being equal parts cow town and college town, but it's also, thankfully, a Fat Albert's town. This family-owned institution has a friendly diner ambiance and a massive down-home menu to match. For decades now, the bestseller has been their Monte Cristo sandwich (already an unhealthy proposition just about anywhere), which is tempura-battered and served with a side of honey. Yep.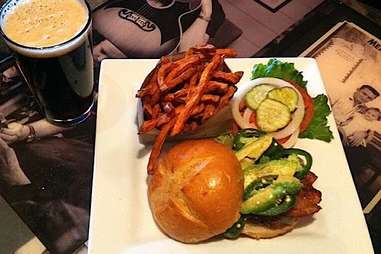 Waterloo (address and info)
Louisville
If you're rolling through the small town of Louisville (and you don't have a time-traveling Napoleon with you), you had better step into Waterloo, a laid-back, Johnny Cash-loving pub with live music and serious daily specials. For something different, try their Potato Burger, with shredded taters worked right into the Freedman beef patty. They'll top it with anything from avocado to peanut butter to a fried egg (maybe don't go with that particular combo, though) before sliding it into a challah roll.
Chimayo (address and info)
Dillon
This locally owned Mexican grill is something of a kindred spirit to our own Illegal Pete's, particularly known for their "am I near the ocean?"-fresh fish and shrimp tacos. It's affordable. It's quick with the margaritas. It's an easy decision if you're in Summit County.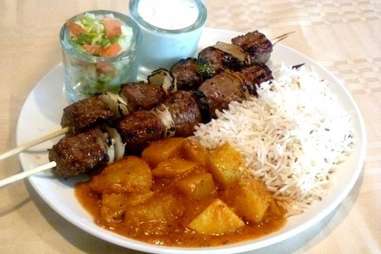 Maza Kabob (address and info)
Fort Collins
From an Afghanistan native who spent nearly 20 years working as a Denver street vendor, grilling up hot dogs and serving up homemade bolani (a potato-filled flatbread), Maza Kabob is a more permanent operation that's grown into a hidden Fort Collins favorite since opening in 2011. A clean, bright, counter service storefront, they serve up craveable renditions of traditional Afghan dishes like Burrani (eggplant in yogurt sauce) and, as you might guess, plenty of kabobs. Oh, and you better believe they're still serving those bolani. No hot dogs, though.
Edelweiss (address and info)
Colorado Springs
If you want a taste of Germany in Colorado (or just want to find yourself tearfully humming tunes from The Sound of Music), Edelweiss is your go-to, deep with all the bratwurst, saurbraten, and schnitzels you could possibly desire. Or maybe go for the Vesper baguette, a giant DIY assembly of bread and German deli meats. Either way, round things out with the obligatory conquering of some Teutonic brew courtesy of DAS BOOT!
This list -- and all the rest -- look even sexier in our iPhone app. Get it now!