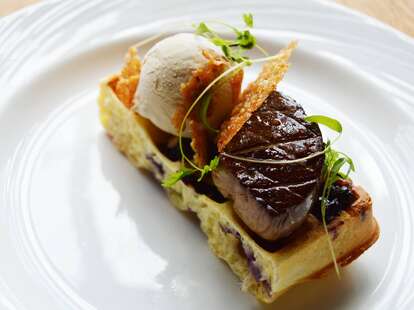 When no one was looking, Denver suddenly grew up. While its merits as a true food town are still up for debate, the Mile High has become a breeding ground for chefs to experiment and outright succeed -- which is damn good for a city formerly known for Rocky Mountain oysters and a certain egg-based breakfast dish. Whether you're a transplant or native, here's a list of essential food and drinks that you need to try if you want to call yourself a true Denverite.
Green chile
What is true, authentic Denver cuisine? If we're being honest, it's not far off from the Den-Mex catchall term that gets thrown our way from time to time. And in our book, this pretty much means anything that's smothered with green chile. Whether you prefer it thick or thin, there's something for everyone to get their spice on -- from refined, chef-driven destinations like El Chingon to long-time dives like Brewery Bar II. However, we've said it once, and we'll say it again: El Taco de Mexico remains the undisputed king of all things green in town.
A pioneering cut of meat
From time to time, Denver shows shades of its pioneer past, evinced by destinations like The Fort and The Buckhorn Exchange, which serve up alligator, elk, and quail (and yes, those pesky Rocky Mountain oysters). While these tourist traps serve their purpose, it's encouraging to see newer spots embrace our renegade roots. From half a pig's head at Rebel Restaurant to the roasted goat with sweet guajillo-pepper sauce at Work & Class, Denver's finest are working hard to push diner's perceptions of normalcy through offal and other meat-centric offerings.
A Mexican hamburger
Denver didn't invent Mexican cuisine, but we sure as hell take claim to the Mexican hamburger. And the Original Chubby's has been serving up this iconic Den-Mex dish -- and, not to mention, garnering polarizing opinions -- from its well-worn hole-in-the-wall location on 38th since time began... probably. It's basically what it sounds like: a burger patty and refried beans wrapped in a tortilla and smothered in green chili. It may not be pretty, but it's pure Denver.
Palisade peaches
Once a year, in late summer, the entirety of Colorado is graced with a serious bounty from the Western Slope -- the main export being Palisade peaches, the juiciest fruit you can find in the West. From farmers markets to the finest dining rooms across the city, these sweet, succulent peaches make their rounds statewide. Whether you prefer 'em plain, or as an accoutrement, we advise you to get them while you can.
Smothered breakfast burrito
We've already discussed the merits of green chile, but the smothered breakfast burrito is in a league of its own. By no means an authentic Mexican dish, the morning meal appears at many restaurants across town -- from hipster brunch joints to hidden taco stands. Boasting a selection of 25 breakfast burritos, the iconic Sam's No. 3 is a superb place to grab a gut-bomb. No matter the protein, all burritos are stuffed with home fries, eggs, cheddar cheese, and doused in Sam's beloved green chile.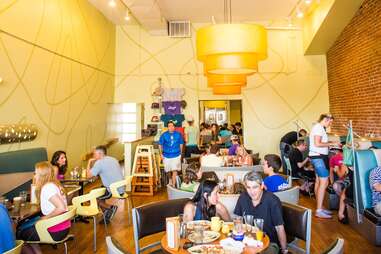 A greasy spoon brunch
As evidenced by the daily lines at Snooze, brunch is big in Denver. If you don't feel like waiting in line for a pancake flight, spots like Onefold and Bar Dough offer up a bit more substance than syrup and powdered sugar, courtesy of their Asian- and Italian-influenced morning fare, respectively. Sometimes, however, a simple, greasy breakfast can't be beat (we do have an omelette named after our city, after all). In an era dominated by faux-Americana fetishes, The Butcher Block Cafe and DJ's Cafe are a welcome breath of fresh air.
Something on Colfax Avenue
It's true what they say about Colfax. While certain stretches have cleaned up a bit over the past decades, a trip down the thoroughfare on a Saturday night is still an experience -- no matter how close you are to million-dollar homes. Colfax also boasts a world-class dining experience. Much like its colorful cast, the 'Fax has everything, from bleary-eyed all-nighters such as Tom's Diner and Pete's Kitchen that serve as veritable counterparts to bars like Nob Hill Inn and PS Lounge, to diverse offerings such as Bourbon Grill, Phoenician Kebab, and Torta Grill.
Something South American
Mexican food may dominate the Mile High, but the city also boasts a number of fantastic South American joints. Bringing a taste of Argentina to the city is Maria Empanada. While you can't really go wrong with any of the empanadas, the Argentina -- filled with seared steak, red peppers, egg, green onions, and olives -- is a solid start. For another lesson in hand-held mastery, Quiero Arepas serves up divine Venezuelan arepas from both their food cart and temporary location in Avanti Food & Beverage.
Craft beer, duh
Colorado began brewing craft beer before it was cool, with heavy hitters such as Wynkoop Brewing Co. paving the way for CO to become the best beer state in the country. Sure, we love Wynkoop as much as the next guy -- but the local favorite since '94 has been Great Divide Brewing Company. While breweries like Comrade Brewing Company (IPAs) and Crooked Stave Artisans (sours) have defined Denver's beer scene as of late, we can't think of a more classic craft offering than Yeti Imperial Stout. Perfect for powder days, this complex, full-bodied offering is Denver, brewed and bottled.
Ramen
Uncle took the city by storm when it opened in 2013. While it's safe to say we've finally escaped the ramen trend of the last several years, Tommy Lee's Highland joint is still perennially packed to the brim -- a true testament to the restaurant's relevance. The most popular menu item is undoubtedly the spicy chicken ramen. Benefiting from a healthy dose of chili oil and a creamy, tahini-based broth, the dish strays far from tradition, but satisfies every time.
Biker Jim's
We've lost count of how many top 10 lists Biker Jim's Gourmet Dogs has graced. And for being a hot-dog joint, that's pretty impressive. While there are certainly viable competitors on Jim's menu of exotic options (the Alaskan reindeer and wild boar come to mind), elk is the favorite. Top your dog with Biker Jim's Classic (cream cheese and caramelized onions), and you've got yourself one of the best hand-held options in the city.
Our regional Mexican cuisine
Based on other entries, it's not a stretch to say that Denver cuisine is rooted in Latino cuisine. Our city boasts countless Mexican restaurants, so it only makes sense that nuanced, regional Mexican food can be found. And lucky for us, Oaxacan cuisine is a unique import. Tarasco's New Latino Cuisine epitomizes this underrepresented plate with staples such as posole and tamales. The true winner at this Federal mainstay, however, is the mole. While we won't blame you if you order the seven-chile variation, the bittersweet mole verde is what defines Tarasco's.
Dim sum or pho on Federal Boulevard
Those who write-off Denver's food scene as purely rice, beans, and a certain green sauce haven't been down Federal. What it's lacking in progressive envelope pushers, it makes up for in decades-old, family-run Chinese, Vietnamese, and Mexican joints that appear out of nowhere in the endless sea of strip malls. Favorites include the overwhelming dim sum of dumplings, steamed buns, chicken feet, and fried shrimp balls at Star Kitchen, and pho joints like Pho Duy and Pho 95.
An authentic craft cocktail
It's not a stretch to say that Williams & Graham, Sean Kenyon's award-winning speakeasy, is single-handedly responsible for redefining Denver's revitalized cocktail scene. For other tastes of the town, be sure to check out newcomers Bar Fausto, Ste. Ellie, and The Way Back. In addition to impressive bar programs, several solid distilleries have cropped up in recent years, including Laws Whiskey House, Devil's Head Distillery, and Bear Creek Distillery, which have given a new name to craft cocktails.
Casa Bonita
Say what you want, but Casa Bonita is a rite of passage for Denverites. Sure, the cafeteria-style mystery meat is tolerable at best -- but everyone knows that no one goes to this Lakewood institution for the food. You go for the experience. And the free sopapillas. Enough said.
My Brother's Bar
It's no secret that Beat-generation luminaries Jack Kerouac, Allen Ginsberg, and Neal Cassady frequented the hallowed grounds at 2376 15th St. -- there's a letter on the restaurant's walls from Cassady outlining his debt. History aside, however, things just feel right at My Brother's Bar. Although the area has seen much change over the past decade, the haunt is still serving up beers and burgers the right way: sans fanfare. Between the Girl Scout cookies, the classical music, and the jalapeño cream cheese that graces the buns of the JCB, here's to hoping that nothing ever changes at My Brother's Bar.
Something from Frank Bonanno, Troy Guard, Alex Seidel, or Jennifer Jasinski
Denver may not have any huge celebrity chef exports (yet), but we do have a handful of local heroes -- some of whom have been awarded prestigious James Beard awards, and all of which have pushed the city's culinary scene to what it is today. Flagships include Mizuna, TAG, Fruition, and Rioja, from Bonanno, Guard, Seidel, and Jasinski, respectively.
Fresh sushi from Sushi Den
Far from any ocean, Denver may be the last place you'd expect world-class sushi. However, spots like the legendary Sushi Den legitimized the Denver sushi scene when it opened its doors in 1984. One of the first of its kind, the restaurant famously flies in the finest, freshest fish from around the world.
A Coors Banquet
While our beer scene has evolved a bit since 1873, Colorado Kool-Aid still hits the spot. And the best place to enjoy it is straight from the source at the "Fresh Beer Room," the ice-cold cooler guests enter during the Coors Tour. It's the closest you'll ever get to actually tapping the Rockies and hitting alcohol.
Sign up here for our daily Denver email and be the first to get all the food/drink/fun in town.
Trenton Reed is a full-time copywriter and freelance food writer who routinely compiles his favorite dishes into listicles. Follow @_trentonreed on Twitter and Instagram.