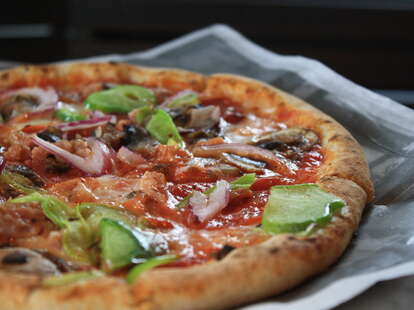 There's an old saying that there's no such thing as bad sex or bad pizza. Whether or not it happens to be true isn't the point -- you shouldn't be striving for just "not bad" in either of these two crucial aspects of a well-lived life. Nope, you're aiming for greatness, which is why you should eat 'za from these 10 places, each of them the best of the bunch in its respective neighborhood.
Patxi's Pizza (address and info)
City Park West
The San Francisco pizza slingers opened up shop in Denver in 2012, and since the world didn't end with John Cusack driving a Lincoln Town Car through an LA high-rise, they continue to sling out deep dish like it is their last day on Earth. They nail the Chicago "stuffed" stye, creating 'za with an almost pastry-like crust, topped with so much cheese, greens, meats, more delicious crust, and their homemade sauce.
Buenos Aires Pizza (address and info)
Five Points
On 22nd between Market and Larimer sits an unassuming little shop called Buenos Aires Pizza. Not little, however, is their menu, with 70+ different pizza styles. They range from insanely simple (meaning just short of baked bread) to supremely loaded numbers like the house specialty Buenos Aires, which loads on the mozz, ham, hearts of palm, hard-boiled egg, roasted red peppers, and... salsa?! Sounds strange, but it all works.
Ian's Pizza (address and info)
Downtown
If Wisconsinites know anything, at all, it is cheese. Hailing from Madtown, USA is Ian's Pizza. Having opened up shop Downtown just a few months ago, the folks at Ian's blatantly throw their cheese adeptness in your face by crafting a mac 'n cheese pie that makes for an unbeatable (if potentially hazardous to your health) late-night snack. Or anytime snack, really.
Hops & Pie (address and info)
Berkley
The Hops & Pie guys hold it down in Berkley by offering up delicious pizza and its natural party companion, beer. Every pizza gets a Midas touch with perfectly golden-crisped (not like, the cereal), hand-tossed crust, adorned with their excellent sauce and next-level toppings like beer-braised (of course) brisket and smoked pork loin.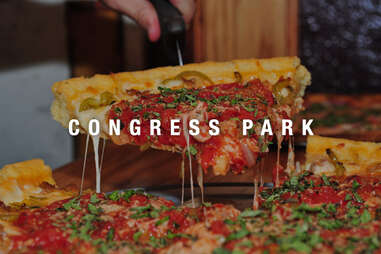 Denver Deep Dish (address and info)
Congress Park
Another practitioner of Windy City-style pizza artistry, Denver Deep Dish takes the non-stuffed (i.e. no top layer of crust) approach to delivering you a crazy amount of delicious cheese, sauce, and toppings in a flawlessly baked crust. Of course, they put a little Denver spin on things with the green chile-aided "505". You can also get a solid Chi-style dog here, if you're looking for other ways to bulk up.
Osteria Marco (address and info)
LoDo
Situated nicely in a narrow spot on Larimer in LoDo is Osteria Marco, an Italian eatery with a tightly crafted pizza section that dishes out deliciously simple pies. Go for the house sausage with caramelized onions, Fresno chiles, and fontina. Or the carbonara with pancetta, egg, and Pecorino Toscano. Actually... the move is probably to bring a crew and order everything.
Proto's Pizza (address and info)
Highland
Taking the Highland spot is Proto's Pizza, which has been devoted to bringing Colorado simple, bubbly-crusted pizza Napoletana since 1999. There's no need to get too crazy here, a simple margherita will bring you nothing but happiness, but they do stray from the classics with offerings like the Low Rider: combining a honey-chipotle base with pineapple, cilantro, and bacon.
Pizzeria Locale (address and info)
Speer
Little bro to the Pizzeria Locale up in Boulder, this location offers up a simpler, some would say, Chipotle-esque, style of creating pizza (no idea why though). Every creation starts with the same base of tomato sauce and mozzarella. From there, you're allowed to build your own or choose from a menu of already perfected ensembles. The Supreme captures everything with sausage, pepperoni, mushrooms, red onion, and green peps.
Pizza Republica (address and info)
CBD
Jutting out of the Colorado Convention Center like a certain boot-shaped country in Europe is Pizza Republica. Holding down the menu are their wood-fired, Neapolitan pizzas that are offered up as smaller, personal pizzas during lunch (but really, every pizza is a personal pizza if you have a little ambition). The select move here is the owner's fav, the Georgio pizza, topped with mozz, fennel sausage, fried garlic, and deliciously sweet pearl onions.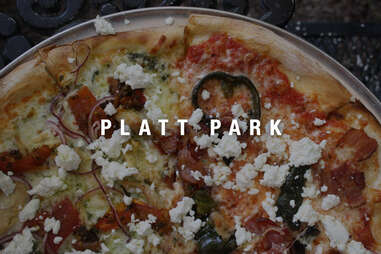 Kaos Pizza (address and info)
Platt Park
The slice guys at Kaos Pizza bring Southern Naples to Denver, and that's not just in the atmosphere, which is Italy incarnate, but also in the pizza they pump out of their Italian imported wood-burning stove, which embodies everything a pizza ought to be. This is another spot where keeping it simple has its virtues, but then so does the Smokestack, with three cheeses, bacon, and poblanos. Wash it down with a couple of bierres from their extensive bottle list.
Sign up here for our daily Denver email and be the first to get all the food/drink/fun in town.