Meet Thrillist Denver's Best Chefs of 2016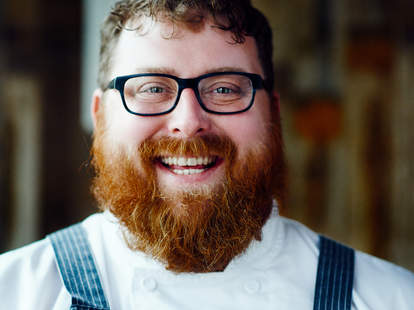 Courtesy of Justin Brunson
Editor's Note: This article is part two of Thrillist Denver's year-end look at the best of our city's local food and drink scene in 2016. In addition to our annual Best New Restaurants award, this year, we're spotlighting the men and women behind the dishes we love to tell you to eat. Whether they bucked the national trends, revived classic local flavors, or otherwise drove the city's culinary scene, these are the chefs that stood out this year. You can also check out our picks for the rest of America's 2016 Best Chefs, and then catch up on our Best New Restaurants.
We've spent a lot of time this year helping you keep up with Denver's ever-expanding dining scene, but now it's time to give the people behind all that delicious food their props. While big-name chefs coming to town gave a boost to the city's culinary clout -- and fresh faces joined the ranks -- the real stars this year were a group of familiar names who spent 2016 building on their already notable successes. We're talking about the chefs that have called Denver home for years and have worked countless hours in hot kitchens to elevate our dining scene to where it is today.
These four chefs have been instrumental in reviving Denver's reputation from cowtown to chowtown (I'm so sorry). And there's no sign of them slowing their pace anytime soon. For that they have received the honor of being named Thrillist Denver's Chefs of the Year for 2016.
Courtesy of Osaka Ramen
Jeff Osaka
RiNo
After six years, Jeff Osaka's Twelve closed in August, but its shuttering didn't signify an ending. Instead, it was a sign of progress. Denver's progressing quickly, and chefs need to be ready to adapt. Osaka's proven he can do just that. The location just reopened as a fresh concept called 12 at Madison. He was also one of the men behind our favorite new havens, the Denver Central Market, which is home to a number of vendors including Jesus Silva and Osaka's Silva's Fish Market. As if that wasn't enough, his conveyor belt sushi spot, Sushi-Rama, has three more locations planned for 2017 and Osaka Ramen continues to serve up piping hot bowls of rich, noodly satisfaction in RiNo. All of this adds up to one busy man who continues to show off his culinary skills in an array of diverse destinations.
What's your favorite dish to prepare?
Jeff Osaka: There isn't a particular dish I like to prepare, but there is a certain meal: breakfast. Most of the time it's a quick bowl of cereal (we always have at least five to six varieties!) with my daughter during the week, as we rush to get her off to school, but there are times we are up earlier or on the weekends where there's more than just a moment for breakfast. My wife says pancakes are the best vessel for maple syrup, I'm teaching my 5-year-old daughter different ways to cook eggs, and I try make sure there's bacon around for me.
What's your favorite dish to eat in Denver?
Osaka: There are so many fabulous restaurants around town now it's hard to choose just one, but lately I've been going to Super Star for their cod in black bean sauce, that with a few vegetable dishes and steamed rice and I'm a happy camper.
You're hitting the bar, what's your go-to bar order?
Osaka: I'm not much of a drinker, though I appreciate the value of a good cocktail or glass of wine, but if there's a go-to cocktail for me, it would have to be a Negroni. There are very few cocktails with three spirits in equal parts, that have very specific profiles when consumed individually, yet when combined, create something that is so well-balanced.
Where do you see Denver's culinary scene in five years?
Osaka: It's hard to say what will happen in the next five years, since I believe Denver has grown so fast in the past five. However, if I were to take a guess, I think Denver is just getting started. We have James Beard and Food & Wine best chefs, a high concentration of master sommeliers, and some of the finest brewers and distillers -- something bigger cities would love to brag about, but can't. Though it's not just about the accolades, it's more the entrepreneurial spirit that is in and around me. Where else would a guy from the 'hood get a chance to open a ramen shop, conveyor belt sushi bar, fish market, and a modern American restaurant in just a few years!?
Justin Brunson
Lowry
Denver fell hard in pork-studded love with this chef soon after he opened Old Major, but this year Justin Brunson continued to prove that his skills reach far behind his Highlands hotspot. 2016 kicked off with major buzz for Brunson thanks to his weekday lunch-only popup, Royal Rooster, which serves up fried chicken sandwiches that rival all others. That was followed by the opening of Masterpiece Kitchen in May (order the pastrami). When the Denver Central Market opened in September, it was meat cones from Brunson's Culture Meat & Cheese that took over Instagram, and in October, he headed for the Beard House in NYC for a Pork-a-Palooza feast. Whatever comes next for this cured meat loving chef, you can be sure we'll be there devouring it.
What's your favorite dish to prepare?
Justin Brunson: I would definitely say any type of charcuterie. Fresh sausage, salami, prosciutto, any of that stuff.
What's your favorite dish to eat in Denver?
Brunson: A medium #21 add meatball at Pho 95. I go like twice a week.
What's your go-to bar order?
Brunson: Buffalo Trace rocks.
Where do you hang out after hours?
Brunson: You'll find me at Sancho's Broken Arrow or Falling Rock Tap House.
Where do you see Denver's culinary scene in five years?
Brunson: I see it just continuing to grow -- more large city chefs coming to town. And I just see Denver growing and growing and growing and becoming one of the better food cities in the country.
It's your last meal. What are you eating?
Brunson: I am definitely eating a shellfish tower. There's definitely going to be a cheese course in there, and lots of different wood fired grilled meats and vegetables. And I'd probably wrap up with cheese for dessert.
Biju Thomas
Curtis Park
With a popular location in RiNo and a new outpost on Tennyson, you've likely grabbed a flavor-packed, soul warming bowl from Biju's Little Curry Shop. But what you may not know is that Biju Thomas himself is a one man fast-casual genius. In a world of salads, burritos, and burgers, he perfected a lineup of Southern-style Indian offerings which are customizable and served up fast for the quick meal you never knew you needed. In addition to the new stand location, Thomas also brought his tasty creations to the Boulder location of Whole Foods this year, an experiment that was so successful you'll soon be able to order up Biju's at two Denver-area locations as well (Cherry Creek and Tamarac). Thomas' vision for Biju's extends beyond Colorado too, and with food as delicious as his, this "little" spot has a big future.
What's your favorite dish to prepare?
Biju Thomas: I love making tacos... but whenever I have time to cook, curry braised beef short ribs with toasted coconut chunks. It's a classic Christmas and NYE dish for our family back in India. I love making it for people when I can, because I'm pretty sure you've never had anything like it.
What's your favorite dish to eat in Denver?
Thomas: The spicy Schezwan chicken (la zi ji) and bone marrow fried rice at Hop Alley... I crave it constantly.
What's your go-to bar order?
Thomas: Pretty much always fries and a small burger, or the sliders at Park Burger are perfect.
Where do you hang out after hours?
Thomas: My team and I have for years loved our "Night Meat" which is after-hours tacos, gyros, and our absolute favorite, Columbine Steak House, an industry secret, the place is amazing, family friends... shhhhh don't tell anyone!
Where do you see Denver's culinary scene in five years?
Thomas: Oh man... I think we'll have a lot more exciting and fun ethnic and world cuisines represented. We have so many incredible cultures in Denver that are really just starting to become available to us. I'm hoping we don't price out all the little startups with crazy high rent and costs.
It's your last meal. What are you eating?
Thomas: This would have to be my mom's "Kappa and Meen." This is a yellow roasted yucca dish with a very spicy bright red fish curry. It's intensely flavored, hot, sour, rich, and every single time it tricks me into overeating. If mom's unavailable, then I'll go for a homemade cheeseburger.
Courtesy of Troy Guard
Troy Guard
Five Points
From burgers and tacos to steaks and Chinese, if you've got a craving, Troy Guard likely has a restaurant where you can satisfy it (TAG, TAG Burger Bar, Sugarmill, Guard & Grace). Even before this year, his collection of eateries was impressive, but 2016 brought several new additions to Guard's lineup that captured our attention. There was a quick makeover of Bubu's Lowry location as it transformed to Lucky Cat (Guard's spin on Chinese), and a new location of Los Chingones in the Tech Center giving the southern suburbs hope for more tasty options. But the stand out is Mister Tuna, Guard's ode to his Hawaiian upbringing with wood fired and rotisserie meats and a healthy lineup of seafood dishes including poke, mussels, and whole roasted sea bream. And now he's already kicking off 2017 with the announcement of a new breakfast spot, Hashtag, coming soon. No matter what type of cuisine he's selling, we'll be there, hungry and ready to eat whatever this chef-restaurateur is cooking up.
What's your favorite dish to prepare?  
Troy Guard: The Guard Pasta -- it's made with orecchiette, garlic, chili, guanciale, fresh vegetables, roasted chicken, cherry tomatoes, olive oil, and reggiano.
What's your favorite dish to eat in Denver?
Guard: It's between Hillstone's Hawaiian rib eye and Sushi Den's yellowtail jalapeño with yuzo soy.
What's your go-to bar order?
Guard: A Ketel and soda with lemon.
Where do you hang out after hours?
Guard: My house!
Where do you see Denver's culinary scene in five years?  
Guard: Even more diverse with great food and fun places to hang.
It's your last meal. What are you eating?
Guard: Definitely a wood-grilled rib eye with a side of French fries and spinach salad with bacon dressing and gorgonzola. Finish it with my mom's warm chocolate chip cookies!
Sign up here for our daily Nashville email and be the first to get all the food/drink/fun the Music City has to offer.
Molly Martin is a freelance writer in Denver, Colorado who plans on eating a lot more food from the minds of these chefs in 2017. Follow her food adventures on Twitter and Instagram.