Heads up, Denver: the 16th annual Restaurant Week is almost here. From February 21 - March 1, over 250 local restaurants will be offering up multi course dining experiences for $25, $35, or $45 per person. This is your chance to try a new spot that might typically be out of your budget or get an awesome deal at one of your favorites.
From classic standbys to dining scene newcomers, there are plenty of options to pick from. But why spend hours digging through the menus when we already did the hard part for you? You've got 10 days to make it to the top 10 spots for a top notch deal.
Uptown & Arvada
Are you a lobster roll fan? Then this is the dinner for you. These sandwiches -- done either Maine or Connecticut style, can run close to $25 a piece by themselves so this three course set up for $25 is a strong steal. Along with that fresh Maine lobster on a split top roll, you'll also get a choice of clam chowder or salad to start and a sweet ending with Steuben's house made butterscotch pudding.
Washington Park West
When's the last time you got dinner and a show for just $25? At Broadway Roxy, you can catch live entertainment while sampling the goods from their menu. Starter choices include the crispiest truffle fries you've ever encountered while entree options include vegetarian-friendly caprese salad or housemade ravioli and the "Pho-get-about-it" pork tenderloin. End your meal with cinnamon sugar churros (and since you got such a great deal on the eats, treat yourself to a classic cocktail too).
Speer
This lowkey newcomer from the owners of Angelo's opened in September 2019. It sits in the former Govnr's Park space which was a Denver standby for over 40 years. While change can be hard, this new occupant -- which is part Carboy Winery and part eatery -- has settled into the neighborhood quickly and already feels like an old favorite. For Restaurant Week, they're rolling out a $25/person menu with some heavy hitters including options like wood fired lobster tail or scallops to start, a petite filet, Mediterranean sea bass, or rigatoni entrees, as well as a choice of chocolate pots de creme or raspberry panna cotta for dessert. And since there is that winery on site, glasses of Carboy's red or white blend will be $5.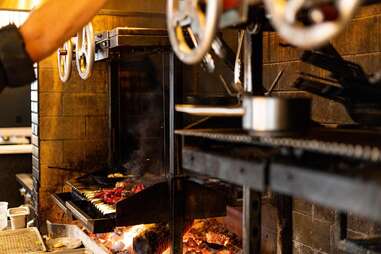 LoDo
The flame-kissed dishes at this spot that specializes in wood-fired cooking (along with their impressive in-house dry-aging program) makes it great any day of the year. But their $35/person Restaurant Week menu is stacked with savory choices. They've opted to skip dessert, so instead you get a choice of salad (or mushroom consommé) to kick things off followed by four second course options (yes, you definitely want those wood grilled oysters). Picking from the five entree choices might be the hardest part of your week when the options include a bone-in smoked short rib or a combo of tombo tuna and dungeness crab.
Uptown
The brother and sister duo of Paul and Aileen Reilly were here doing farm-to-table, whole animal cooking before those terms were commonplace. This spot's a classic, and they always bring it hard on both the food and service fronts. Restaurant Week is a prime chance to see this spot showing off their pro moves. They're at the top price tier ($45/person) but it's worth it for three courses of impeccable options like the lamb shank french onion soup starter, walnut crusted rockfish, and red velvet cake with vietnamese coffee ice cream for dessert.
Highland
Since 2014, the husband-and-wife team of Elliot Strathmann and chef Cindhura Reddy have been making Italian all their own with old school hospitality mixed with new school flavors. The three-course, $35/person menu is a steal and it includes a lot of options for each course so this is a great pick for a group who's down to share. Appetizer choices include Hatch chile infused arancini and 15-month-aged prosciutto di Parma as part of an antipasti platter. Next up, you can (and should) opt for one of the housemade pasta dishes like pappardelle with goat bolognese before ending with olive oil carrot cake, Italian-style donuts, or a scoop of gelato.
Congress Park
A longtime neighborhood favorite, this spot is upping the Restaurant Week game with four courses for $35/person instead of the more typical three. The menu here is stacked with traditional Italian comfort food done right. Choose from three starters -- fried cheese ravioli, tomato bruschetta, or crispy Brussels followed by a soup or salad. Seven choices for your main give you plenty of options including a rotating chef's special and some of their popular go-to's like the stuffed shells duo and homemade lasagna. End the experience with tiramisu, tres leches, or ekmek (a classic Greek dessert).
RiNo
When Alon Shaya brought his signature Israeli flavors to Denver in 2018 it was love at first pita. This spot keeps topping best restaurant lists and there's a reason why: it's warm, welcoming, and every single item on the menu is a hit. Taste an array of these delectable dishes with their four-course $45 menu. As every meal here should, this one starts with their impossibly smooth hummus followed by your choice of roasted beets, lutenitsa, or baba ganoush. Next up, pick a main from a trio of choices: harissa chicken, falafel with tahini, or crispy eggplant with tomato and goat cheese, followed by coconut basbousa (semolina cake) with oven roasted pineapple and chocolate Turkish coffee sauce for dessert.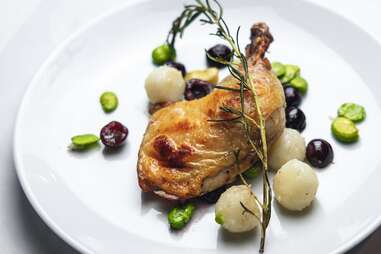 Union Station
This swanky spot for French-inspired cuisine from Tom and Diane Coohill has been around since 2011 but it feels as fresh and vibrant today as it did then. A night out here feels like a special occasion even when you're grabbing a quick bit so their three course $45 menu promises to be a treat. Choose from an onion veloute with poached sunchokes or roasted root vegetable tartin to start, then move on to the lyonnaise salad or wild burgundy snails. Mains include your choice of short ribs, market fish, and root vegetable pavé. And if you want to get really indulgent, they're also offering some optional add ons for an additional charge like a crab cake appetizer, charcuterie, and desserts like bread pudding with salted caramel.
RiNo
The Denver outpost of this famed NYC cocktail bar is more than just a bar, but their $45 Restaurant Week menu does include an optional cocktail and wine pairing for $25 which we highly suggest taking advantage of. This menu is set -- there aren't multiple choices per course so no need for pesky decision making. Just settle in and let them guide you through a meal of tuna tacos, winter greens salad, short ribs, and B-52 cheesecake bars.
Sign up here for our daily Denver email and be the first to get all the food/drink/fun in town.
Molly Martin is a freelance writer in Denver, Colorado who has eaten a whole lot of food at all of these restaurants in the name of research. Follow her tasty Mile High adventures @mollydbu on Twitter and Instagram.