It is only fair that the vastness of Denver International Airport is complemented by an equally impressive array of dining options. After all, with Denver being a transplant city and having one of the busiest airports in the world, it's to be expected that any one of the many travelers passing through its gates can find something delicious ahead of their flight or simply to make a long layover way more bearable.
Though DIA has seen many different phases and rotations of food and drink options in its history—and no doubt will see many more in the future—the current roster is full of tempting options for grab-and-go snacks, a pre-flight buzz, or a full-on meal, if you've got the time. Find everything from local brews to high-end steakhouses to fancy hot dogs here; this list will make you want to buy a ticket just to satisfy your cravings.
Hotel & Transit Center

Tivoli Tap House
West Side of Plaza
Your favorite game day (or any day) Auraria Campus brews are now conveniently located at the base of the Westin Hotel, as is Tivoli's signature pub fare. Crush pretzel bites, Buffalo cauliflower, tons of burgers, sandwiches, and mains as you hang out between flights, all while enjoying namesake beers as well as other Colorado drafts and beyond.
Grill & Vine
Level 5, Plaza
A fair amount of business is now being done at the Westin Hotel that's attached to the airport. And what do you need when you're doing that business? Food. And alcohol. At Grill & Vine, the name says, well, most of it, as grilled meats are paired with a long wine list. There are also sandwiches, beers, and all sorts of stuff to make you forget that you've, for some reason, found yourself inside a Westin attached to an airport.
JEPPESEN TERMINAL

Boulder Beer Tap House
Level 5, West
The fact that Boulder Beer—Colorado's oldest craft brewery—recently closed its taproom in its hometown makes a visit to this pre-security outpost more necessary than ever. Denver-based Sleeping Giant Brewing is still producing a line of greatest hits from Boulder Beer, so you can still sip on Hazed & Infused, Singletrack, and Buffalo Gold as you munch on serviceable breakfast burritos, sandwiches, and green chile in the airport's Great Hall.
A Gates

Mercantile Dining & Provision
Center Core
A chic airport eatery that triples as a marketplace and coffee shop? Is there anything Alex Seidel can't do? Doubtful. The long-awaited Mercantile outpost may be the most exciting new addition to DIA, for both its founder's reputation as well as its high-quality offerings. From early-morning breakfast through after-dinner drinks, farm-to-table here looks like avocado toast, Turkish eggs, Wagyu pastrami sandwiches, and roasted half chicken. Chase with seasonal cocktails, beers on tap, or your choice of wine a la Mercantile's Cruvinet Wine System.
Mesa Verde Bar & Grill
Mezzanine
If you didn't get the chance to try Colorado's Mexican food while here, don't fret; there are several spots to try within the airport's many food hubs, but we have to admit that this is probably our favorite. Why? Well, in addition to having the option of sitting down or grabbing to-go, we're big fans of the sizable breakfast menu (especially the burritos smothered in green chile), build-your-own bowls and 'ritos, and extensive drink options, from margs to tequilas to Mile High Ranch Water.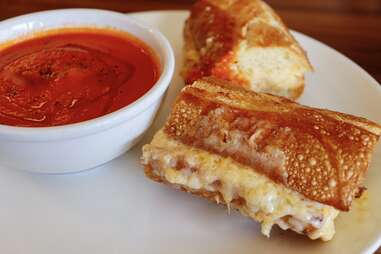 Denver Central Market
Closest gate: A48
A few years ago, Denver Central Market joined the food hall craze in Colorado's capital city, immediately distinguishing itself by way of its great location and unique offerings. Naturally, installing the concept at DIA was a no-brainer, given the varied selection of easy (and tasty) grab-and-go food. Here you'll find cheese boards, sandwiches, salads, sushi, pizza, pasta, and a full bar, too.
Denver Chophouse
Center core
The Chophouse has long been holding it down as the fanciest option in the A gates, the land of international flights, Delta jaunts, and people who look really mad (so are almost certainly flying Frontier). Because it's been around for a minute, it's easy to overlook its solid sandwiches, steaks, and proprietary beers. Hang out for a bit, especially if your Frontier flight has been delayed for four days.
Coming to Concourse A in 2023: Uncle, The Bindery, Maria Empanada, Tocabe, Williams & Graham, D Bar, Bagel Deli, Elway's Tap Room, Tacos Tequila Whiskey, Peet's Coffee
B GATES

Elway's
Center core
Dining with a flexible corporate account? Or perhaps your flight has been delayed for a weeklong snowstorm and you've lost the will to even care about any financial repercussions? This is your spot. At Elway's, you'll find killer steaks and stiff cocktails alongside various memorabilia honoring the restaurant's namesake, owner and Denver Broncos great, John Elway. And even if you're not flying first class, a burger here won't break the bank, but you'll still be eating at one of the classiest spots available at DIA.
Aviator's Sports Bar & Bar-B-Que
Mezzanine
We don't get to pick and choose what we're craving most, and sometimes, it's just good, hearty bar fare and barbecue. This is your spot for wings, smoked brisket, and burgers that mean business, plus all the best barbecue sides available. Between the perfect smoky flavor and seriously tender meats, you'll quickly forget you're eating airport barbecue (but will also realize that airport barbecue is not, in fact, as weird as it sounds).
VooDoo Doughnuts
Mezzanine Level, northeast side
The Portland-originated donut chain is a favorite across the Mile High, with locations like those on Colfax and Broadway remaining hits regardless if you're visiting at 12 pm or 3 am. The sweet shop is one of several new food additions to DIA this year, continuing the momentum of what will eventually be a total restaurant revamp at the airport. Needless to say, between this and Little Man, your sweet tooth cravings are covered.
Steve's Snappin Dogs
Closest gate: B24
We're still trying to figure out why it's so fun to eat a hot dog -- especially one wrapped in a tortilla and topped with chili, bacon, and a bunch of other stuff that's bad for you -- in an airport…but it damn sure is. Steve's -- which began on Denver's storied Colfax Avenue -- is a hidden gem, one that features 12 beers on tap.
New Belgium Brewing
Closest gate: B30
The Fort Collins-based New Belgium may have lost its indie cred with its sale to the international behemoth that makes Lion and Kirin, but it still brews a mighty fine beer. And alongside its dozen taps which, of course, include the nationally sought-after amber, Fat Tire, this spot also offers creative takes on pub grub. Start your day with a breakfast burrito or Sunshine Scramble, or enjoy salads, tacos, burgers, and hot sammies later in the day, washing it all down with a cold and refreshing beverage.
Crú Food and Wine Bar
Near Gate B51
Sibling to the Larimer Square staple, this is where you'll find top-notch wines by the glass (including flights) as well as charcuterie boards, light salads, pizzas, and paninis that all pair nicely with whatever fermented grapes you're sipping on pre-flight. Then, when you're back in Denver, you can visit the OG location with your favorite varietals already in mind.
Coming to Concourse B in 2023: Mizu Izakaya and Sushi, El Chingon, Aviano Coffee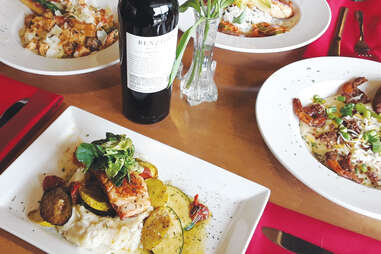 C GATES

Timberline Steaks & Grille
C Gates, Center Core
Though there are a handful of other steakhouses at DIA, none are at the C Gates and none are quite like Timberline. Whether you're hankering for a pulled pork sandwich, a 12-ounce ribeye, or elk medallions, you'll find it here and it'll be worth whatever airport crowds you had to speed-walk through to get there.
Great Divide Brewing
Closest gate: C32
Great Divide has long been a beacon of brewing prowess in the City of Denver, with this airport locale impressive in its own right. Start at the bar, which features a dozen Great Divide drafts (plus even more beer offerings) as well as cocktails, wine, and liquor. Then explore the food menu, which goes beyond standard bar fare with Colorado-inspired offerings like lamb meatballs, bison chili, and one of the best airport burgers you'll ever have.
La Casita
Center core
Even if you didn't have the chance to eat Mexican food in Denver on your trip -- or are simply connecting -- La Casita has your back. At the bar that's tucked into a corner of the food court, you'll find margaritas, burritos (including of the breakfast variety), and D-Town's aforementioned crown jewel: green chile. The best part? You can get La Casita's specialty tamales to go.
Little Man Ice Cream
Closest gate: C27
Little Man has steadily become the biggest frozen dairy force in the Mile High City. So, it's only fitting that the dessert empire erected a location at the airport. Its opening caused a fuss not only for the availability of its prized, trademark flavors like Salted Oreo and Purple Cow but also for its ice cream "sammies" and heavenly milkshakes.
Root Down
Center core
When the Edible Beats group decided to open a sister restaurant to its hyper-popular Highland spot in 2013, it wasn't immediately clear whether or not the airport venture would pay off. It did, of course, and years later, it's still tough to top Root Down's craft cocktails, tap list, and singular take on farm-to-table cuisine. Find a well-rounded selection of apps, entrees, and desserts available daily for breakfast, lunch, and dinner, with most (if not all) offerings being especially health-forward or dietary-needs-friendly.
Coming to Concourse C in 2023: Bar Dough, Señor Bear, Aviano Coffee, Cholon, Marczyk Fine Food, Teatulia Tea & Coffee
Sign up here for our daily Denver email and be the first to get all the food/drink/fun in town.
Colin St. John is a Denver-based writer, editor and joke maker. He's written for Rolling Stone, Deadspin, Esquire, and Pitchfork.