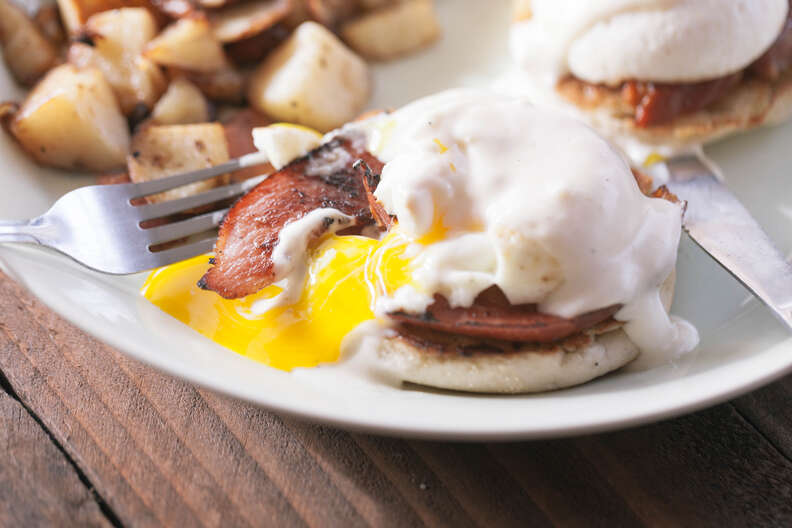 Rainbow Restaurant
Rainbow Restaurant
A long-standing hub of craft beer, home to pioneers New Belgium and Odell, Fort Collins, or FoCo -- as it's haughtily being called these days -- has undergone an epicurean renaissance in recent years. Its reputation as a buzzy college town and beer drinker's paradise has been well-established for a couple of decades, as nearly every block outside of the Old Town epicenter, an area formerly occupied only by warehouses and grain silos, is home to a brewery.
Much to the surprise of Colorado's escalating population of foodies, FoCo has also become a beacon on our culinary map. Which makes sense when you see that agriculturalists were the first people to settle in this part of the state 150 years ago. Generations later, the area's still punctuated by farms and innovative restaurateurs are tapping into their potential. The northern Colorado town is exploding with amazing eats ranging from surprisingly fresh sushi to the truest farm-to-table you'll find anywhere in the state. Given the ever-growing spectrum of options, let us direct you to best places to eat in Fort Collins.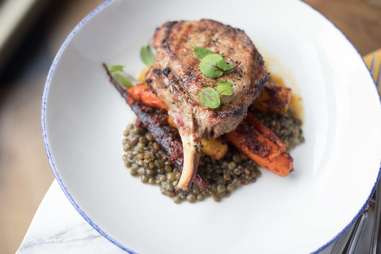 Boulder-based chain
The Kitchen
takes the farm-to-table concept to the next level with a nod to small agriculture. Its menu items include the name of the American farmer, rancher, or fisherman that produced the dish's ingredients. The ever-changing menu also includes seasonally fresh soups and salads, lamb sirloin and rib-eye from various Rocky Mountain ranches, plus chicken and produce from northern Colorado farms and nurseries. An instant hotspot situated in Old Town's new and chic
Elizabeth Hotel
,
The Emporium
also seeks to source as much of its menu as possible from local purveyors. The contents on the flat breads, salads, and soups naturally change with the season as do accompaniments for the daily plates, which include signature items like the puff pastry-encrusted elk Wellington.
There's no shortage of local venues plating up dishes of savory hangover cures, gut busters, and unforgettable morning medleys, but this trio has proven to be the enduring favorites. Despite its divey ambiance (it's a live music bar by night)
Avogadro's
plate-sized omelets are always oozing with cheese and fresh ingredients. A beloved Colorado chain, the inevitably long weekend wait is worth it at
Lucille's
, especially for the fluffy brick of buttermilk biscuit with homemade jam and spicy Cajun breakfast. As for
Café Bluebird
? Its only downside is its dearth of alcohol, but even unaccompanied by a Bloody Mary, the colorful Benedicts and skillets are heavenly.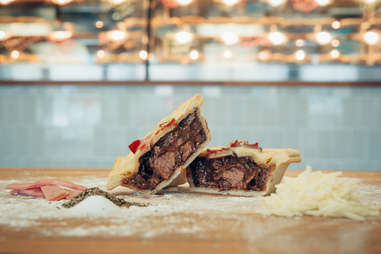 "Australian?" you say aloud as you wonder where all this is going. We hear you, and stay with us. Outside of runny eggs on burgers, you likely didn't realize Australian was a cuisine category. Let
Waltzing Kangaroo
show you the way. Serving made-from-scratch meat pies, quiches, and desserts, plus coffee and craft beer, Waltzing Kangaroo channels the vibe and aesthetic of a modern bakery. Save for side dishes (which range from fresh salads to mushy peas), the frequently replenished daily offerings are tucked behind scrawled-on glass displays. The Guinness steak & mushroom pie is the ultimate comfort food, but vegetarians can indulge here, too. Who knew that Thai peanut veggies went so well with flakey puffed pastry?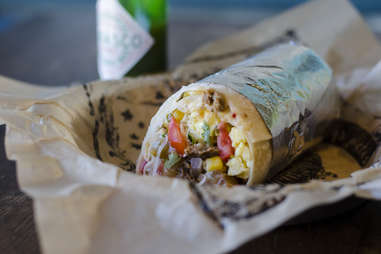 Historically operated by a team of relaxed hippies who love fresh ingredients and loathe freezers and microwaves,
Big City Burrito
began churning out log-sized burritos around the same time, but totally independently, of the world's first
Chipotle
(in Denver) in the '90s. Guac, salsas, and sauces (ranging from mild to ear-splittingly spicy) are made fresh daily and although Big City has added a few menu items and various tortilla sizes over the years, the tin-foiled wraps that outweigh newborns are still No. 1. Ditto on the long-beloved, toddler-sized burritos at
Illegal Pete's
, except the Boulder-based regional chain's FoCo location is relatively new, situated in one of the best spots in Old Town with a phenomenal rooftop.
Masterminded by a chef and restaurateur from Aspen's famed
Little Nell
,
DGT
found its current home in an alley across from the CSU campus after a stint as FoCo's most coveted brewery food truck. Every single thing on the menu is made from scratch, including numerous healthy options and creative sauces such as tomato ginger and chipotle-honey.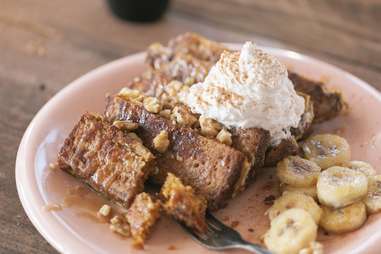 Another FoCo breakfast/lunch institution,
The Rainbow
lives up to its name in vibrantly colored dishes, from the exquisitely seasoned tofu scramble to the avocado toast which, (as a testament to the place's openness and inclusion of all things vegan, gluten-free and pescatarian) is best served with smoked salmon. New to the local food scene, the
Gold Leaf
takes dietary sensitivities yet a step further without sacrificing flavor, as evidenced by its scrumptious cashew cheddar mac & cheese or the peanut butter and jalapeño sandwich with seitan bacon. Meanwhile, family-owned
Tasty Harmony
gathers many of its ingredients from its huge backyard garden. The delectable vegan nachos just might convert you.  
A greasy spoon sort of joint (no booze here) near City Park,
Lupita's
is worth a stop for its green chile alone. The chile rellenos, burritos, and chimichangas are best smothered in the stuff, and will set you back well under $10.
La Luz
has been going strong in Old Town for a couple of decades. The street tacos (go for the Lengua or Primavera) pair excellently with a spicy cucumber margarita.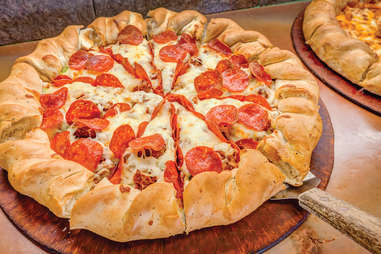 Rarely has a 2am passed by on a Friday or Saturday night over the last 18 years that a line of boisterous students hasn't spilled out the door of
Pizza Casbah
. In spite of its national fame -- thanks to a 2011 Food Network
Outrageous Foods
 appearance for its 30-inch pizza eating challenge -- the hole-in-the-wall joint across the street from campus still sells classic New York-style cheese slices for $1 every Tuesday and an array of creative pies with a copious amount of toppings available. The oft-overlooked
Surfside
also serves legit, New York-style pizza (with a side of live rock music), while
Beau Jo's
has the Colorado modus cornered with its trademark thick crust that doubles as dessert when slathered with honey.
In spite of its odd location in a strip mall next to King Soopers, this little sushi spot serves up raw fish that tastes like it just stopped swimming earlier that day. The hamachi, in particular, is melt-in-your-mouth tender and if you're feeling decadent, go for one of the deep-fried rolls. Be sure to start with the Korean BBQ or pork belly salad.
Coined an "Old Town Landmark," Coops is also FoCo's oldest brewpub, dating back to 1989. It's divided into two sections: the pub side for peaceful dining, and the pool side for game sharks. Both feature the full gamut of burgers, and which one to order depends solely on which toppings you prefer. Each has its own special touch -- the house burger with a scoop of cheese and artichoke dip, the Baja with homemade guac, and Johnny Cash's Ring of Fire with Buffalo wing sauce, Gorgonzola, and jalapeños. The thick wedge potato fries are also the best in town.
Although the property is no longer a farm in the traditional sense,
The Farmhouse
is situated in a renovated 135-year-old building and boasts a sprawling backyard garden and chicken coop, the contents from which are featured in numerous menu items. You can never go wrong with any of the heaping salads, fresh daily soups or the incredible chicken and blue corn waffle. For sides, you'll want to splurge on the decadent sweet potato fries.  
Sign up here for our daily Denver email and be the first to get all the food/drink/fun in town.
Shauna Farnell is a Denver-based freelance writer who has lauded FoCo's food scene since her college days at CSU. The mere thought of a Lucille's cajun breakfast sill makes here drool. Follow her on Twitter @shaunafarnell or Instagram @mountaingirlinthecity.