Denver's 8 best ice cream shops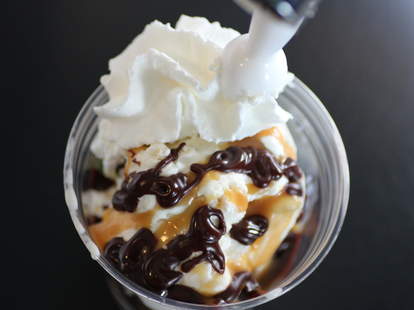 For a city where people generally tend to be in pretty good shape, we certainly support an impressive number of delicious ice cream shops. It's puzzling really... is there something we're missing? Anyway, when you feel the need for frozen treats, these are the eight best places to get them.
Rebecca Feder
South Broadway
This local ice cream shop has gained a cult following since their 2009 opening, and rightly so. The heavenly smell of freshly baked waffle cones and cookies and funky artwork all make for a hip-yet-inviting atmosphere in which to stuff your face with some delicious (and weird) flavors. If an ice cream cone isn't what you're craving, then go for a homemade ice cream cookie. Flavors constantly rotate, so stock up on the ones you like for your home freezer.
LoHi
Another ice cream shop that has stolen the hearts of many Denverites (and by far the best one that shares its name with a minor character from The Wire), Little Man's a tiny walk-up shop that conducts all business out of a 14,000lb can of cream, which is now a beloved part of LoHi's skyline. This is the self-proclaimed "home of the salted Oreo", drawing in crowds from all over Colorado. They also offer rotating flavors of ice cream/sorbet/gelato (peach cobbler, Bhakti chai) for you to explore in shakes, floats, sundaes, and splits. Little Man is always hosting events like bike-in movies, live music, local food vendors, and more, even when it's not Summertime. A line's a guarantee, but it'll be worth it.
Lee Breslouer
Highlands, Louisville, Boulder
Handcrafted ice cream made with locally sourced ingredients can't be bad, especially when it's being made into flavors like carrot cake or Trix cereal (haven't we tormented that poor rabbit enough?).  At every store, the nine "staple" flavors are available every day, in addition to 11 rotating flavors. They also have root beer on tap from Wynkoop Brewing for fresh root beer floats. The MooMobile ice cream truck makes it possible to get their ice cream at various farmers markets, and you can also rent it for private events/yourself.
Capitol Hill and Conifer
This family-owned creamery has been around since 1976, making it one of the OGs of the Denver ice cream game. They've concocted more than 400 different flavors in their time (ancho chile, Brandy Alexander, PB&J), which are rotated out daily, based on season and availability. After you grab a scoop, maybe head to Wyman's next door for some Chicago-style 'za and beers, just to double down on fatness.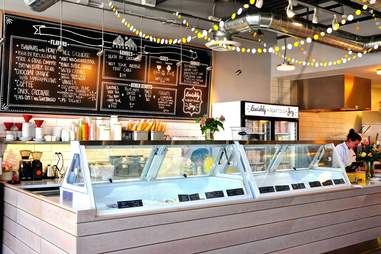 High Point Creamery
Hilltop
A husband-and-wife duo opened the neighborhood spot this Spring to share their love of ice cream. Everything here is homemade, but their specialty treat is a bombe, a French-style ice cream "cake", made up of different flavors of ice cream molded together, one at a time. Come in a grab a scoop of salted caramel and enjoy it on the patio.
Bonnie Brae
This family-owned joint offers a wholesome and retro experience with your ice cream, one that's been around since 1986. With a massive list of flavors to choose from, it will probably take several visits to narrow down a favorite (not that you object). Grand Marnier chocolate, Snickers Delight, and Deep Dish Apple Pie are only a few of the endless choices, all made fresh in the store.
16th St Mall Downtown
If you just watched The Godfather, check out Amore Gelato, which carries artisan gelato, sorbetto, and Italian ice. Since this gelato has about half the fat of regular ice cream, you should help yourself to more of it. Their flavors change daily, but expect some decadent flavors like banana Nutella and s'mores in addition to some of the more typical gelato suspects.
Food Cart/Catering
Chef Ian uses molecular gastronomy to create a one-of-a-kind culinary experience, whether it's a doughnut with Pop Rocks or his liquid nitrogen ice cream. The creamy... cream has a texture that's incredible, with flavors like Exploding Whipped Cream and Pineapple Bubbles. Unfortunately, The Inventing Room is not in a brick-and-mortar location, but can be sought out at different events and is also available to rent for private parties. Getting your hands on it is worth the challenge.
This list -- and all the rest -- look even sexier in our iPhone app. Get it now!