It's quite possible that there's nothing more joyous, satisfying, and heart-filling than ice cream. And with 300 days of sunshine beaming down, Denver's almost required to have a plethora of ice cream shops to keep folks cool, calm, and collected. Dotting the entire metro area are various shops boasting retro or modern aesthetics and classic or creative menus—or something entirely different altogether. Whether your preferred treat is a single scoop, shake, or ice cream sandwich and no matter which part of the city you're in, chances are there's a top-notch ice cream shop in your neighborhood. Grab the keys and some extra napkins and be delighted.
Congress Park
Three words for you at this shop also owned by the creators of Little Man: The Gooey Cooie. Pick your favorite scoop flavor and watch it get ever-so-gently squeezed into the middle of a hot-pressed brioche donut. The uber-sweet, hot-and-cold dessert is definitely one for the books, but you can always rely on the simplicity of a single scoop in a handmade waffle cone in a pinch.
How to order: Walk into the classic, baby-blue shop as early as 11 am on Saturdays and Sundays, or 1 pm Monday through Friday. Late-night cravings can be satisfied until 9 pm most nights, or until 10 pm Fridays and Saturdays.
Rosedale
Testing limits from its inception, Right Cream opened in the midst of the pandemic and is still (thankfully) going strong. What started as founder David Right making small-batch—like, single-quart small—ice cream in his kitchen has since grown to be a full brick-and-mortar in Rosedale. Right Cream's thing, though, is being unique; it's still produced in small batches weekly, with four to five new flavors releasing via Instagram, like coffee steeped ice cream with Oreo toffee and swirls of vanilla bean caramel, Filipino purple sweet potato, and glazed donut ice cream with strawberry shortcake crunchies and strawberry jam swirls.
How to order: Look out on Instagram for the week's flavor release, then mark your calendar for Monday morning (usually)—that's when Right Cream's website opens for online orders. Pre-orders are available for pickup on Friday.
Edgewater, Golden
What started out as a converted school bus and the first imported New Zealand-made ice cream blending machine to grace America has since turned into two full-fledged brick-and-mortars and a private catering business, too. So what's New Zealand-style ice cream, you ask? Simply put, it's a mixture of ice cream (using Colorado dairy) and a scoop of your choice of fruit, blended seamlessly together into a creamy, two-thirds ice cream, one-third fruit soft serve. If you want to experience quintessential New Zealand flavor, opt for the Hokey Pokey (aka, vanilla ice cream with chunks of honeycomb toffee).
How to order: Stop in at any location for a good time; hours vary by location. The original Happy Cones Co. truck can still be reserved for private events.
Cherry Creek, RiNo, Southglenn, Belmar
Ice cream is a true passion for owner Martha Trillo, evidenced by her dedication to clean product, varied options, thriving business, and presenting customers with the facts. Some of those facts include Heaven's gelato being made with 70% less sugar than traditional ice cream, using natural sweeteners whenever possible, and that there are more than 500 flavors in rotation. Plus, with four Denver locations and rapidly growing, Trillo is well on her way to being queen of the Heaven ice cream franchise.
How to order: Stop in at any location for a good time; hours vary by location.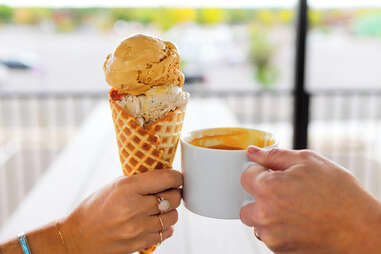 Capitol Hill
Meet Eiskaffee, the largely German concept that blends your favorite caffeinated beverage with everyone's favorite dessert. Using custom nitro cold brew as a base, you'll add two scoops of your preferred flavor and top things off with whipped cream, chocolate shavings, and a crispy waffle wedge. The full menu contains complete coffee and ice cream offerings, from lattes to milkshakes and everything in between. Really looking for something special? Order the "spaghetti ice" secret menu item for $6.95—a base of Bavarian Cream ice cream with strawberry sauce and shaved white chocolate "grated cheese."
How to order: Head to the 11th Avenue Hostel on Broadway Sundays - Thursdays from 7:30 am to 8 pm and Fridays - Saturdays from 7:30 am to 9 pm.
South Park Hill
From the same creators of Brothers BBQ—yes, a bit of a different ballgame—came Nuggs in 2014, filling the need for a local ice cream shop in the Park Hill neighborhood. Using locally sourced and all-natural ingredients as often as possible in their flavors, brothers Chris and Nick O'Sullivan bring quality ice cream by way of scoops, shakes, sandwiches, and cakes to the community; good enough to be recognized as the best ice cream shop in Denver more than once by Westword.
How to order: Open daily, visit Nuggs from 12 pm - 10 pm Sunday through Thursday, or until 11 pm Friday - Saturday.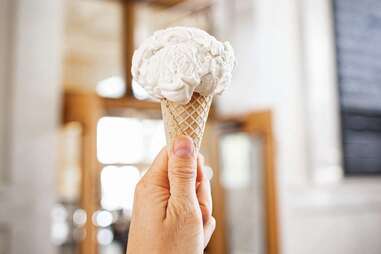 Union Station
You may be well familiar with this Union Station staple and for good reason. Since 2014, this has been the downtown spot for small batch frozen goodness, where you can find all your classics from cones to cups to shakes. It's even a treat for history buffs, who might know that the space was formerly a barbershop adjacent to the iconic Crawford Hotel and still retains some original architectural features like mirrors, flooring, and tiles.
How to order: Head over to Union Station Monday - Thursday from 11 am - 7 pm or Friday - Sunday from 11 am - 8 pm.
Broadway, Uptown, Wash Park, Jefferson Park
In addition to having ice cream that rivals every other place on this list, Sweet Action is also the spot to get a cold summer treat if you're looking to help out the planet a bit. Dairy-free and vegan ice cream is plentiful here, as is locally sourced, high quality Colorado dairy (and fresh fruit, too). Even cooler (literally) is that the entire Sweet Action franchise runs on wind-energy and uses compostable packaging at all four locations, meaning it walks the walk when it comes to sustainability. If you haven't been yet, you can't go wrong with chocolate fudge brownie, Colorado white Russian, blackberry lavender, or vegan milk & cookies.
How to order: Stop in at any location for a good time; hours vary by location.
LoHi
This shop quickly became a Denver icon since it first opened in 2008, thanks in large part to its unique architecture—aka the 28-foot-tall, 14,000-pound cream can from which the scoops are served. Lines will inevitably get long, but it's well worth the wait for the most famous flavor alone, Salted Oreo. But you can't go wrong whether you opt for a banana pudding float, seasonal honey almond in a waffle cone made on-site, or one of their sorbets or vegan options. It also gives back through the Scoop to Scoop initiative which donates a scoop of rice, beans, or other essentials to those in need for every scoop of ice cream the place sells. And if you didn't know, Little Man owns a heavy handful of scoop shops around the metro area, so it's never far.
How to order: The walk-up window is open Sunday-Thursday from 11 am - 11 pm and Friday and Saturday 11 am - 12 am.
Congress Park, Aurora
If scoops have somehow grown dull, Milkroll allows folks to forgo the traditional method and experience ice cream in the ever-popular Thai-style instead. Made to order on sub-zero metal plates, flavors and add-ons are stacked together and rolled into lavish displays full of decadent charm. You start by picking your base from flavors like chocolate, caramel, matcha, and ube. Then you can customize your creation with options that include everything from M&Ms and gummy bears to Poky Sticks and red beans. There's also a selection of house-made combos, like the colorful Unicorn Magic which is loaded with strawberry waffle sticks, frosted animal crackers, and sprinkles, then crowned with fluffy blue and pink cotton candy.
How to order: Stop in at any location for a good time; hours vary by location.
Hilltop, Berkeley, RiNo
Do you have a hard time choosing just one flavor? Three words: ice cream flight. High Point's signature flights are perfect for sharing (although that's definitely not required) and include five flavors of your choice and a side of either hot fudge or caramel sauce. Current flavors include basil with blackberry swirl and coconut crème brûlée, plus classics that never miss like salty dog chocolate, cookies (three ways) and cream, and brown sugar cinnamon.
How to order: Stop in at any location for a good time; hours vary by location.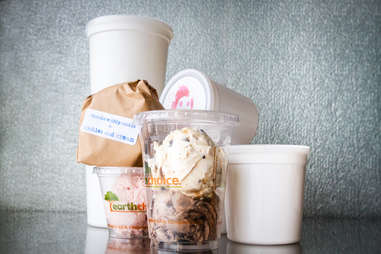 Multiple locations
This spot's got a winning ice cream trifecta: ice cream that's made daily; earth-friendly recyclable and compostable cups and spoons; and cookie sandwiches. Yes, you can get any flavor neatly smashed between two freshly baked chocolate chip cookies. If you're not a cone fan, opt for a cup topped with a heaping drizzle of their caramel sauce made with local Hammond's Candies caramels.
How to order: Stop in at any location for a good time; hours vary by location.
Cheeseman Park
Munchie cravings meet ice cream at this shop with the slogan "roll joints not ice cream." Yeah, they're not afraid to call things as they see it, and they're also not afraid to have some fun with their flavors—one of their signature options is cheddar goldfish after all. Other items to not skip: Pop-Tart ice cream sandwiches, Philly water ice, and ice cream cannoli.
How to order: It is open for walk-ups Sunday - Thursday from 1 pm - 10 pm, and Friday and Saturday from 1 pm - 11 pm. Delivery is still available online.
Washington Park
This old-school, family-owned joint that makes ice cream fresh daily has been around since 1986 and remains one of the standards in Mile High ice cream perfection. They offer 30+ flavors daily, including vegan options, and while most flavors stay in the traditional range (rocky road, rum raisin, and mint chocolate chip are all accounted for) they're not afraid to play around with new ingredients too. Chocolate cardamom? They've done that. Monkey Fingers and Udder Budder? Those are around, too.
How to order: Open Sunday - Thursday from 11 am - 10:30 pm and Friday and Saturday 11 am - 11 pm.
Erica Buehler is a Denver-based freelance writer who always gets rainbow sprinkles. Follow her @e_buehler on Instagram and @e_buehler_ on Twitter for more updates on Denver food and other Mile High shenanigans.