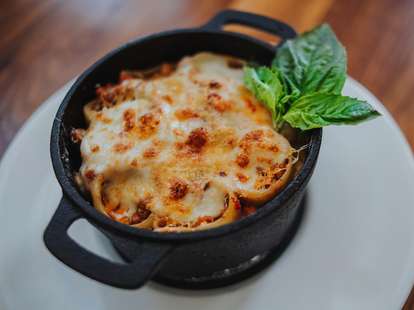 Cattivella

| Marla Keown
Cattivella

| Marla Keown
If you're under the impression there's no good Italian food in Denver, you haven't been paying attention. Alongside our old-school classics that never disappoint, a handful of newer options for Italian eats in the Mile High are serving up traditional dishes that deserve your undivided attention. Our advice? Abandon your current dinner plans and start eating your way through this list immediately.
Downtown
Simple Italian could be best used to describe the food served at Osteria Marco, and that's exactly what restaurant-maker Frank Bonanno had in mind when he opened up a less-complicated rendition of Luca D'Italia. Think a focused, cured meat selection with Parm prosciutto and mortadella, panini that either boast moist rotisserie chicken or apple fennel sausage, and a lobster pizza that will make you stop and ask, "Did this food really come from a basement?" Oh yeah, did we mention it's in a basement? But don't let that stop you from hopping down the stairs and trying some of the best Italian in Mile High.
Highlands
Husband-and-wife team Elliot Strathmann and Chef Cindhura Reddy took over this neighborhood favorite in 2014 and have been crafting a menu of seasonally changing dishes that often feature local ingredients ever since. The food isn't old-school Italian, but the hospitality is. So settle in and let this culinary duo wow you with dishes like the golden-hued saffron infused cavatelli with tender roasted Colorado lamb and braised Colorado beef short rib with hatch chile risotto and tempura fried bone marrow (yes, you read that right).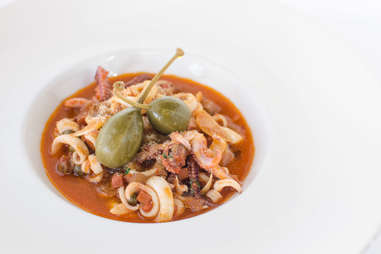 Cap Hill
Another Frank Bonanno concept (he just doesn't stop!), this is one special occasion spot that you'll find excuses to visit on the regular. Luca is fancy enough for an impressive first-date pick, but casual enough for a night out with friends. Beyond the indulgent ingredients like black truffle and lobster, the food maintains a comforting undercurrent. The Sicilian calamari over house-made marinara with briny capers and a bite from crushed Calabrian peppers is simple yet flavor-packed. The capellini carbonara keeps things traditional with guanciale, egg yolk, Parmigiano, and black pepper. And once you try it, you'll have daily cravings for the braised beef ribs with gorgonzola dolce, rapini, and Roman gnocchi... as soon as the temperature drops below 65.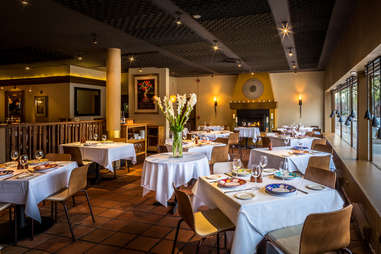 Cherry Creek
Whenever it seems like Denver's restaurant scene is changing at lightning speed, it's nice to be able to enjoy a meal at a place that's consistently elevated the cuisine -- and continues to despite the cravings of the city. Barolo's been around since 1992 serving northern Italian cuisine with a staff that takes an annual trip to Italy to learn about the food and culture firsthand. The five-course tasting menu is ideal for getting to know the food here, but you can also order a la carte, and don't skip the shaved black truffles that can be added to any dish for $10.
Highland
Denver's got a history of loving whatever Chef Max MacKissock does (he previously helmed the kitchen at the Squeaky Bean and was a James Beard Award semifinalist), and Bar Dough is no exception. There's freshly made pasta galore and perfectly charred wood-fired pizzas, but even items that would be an afterthought at other eateries become standouts here. Take the wood oven-roasted carrots that get a smoky boost from a carrot cumin vinaigrette or a side of marinated grilled eggplant served with a charred eggplant puree and parmigiana fonduta. With options like those, no one will have to make you eat your veggies here.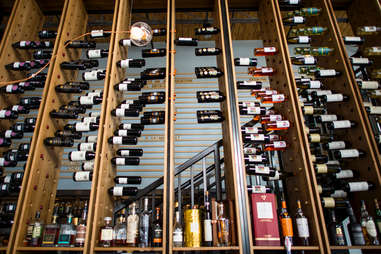 RiNo
Nine years after opening, Il Posto has a fresh location that's twice as big as its former space, meaning you'll want to bring your friends along for a taste of Chef Andrea Frizzi's menu. Selections vary daily depending on what's fresh and available, but you'll always find beautifully plated dishes that taste as good as they look. The menu includes plenty of shareable options, pastas, and filling entrees, making it great for groups or date nights. And PS -- there are beef fat candles for the best bread dipping experience you'll ever have.
Uptown
When the team behind one of the best restaurants in town (the brother and sister team of Paul and Aileen Reilly from Beast + Bottle) open an Italian spot specializing in the food of Rome and Southern Italy, it's a really good thing. Start with spizzulia -- an assortment of delicious snacks and seasonal treats -- to share amongst your table, then move on to the mozzarella bar, or some perfectly simple cacio e pepe or fiery pollo allo divino, a dish that makes ordering the chicken more than acceptable. Quench your thirst with a negroni and settle in for a long and satisfying meal.
Cherry Creek
It's easy to be skeptical of a place that calls itself Quality Italian, but in a totally un-ironic twist, that's exactly what you'll find here. This outpost of the NYC original offers classy Italian food with an American steakhouse edge in a warm and modern space. Giant, pizza-shaped chicken Parm for two (or four)? Check. A lunch burger overflowing with creamy stracciatella cheese and dotted with hot Calabrian peppers? Check. What about some dry-aged porterhouse agnolotti? Mega-check. Is your mouth watering yet?
RiNo
The setup of this spot from chefs Alex Figura and Spencer White may be fast-casual, but the food is fine-dining quality. From simple fettuccini with red sauce or Parmesan and butter to squid ink spaghetti with kimchi and pork belly, you can always expect an experience that's part classic comfort, part culinary adventure... and always impeccably executed. The prices are slightly higher than those at your typical fast-casual pasta spot (this is no Noodles & Company), but the quality is better. Be sure to start with some of the fresh baked sourdough, it's addictive.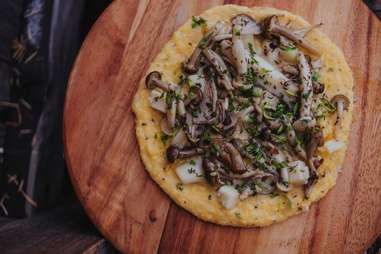 Stapleton
This spot from Chef Elise Wiggins -- the award-winning, former Panzano executive chef -- is the latest addition to the Denver dining scene. Featuring wood-fired cuisine, Cattivella, which translates roughly to "naughty girl," will leave you feeling a bit naughty in the indulgence department. Start with the Focaccia di Recco, a flaky, pie crust-like flatbread stuffed with prosciutto di Parma and crescenza cheese and topped with rucola, and two-year balsamic. From there, enjoy flame-kissed pizzas with toppings like speck and smoked mozzarella. Even the cannellini beans, a variety called Marcella after legend Marcella Hazan, are cooked in a glass flask for a texture like no other.
Platt Park
This hidden gem isn't your typical Italian joint. There's no pasta, pizza, or elaborate entrees. In fact, there's no dinner period. Open 8:30am-2pm (and closed on Tuesdays), Little Spoons is helmed by an NYC transplant and Italian native, who's serving up coffee, fresh juices, a selection of baked goods, and paninis alongside a daily soup and salad (and other rotating goodies). The counter-space is slightly cramped and no bigger than a walk-in closet, but there are a few stools for dining in. Bread from La Fillette Bakery is warmed in a panini press featuring ingredients like house-made jams and spreads like pesto, mouthwatering cheese, as well as charcuterie like speck and prosciutto. And if you happen to find something like delicate, bite-sized tiramisu balls on the counter, take our advice and snag two.
Sign up here for our daily Denver email and be the first to get all the food/drink/fun in town.
Molly Martin is a freelance writer who cannot resist a good bolognese. Check out all of the delicious eats she finds in Denver on Twitter and Instagram.