The Absolute Best Italian Restaurants in Denver
Carby, cheesy, tomato-y goodness.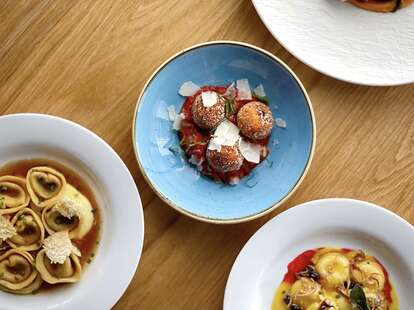 Photo courtesy of Restaurant Olivia
Photo courtesy of Restaurant Olivia
When it comes to the glory that is Italian food, you probably don't need much convincing. Pizza and pasta need no sales pitch; their carby, cheesy, tomato-y goodness is worth fighting wars for. And don't even get us started on Italy's carnivorous contributions to the world, like prosciutto, 'nduja, and their version of meatballs. Hungry? Here, 13 of the best Italian restaurants in Denver to head to right now.
It's pretty much impossible not to love Tavernetta. The little sister to Boulder's James Beard Award-winning Frasca is just so beautiful, so delicious, and so delightfully full of amaro and spritzes that you can't be anything but felice while enjoying a meal or happy hour there. The handmade pastas, like the tagliatelle with lobster and Calabrian chiles and the rigatoni with lamb ragu, are always knockouts, but be sure to save room for the honey gelato filled affogato and Italian cookie plate.
Husband-and-wife team Elliot Strathmann and Chef Cindhura Reddy took over this neighborhood favorite in 2014 and have been crafting a menu of seasonally changing dishes that often feature local ingredients ever since. The food isn't old-school Italian, but the hospitality is. So settle in and let this culinary duo wow you with dishes like handmade pasta tossed with Indian spice-preserved garlic and perfectly poached egg, and risotto arancini crammed full of Hatch green chile, white cheddar, and cilantro lime crema.
Bar Dough has been packing the house since it opened in 2015. It has everything you want from an Italian restaurant: a killer collection of salty, cured meats to get you started; the most perfectly charred wood-fired pizzas topped with delicacies like hen of the woods mushrooms, prosciutto, and fresno chiles; freshly made pastas loaded up with whatever flavor combination—spicy! creamy! seafood-y!—you're in the mood for; and a wine and cocktail list that makes spending an hour or several here a pleasure.
When restaurant vets Ty Leon, Heather Morrison, and Austin Carson bought the neighborhood-beloved Cafe Marmotte and said they were changing the French favorite into an Italian restaurant, fans were worried. They had no need to be. Restaurant Olivia is serving some of the, if not the, best Italian fare in town. If the fantastic food isn't enough of a draw, the expert hospitality and incredible drinks will win you over.
Simple Italian could be best used to describe the food served at Osteria Marco, and that's exactly what restaurant-maker Frank Bonanno had in mind when he opened up a less-complicated rendition of Luca D'Italia. Think a focused, cured meat selection with Parm prosciutto and mortadella, panini stuffed with crispy pancetta or meatballs, and a fig and gorgonzola pizzathat will make you stop and ask, "Did this food really come from a basement?" Oh yeah, did we mention it's in a basement? But don't let that stop you from hopping down the stairs and trying some of the best Italian in Mile High.
Whenever it seems like Denver's restaurant scene is changing at lightning speed, it's nice to be able to enjoy a meal at a place that's consistently elevated the cuisine -- and continues to despite the cravings of the city. Barolo's been around since 1992 serving northern Italian cuisine with a staff that takes an annual trip to Italy to learn about the food and culture firsthand. The four-course tasting menu is ideal for getting to know the food here, but you can also order a la carte, and high rollers can add shaved black burgundy truffles to any dish for $30.
Parisi is like the mullett of Italian restaurants, in the best possible way. The fast-casual Italian eatery is the main-level party to the more formal Firenze a Tavola downstairs. And while the elegant Firenze a Tavola is nice and all, it's Parisi, with its humongous menu of pizzas, pastas, panini, proteins, and antipasti, that we keep coming back to. Relaxed, tasty, and positively teeming with mozzarella, it's the Italian restaurant that should be in every neighborhood.
Il Posto's sleek RiNo location is as big as it is gorgeous, meaning you'll want to bring your friends along for a taste of Chef Andrea Frizzi's menu. Selections vary daily depending on what's fresh and available, but you'll always find beautifully plated dishes that taste as good as they look. The menu includes plenty of shareable options, pastas, and filling entrees, making it great for groups or date nights. And PS -- there are beef fat candles for the best bread dipping experience you'll ever have.
Eating at brother and sister team Paul and Aileen Reilly's Coperta is like eating a love letter to Italy. Start with spizzulia -- an assortment of delicious snacks and seasonal treats -- to share amongst your table, then move on to the mozzarella bar, or some perfectly simple cacio e pepe or fiery pollo allo divino, a dish that makes ordering the chicken more than acceptable. Quench your thirst with a negroni and settle in for a long and satisfying meal.
What would a list of Italian restaurants be without a 70-plus-year-old red sauce joint with stories of the mob, illegal gambling, and Frank Sinatra? Gaetano's is everything you want in an old-school Italian restaurant, from the tufted red leather booths to the Smaldone family legends to the best-selling lasagna with ground beef and sausage.
It's easy to be skeptical of a place that calls itself Quality Italian, but in a totally un-ironic twist, that's exactly what you'll find here. This outpost of the NYC original offers classy Italian food with an American steakhouse edge in a warm and modern space. Giant, pizza-shaped chicken Parm for two (or four)? Check. Brunch polenta pancakes topped with lemon ricotta and blueberry compote? Check. What about some dry-aged porterhouse agnolotti? Mega-check. Is your mouth watering yet?
The setup of this spot from chefs Alex Figura and Spencer White may be fast-casual, but the food is fine-dining quality.
From perhaps the city's best spaghetti and meatballs with red sauce and parmesan to the furikake topped radiatori with basil pistachio pesto, you can always expect an experience that's part classic comfort, part culinary adventure... and always impeccably executed. The prices are slightly higher than those at your typical fast-casual pasta spot (this is no Noodles & Company), but the quality is better. Be sure to start with some of the fresh baked sourdough, it's addictive.
Cattivella, the wood-fired Italian restaurant from former Panzano executive chef Elise Wiggins, translates to "naughty girl" in Italian, and the indulgent menu will definitely leave you feeling like you're breaking some rules. Start with the flatbread loaded up with 24-month aged prosciutto di parma, and then choose between the flame-kissed pizzas or pastas stuffed with veal, studded with guanciale, and coated in creamy sauces. Wash it all down with the Naughty Girl Gimlet, just $7 during happy hour.
Molly Martin is a freelance writer who cannot resist a good bolognese. Check out all of the delicious eats she finds in Denver on Twitter and Instagram.